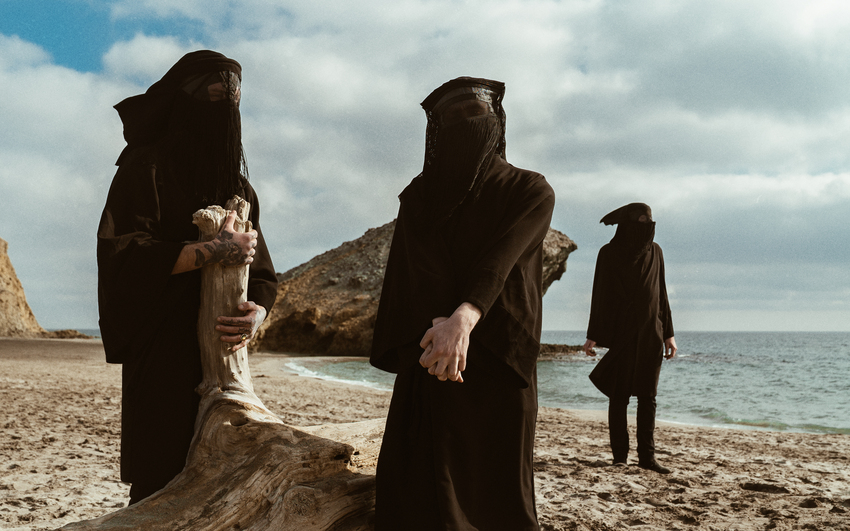 Oriental doom visionaries WYATT E. to release new album « āl bēlūti dārû » on March 18th via Stolen Body Records; full European tour announced.
Belgium-based oriental doom and drone experimentalists WYATT E. sign to UK powerhouse Stolen Body Records for the release of their anticipated new album « āl bēlūti dārû » this March 18th. The band also announced an extensive European tour with Messa, including two sets at Roadburn Festival. The journey has begun…

« Wyatt E. are cloaked in mystery, very much allowing their music to do the talking. And when it talks it provides deep meditation and other-worldly vibes in abundance. » — Roadburn Festival

Blending droning soundscapes with Middle Eastern instrumentation, Wyatt E. writes the soundtrack of a Pilgrimage to Neo-Babylonian Empire. A journey in the past which leads to ancient Gods, forgotten cities and lost civilizations. In 2015, their debut EP Mount Sinai/Aswan caught the eye of Shalosh Cult, an Israel- based label that released their critically acclaimed debut album Exile to Beyn Neharot in 2017. Since then, the bandwent from a band that wanted to remain anonymous to a highly revered live act in Europe and Israel: Desertfest Antwerp, Stoned from the Underground, Smoke over Warsaw, Tales of Doom Basel, Bristol Psych Fest, Red Smoke Festival, Under the Doom Lisbon, Mount Of Artan, Dour Festival, Electric Meadow…

Sealing the Wyatt E.'s long-awaited return, their new album « āl bēlūti dārû » ("The Eternal City" in Akkadian language) features two 19-minute tracks recorded in their Karl-EhmannStrasse studio, then mixed by doom godfather Billy Anderson (Sleep, Om, Melvins) and mastered by Justin Weis at Trakworx. Artwork was designed by Belgian artist ammoammo. It will be issued on three different limited edition vinyl, black vinyl, CD digipack and digital on March 18th, 2022, with preorder available now via Stolen Body Records and Bandcamp.
WYATT E. – New album « āl bēlūti dārû »
Out March 18th on Stolen Body Records
UK preorder / EU preorder / digital pre-save

TRACKLIST:
1. Mušḫuššu (18:33)
2. Šarru Rabu (18:46)
The composition of the album results of a challenging use of techniques and instruments never used by the band before: Saxophones, Saz, unusual use of voices, effects and percussions. 2 drum kits have been tracked simultaneously during most of the album to create some sort of messy vibration coming from a huge crowd. A-side « Mušḫuššu » (Name of Marduk's sacred animal) is a well-balanced track driven by a bass groove & featuring Y. Tönnes on the saxophone, ending up in a traditional acoustic outro. B-side « Šarru Rabu » ("The Great King") is a military march and shows the band at its best in terms of slowly building up layers to a climax and starting all over again until the final sonic explosion. 
Wyatt E. will present the album in its entirety at Roadburn Festival 2022, where they will also perform a special collaborative set with Five The Hierophant and MC Slice.
WYATT E. on tour with Messa:
18.03 Botanique, Bruxelles – BE
19.04 Le Michelet, Nantes – FR
20.04 Glazart, Paris – FR
21.04 Roadburn Festival – NL
22.04 Roadburn Festival (w/ Five The Hierophant and MC Slice) – NL
23.04 TBA, Braunschweig – DE
24.04 Spillestede Stengade, Copenhagen – DK
25.04 Urban Spree, Berlin – DE
26.04 Drizzly Grizzly, Gdank – PL
27.04 Hygrozagadka, Warsaw – PL
28.04 Paon, Krakow – PL
29.04 Bandhaus, Leipzig – DE
30.04 Dudefest, Karlsruhe – DE
01.05 Hirschenek, Basel – CH

WYATT E. links
Facebook⎪Bandcamp⎜Instagram⎜Spotify⎜Youtube

STOLEN BODY RECORDS links
Website⎜Facebook⎜Bandcamp⎜Instagram