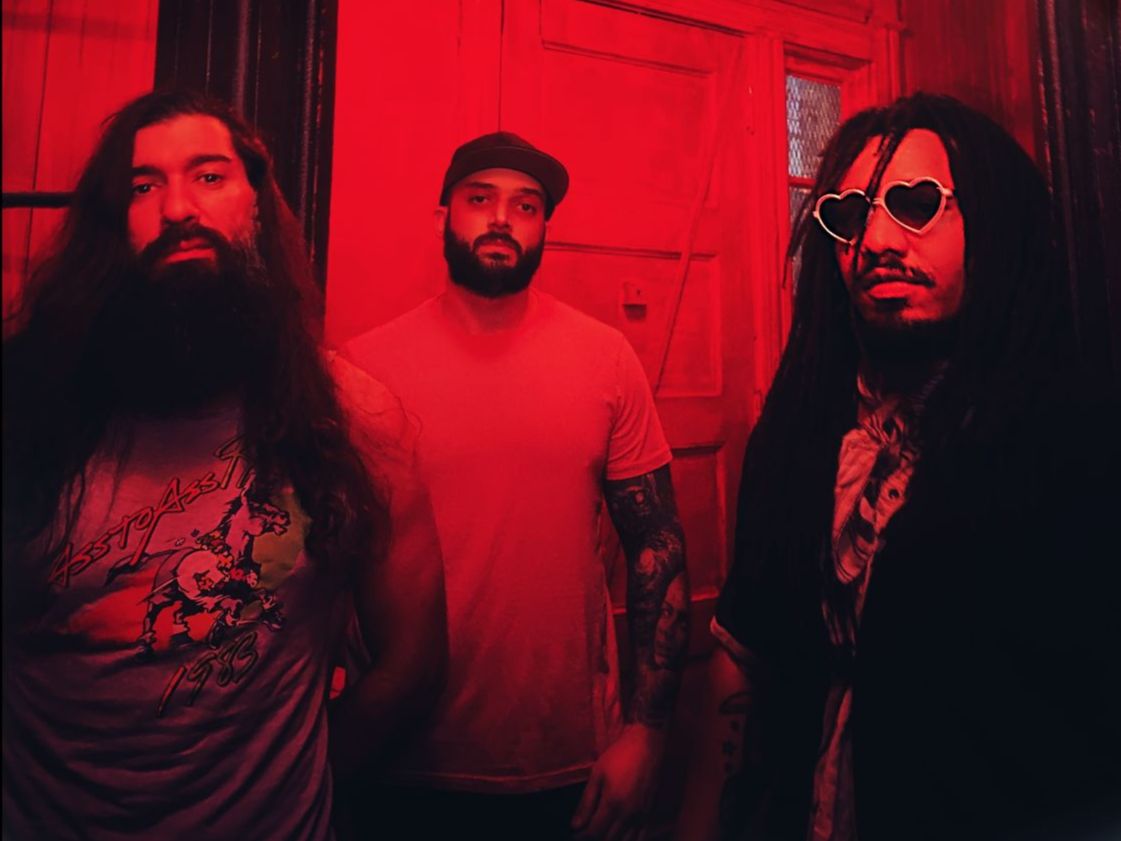 Brooklyn sludge metal trio SOMNURI shares trip-inducing new video; new album « Nefarious Wave » out now on Blues Funeral Recordings!
Brooklyn-based sludge metallers SOMNURI teamed up with Metal Injection to premiere their brand new video and title track off 'Nefarious Wave', their sophomore album out now on Blues Funeral Recordings.
"There's a deceptive elegance to Somnuri's brand of meaty metal, a mysterious adeptness at simultaneously sounding like gilded seraphs while peeling off thick slabs of syrupy slick sludge metal." Metal Hammer Magazine
Says the band about this new song and video: « The song has a trodding and lumbering feel to it. It builds layer after layer, and we wanted the video to have textures as well. We ended up shooting a lo-fi, psychedelic, first-person trek through the woods, tying to the song's themes of survival and resilience, » said the band. « Those themes are present throughout the record as well and, ultimately, it was easy to see how they paralleled the world around us, filming and editing this video during lockdown. Thanks to our friend Eric Adams of the band Adam's Castle, who helped get us some crazy shots way the fuck up in the mountains. We're proud to have this video accompany the title track of this record.« 
Watch new video « Nefarious Wave » via Metal Injection
Coming from the depths of Brooklyn, NYC, SOMNURI weave together breakneck energy, infectious melodies, bludgeoning riffs and pounding grooves that share DNA with High on Fire, Mastodon, Baroness and Torche. A sprawling record full of time shifts and burning ambition, Nefarious Wave is a snapshot of survival and resilience in the band's native Brooklyn, full of stark brutality and spacious hush. Embodying their refusal to concede or compromise, their sophomore album 'Nefarious Wave' is a reflection of their undeniable ethic, a devastating musical worldview ready for those willing to inhabit it with them. Watch their new videos « Beyond Your Last Breath« , « Tooth & Nail » and « Desire Lines« . 
New album 'Nefarious Wave'
Out June 4th on Blues Funeral Recordings
Nothing burnishes heaviness like being a DIY band in Brooklyn. The strength of will to survive in New York inevitably seeps into the music, and toughens the musical character of those who persevere. SOMNURI started when two multi-instrumentalists sharing adjacent practice spaces heard like-minded styles and energies coming from next door. Justin Sherrell had played drums in Brooklyn bands Blackout, Tower, and Bezoar, but yearned to take on guitar and vocals. He heard Phil SanGiacomo (Family, Grandfather, Last Hours) pounding out polyrhythms through the wall and thought, 'this could be the foundation of something awesome. Hitting the pavement with an underground cannabis delivery service to fund the band's beginnings immediately catalyzed their uncompromising ethos. SOMNURI self-released an ambitious and well-received debut LP in 2017, earning high marks from Decibel, Metal Injection, Invisible Oranges and Metalsucks, and powered ahead with a series of blistering shows. The arrival of bassist Philippe Arman in 2019 seemed to complete the band at last, with the addition of live vocal harmonies and slick yet thunderous low-end.

A sprawling record full of time and tempo shifts, their sophomore album 'Nefarious Wave' is a story of survival and resilience. As naysayers flee the city, claiming the scene is dead and will never be what it used to, SOMNURI is alive, breathing, adapting and mutating into something greater, and continues to push the possibilities of heavy music and the ideals of how a DIY band fights for their place. It was mixed by Phil SanGiacomo, and mastered by Justin Mantooth at Westend Recording Studios KC. The artwork was designed by Dani Otrajki.

SOMNURI is:
Justin Sherrell — guitars/vocals (also bass on the album)
Philippe Arman — bass
Phil SanGiacomo — drums

SOMNURI links
Facebook⎪Bandcamp⎪Instagram⎪Spotify

BLUES FUNERAL RECORDINGS links
Website⎪Facebook⎪Bandcamp⎪Instagram⎪Youtube