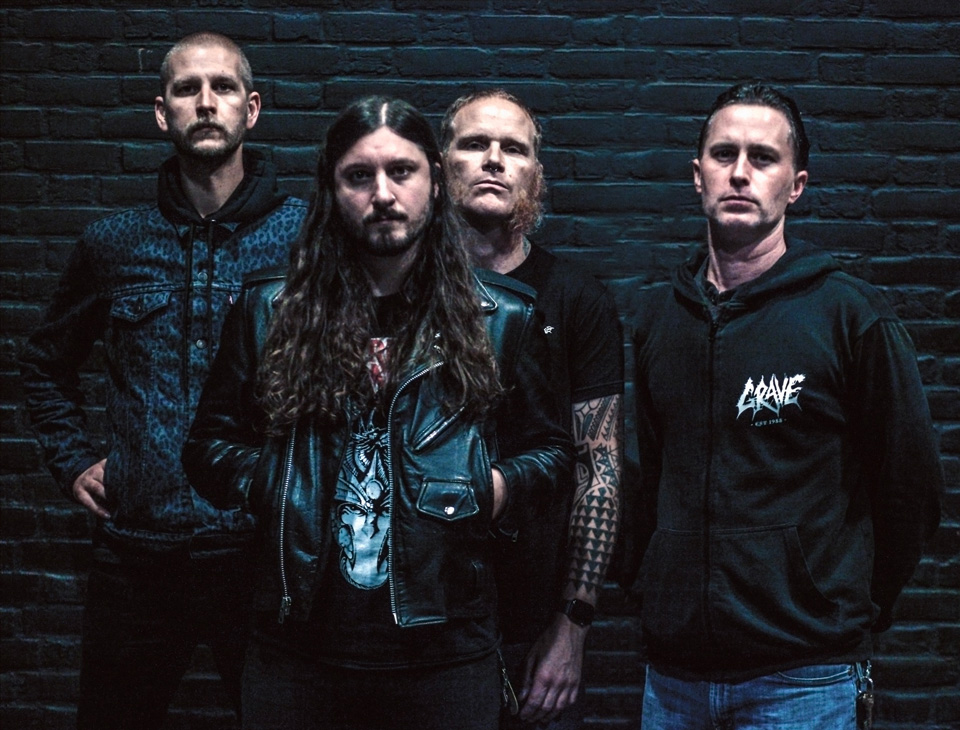 Philly heavy rockers HIGH REEPER debut first track off upcoming 'Doom Sessions Vol. 5' EP with HIPPIE DEATH CULT on Heavy Psych Sounds; preorder up now!
Philadelphia proto-metal flagbearers HIGH REEPER teamed up with Invisible Oranges to present the first track taken from their upcoming 'Doom Sessions Vol.5' EP with Portland heavy rock revelation HIPPIE DEATH CULT. The album will be issued on May 14th and can be preorder now on Heavy Psych Sounds. 

Heavy Psych Sounds' vaunted 'Doom Sessions' series has presented fresh new songs from some of the heaviest bands around the doom and rock scene, from Conan to Acid Mammoth to 16 and Grime. This fifth installment merges the forces of Delaware's prolific heavy mongers HIGH REEPER, which are set to deliver their exuberant stoner metal and an abundance of replay-ready licks, as described per Invisible Oranges. Alongside them will be Portland's rock shapeshifters HIPPIE DEATH CULT, whose steady fusion of stoner, classic and progressive rock has chances to win over a wide audience of riff aficionados. The 'Doom Sessions Vol.5' split EP offers over half an hour of deliciously subversive and addictively heavy anthems, wrapped in a stunning artwork from Italian artist and long-time HPS Records collaborator Luca SoloMacello.
Stream High Reeper's « Winter King/Devil's Grip » on Invisible Oranges
« If the pandemic has been good for anything, it's been for getting super high and writing heavy stuff, and High Reeper are clearly disciples of both endeavors. » say Invisible Oranges about High Reeper's new single. HIGH REEPER add: « Doom Sessions Vol. 5 marks another step in the evolution of our sound and we couldn't be more stoked for it. Our new material is heavier, forward looking and we've added more texturally to the music. We are very excited to share it with everyone.« 

'Doom Sessions Vol.5' will be available on May 14th, 2021 and available to preorder now on:
– Test press vinyl
– Ultra LTD Neon Green/Black vinyl
– LTD Neon Magenta vinyl
– Black vinyl
– CD and digital
'Doom Sessions Vol. 5' split EP
with High Reeper and Hippie Death Cult
Out May 14th on Heavy Psych Sounds
TRACKLIST:
Side A — High Reeper
1. Vermillion Iron
2. Winter King/Devil's Grip
3. Withering Decay
Side B — Hippie Death Cult
1. Fill The Fires
2. Towards Infinity
Formed in 2016, HIGH REEPER is made up of Zach Thomas, Justin Di Pinto, Pat Daly and Shane Trimble. Originally started as a studio band, it rapidly became apparent that these songs were meant to be heard live and loud. The band made their debut in the Philly/DE stoner rock scene in early 2017 with success, followed up by the recording of their self-titled debut in May. With a sound deeply rooted in modern stoner rock while giving a nod to early days Sabbath, their self-titled debut was driven by pounding rhythms, thick guitars and soaring, screeching vocals. For their sophomore record, the addition of Di Pinto on drums helped focus in an even more powerful direction. After their sophomore album release and a successful 2018 European tour that included Desertfest Berlin, High Reeper hit Europe once again in 2019, visiting ten countries as well as an appearance at Desertfest London. The band has been working on new material since then, with a new album yet to be announced on HPS Records.

HIGH REEPER is
Zach Thomas — Vocals
Pat Daly — Guitars
Shane Trimble — Bass
Justin Di Pinto — Drums
HIPPIE DEATH CULT has proven to be one of the more exciting hard rock bands to surface in recent years. Described as a band who « perfectly fuses classic rock sounds with a more modern fuzzy doom sensibility » by Metal Injection and « definitely ones to watch » by Classic Rock Magazine, the Portland, OR quartet only began writing and performing in early 2018, while the roots of the band go much deeper. A stream of musical consciousness swept over guitarist Eddie Brnabic inspiring him to create the band, but it would take a few lineup attempts and a little luck to bring the right members together. With a solid lineup of Laura Phillips, Ryan Moore and Ben Jackson in place, they set out with fierce dedication to rehearse, record and perform a string of successful live shows, securing a deal with Cursed Tongue Records, who released their politically and ecologically-driven debut album '111' in 2019. In 2020, HDC signed a worldwide record deal with Heavy Psych Sounds Records to release their sophomore full-length in the spring of 2021.
HIPPIE DEATH CULT is
Ryan Moore — Drums
Eddie Brnabic — Guitar
Ben Jackson — Vocals/Keys
Laura Phillips — Bass/Vocals

HIGH REEPER LINKS
Facebook⎜Bandcamp⎜Instagram

HIPPIE DEATH CULT LINKS
Website⎜Facebook⎜Bandcamp⎜Instagram

HEAVY PSYCH SOUNDS LINKS
Website⎜Facebook⎜Bandcamp⎜Instagram⎜Youtube