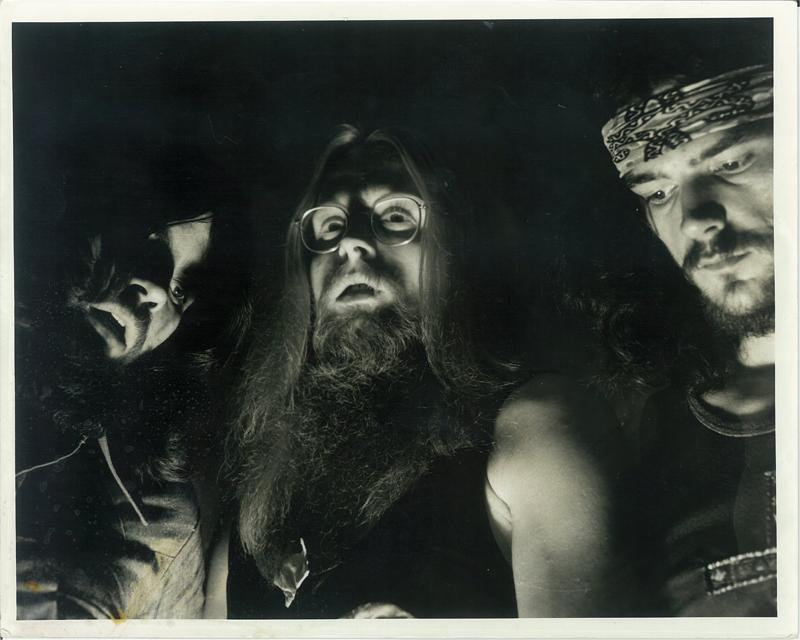 Monster Magnet cover POOBAH's « Mr. Destroyer » from 1972 album 'Let Me In'; Ripple Music to issue full band anthology in 2021.
POOBAH's 1972 anthem « Mr. Destroyer » is back to the forefront again! The cult psychedelic rock trio's debut album 'Let Me In' was just repressed for the fifth time on vinyl by Ripple Music, who also announce the upcoming release of the 'Burning In The Rain: A Poobah Anthology' this year. A quintessential release that proto-metal and 70s rock fans will need to add to their collection! 
« An unmissable slice of newly-refurbished rock history. » — Classic Rock Magazine
« You could go broke and mad trying to locate every « great lost album » cherished by fanboys from the homegrown-pressing underground of the late 60s and 70s. The 1972 debut by Poobah is one of the few that was – and still is, as hard 70s boogie goes – great. » — Rolling Stone Magazine
With all-time classics such as « Mr Destroyer », « Bowleen » and « Enjoy What You Have » (a song used in Sophie Turner's movie Josie), POOBAH's 1972 debut album 'Let Me In' is now approaching legendary status. Thanks to an unprecedented fusion of early days Cream psychedelia and the fuzzed-out heaviness of Black Sabbath, the American trio's debut originated a sound that was both fresh and intense. Their incendiary live shows led them to support major acts such as Canned Heat, Judas Priest, Alice Cooper, ZZ Top, Foghat, and countless others throughout the years.
Nearly five decades later, New Jersey's stoner rock icons MONSTER MAGNET release a burning hot cover of POOBAH's « Mr. Destroyer », spurring visions of some untold Freak revolution – or perhaps dinosaurs battling on a burning planet at the end of time – creating a perfect blend of hard rock and psychedelia. The song is part of their upcoming covers album 'A Better Dystopia'. Listen to Monster Magnet's cover of Poobah's « Mr. Destroyer » at this location.
In the meantime, Ripple Music have announced the release of an unprecedented band anthology entitled 'Burning In The Rain: A POOBAH Anthology', a career-spanning collection of tracks from their entire discography.
The 'Let Me In' reissue is available now through Ripple Music on deluxe 2xLP, including a bonus disc with 12 previously unreleased tracks, a double gatefold jacket with rare photos and a download code. 
POOBAH 'Let Me In' album reissue
Available now on 2xLP vinyl and digital
Order your copy on Bandcamp and Big Cartel
TRACK LISTING:
1. Mr. Destroyer
2. Enjoy What You Have
3. Live To Work
4. Bowleen
5. Rock N' Roll
6. Let Me In
– – – – BONUS TRACKS – – – – 
7. Here's The Band
8. Make A Man Outta You
9. Upside Down Highway
10. Walk Of The Bug
11. Blooey Gooey
12. Going To Rock City
13. Smoke
14. Mr. Destroyer (Live Rehearsal)
15. Passion For Freedom
16. Aww, Not Now
17. Bowleen (Radio Edit)
18. I'm Crazy, You're Crazy
When you hear the name POOBAH, you instantly remain of the whole 70s rock scene. Your feel the vibrations of Jimi Hendrix' electric explorations, and the excitement of heavy music's early stages. The band is more than just a witness of these times, they are true pillars. In 1972, guitarist/vocalist Jim Gustafson, like so many young rockers, put together a band. With the help of high school chum and bass player Phil Jones, they searched for and added drummer Glenn Wiseman. The band came to be known as POOBAH and recorded what would become one of the quintessential albums in the bands catalog, 'Let Me In'.
With a completely new line-up, Gustafson led the band into the studio in 1976 to record the bands second LP, 'U.S. Rock'. With the record selling exceptionally well, the bands cult status continued to strengthen, but poor management and the typical industry pitfalls hampered the band from finding the wider success that they so richly deserved. By 1979, their made their way to the recording studio for album number three, 'Steamroller'.
Ten guitar powered studio albums and thirty years later, POOBAH is still at it, playing his distinctive brand of heavy rock to clubs filled with fans, old and new. Over the course of four decades, Gustafson has the distinction of playing the Rock'n'Roll Hall of Fame more than any other musician. As of 2010, Jim Gustafson has signed on with indie record label Ripple Music to re-release POOBAH's debut album 'Let Me In' – re-mastered by underground cult hero Tony Reed (Mos Generator). The fifth vinyl repress of 'Let Me In' is out now on Ripple Music.
POOBAH 'Let Me In' lineup:
Jim Gustafson – Guitars/Vocals
Phil Jones – Bass
Glenn Wiseman – Drums

Current lineup:
Jim Gustafson – Voice, guitar, songwriter
Lori Powers – Percussion, backing vocals
Mike Lewis – Bass, backing vocals
Mike Fortino – Drums, backing vocals
POOBAH LINKS
Website | Facebook⎪Bandcamp
RIPPLE MUSIC LINKS
Website⎪Facebook⎪Bandcamp⎪Instagram