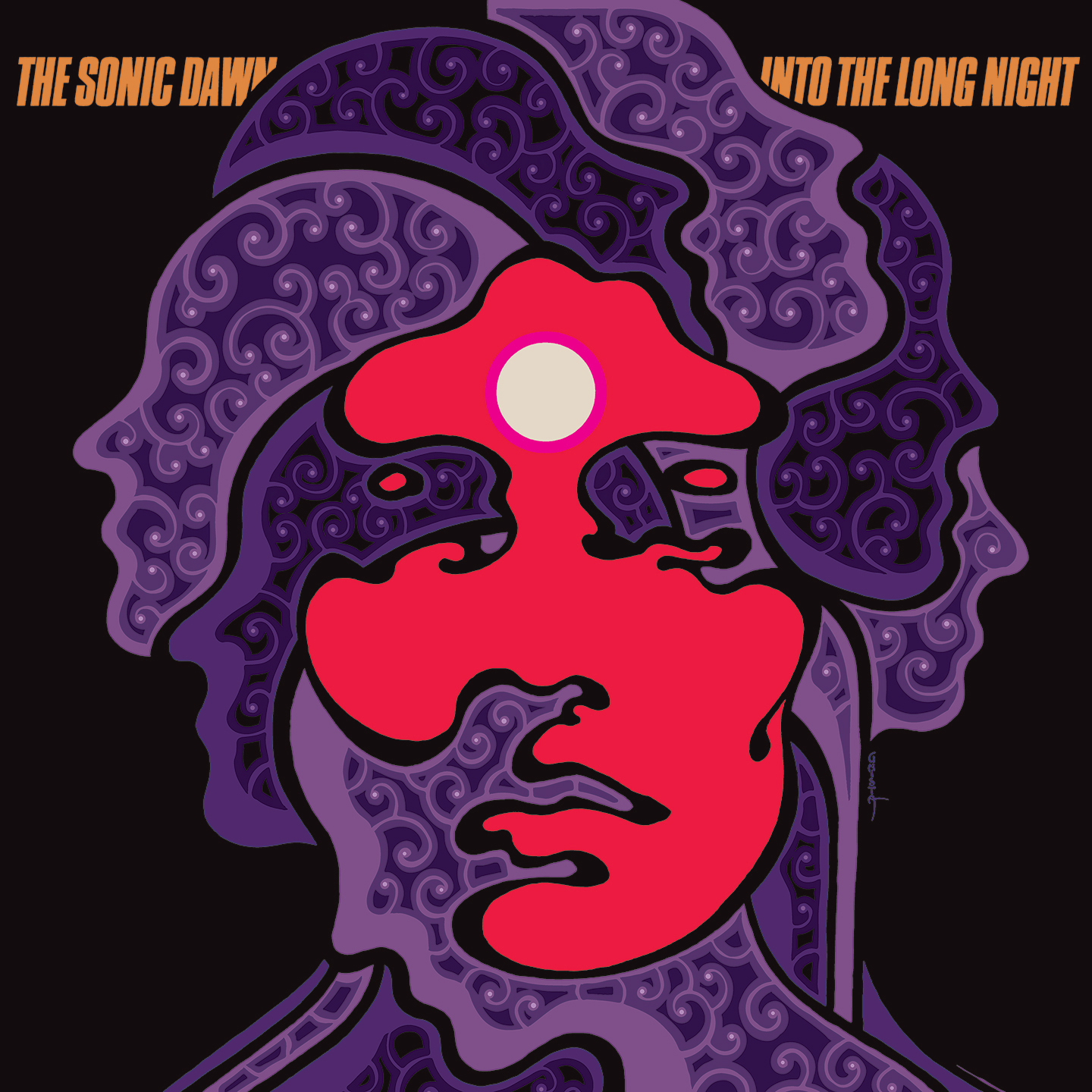 Feel the heat with Danish psych trio THE SONIC DAWN's new album « Into The Long Night », streaming in full now!
The future of new psychedelia has arisen, with Copenhagen's trio 

THE SONIC DAWN

 as one of its finest ambassadors! Their cheerful second album « Into The Long Night » is streaming right now on The Obelisk…
GET « INTO THE LONG NIGHT » IN FULL HERE
« 
It's a deceptively complex front-to-back trip, as The Sonic Dawn fluidly shift between late-'60s pop, mid-'70s fusion and more modern strains (…) The three-piece crafts a style of familiar elements that is immersive and decidedly their own
« , says The Obelisk.
« Into the Long Night » was written by day and recorded at night, during a month of complete isolation in a remote house by The North Sea. Close your eyes and see it… Go through the hill country with its long yellow grass, to the beach where the setting sun dances on the cold waves. Slide into the darkest hours, alone with your thoughts and doubts. Suddenly come the first blue rays, separating past from present, before a golden dawn is born and everything takes its right shape, perhaps for the very first time…
To achieve the dramatic changes of mood and feeling that THE SONIC DAWN excel at, they mix a wide range of styles, from jazzy sitar pop to heavy acid rock. A pleasant-sounding analog production makes the album easy to approach, not to water it down, but rather to pull the unsuspecting listener into the deep.
THE SONIC DAWN ON TOUR
21.04.17 – Svendborg (DK) Maskinen
18.05.17 – Hamburg (DE) MS Stubnitz
19.05.17 – Berlin (DE) Bassy
23.05.17 – Dresden (DE) Ostpol
24.05.17 – Nierstein (DE) E-Werk
25.05.17 – Karlsruhe (DE) PsyKa Underground Experience
26.05.17 – Essen (DE) Soulhell Café
27.05.17 – Hofheim/Taunus (DE) Jazzkeller
31.05.17 – Miltenberg (DE) Beavers
01.06.17 – Mannheim (DE) Kurzbar
03.06.17 – Mechelen (BE) Kafee Zappi
04.06.17 – Assenede (BE) Flanders Chopper Bash
06.06.17 – Mainz (BE) Schon Schön.
19.08.17 – Waffenrod (DE) Woodstock Forever
THE SONIC DAWN « Into The Long Night »
Out April 21st on Heavy Psych Sounds – Preorder here
THE SONIC DAWN is a trip – a psychedelic blend of styles, from jazzy sitar pop to heavy acid rock. The Copenhagen trio offers melodic songs infused with a '60s West Coast flavor, laced with dreamy vocals and delivered with an explosive stage presence. Since the release of their acclaimed debut « Perception » in 2015 (Nasoni Records), the Danish rockers have been caught on several European tours, which highlight was the Freak Valley Festival's opening in 2016, who had them sharing the stage with Graveyard and White Hills. This year again, they are confirmed to play the best venues and festivals, such as Liverpool Psych Fest.