Finnish stoner doom unit STONEGAZER premiere gloomy new video off « The End Of Our World » album, available now on Kozmik Artifactz.
Tampere-based stoner rock quintet STONEGAZER share their brand new video for « Bring Down The Rain » today. The song is taken from their latest album 'The End Of Our World', issued in the spring of 2020 through Kozmik Artifactz. Watch the video now exclusively on Doomed & Stoned website!
About « Bring Down The Rain », the band comments: « The song was inspired by the self-destructive and tribal nature of man and contemplates the nihilistic view to accelerate our slow suicide. The footage in the background comes together with the lyrics to portray both the acts of war, the deceit wrought around them and the consequences. » The video was directed, edited and shot by Tuomas Kulju.

Watch new video « Bring Down The Rain » right here
Formed by longtime members of the small but active Tampere music scene, STONEGAZER bring together an eclectic mix of styles from stoner rock to southern rock, blues and metal. The band was founded back in 2011 by guitarist Juho and drummer Jallu, both members of Tampere-based death metal group Vulvarine. Soon they were joined by Jussi on vocals and bass, and Late on second guitarist. The next year Jussi decided to focus solely on vocals, so Tomas joined the band as a bass player.
Ready to celebrate their 10th anniversary,STONEGAZER are still going strong. Their story is not only about longevity and perseverance, it's also one of uncompromising dedication, wild creativity and brotherhood in music.

New album « The End Of Our World »
Out now on Kozmik Artifactz and Bandcamp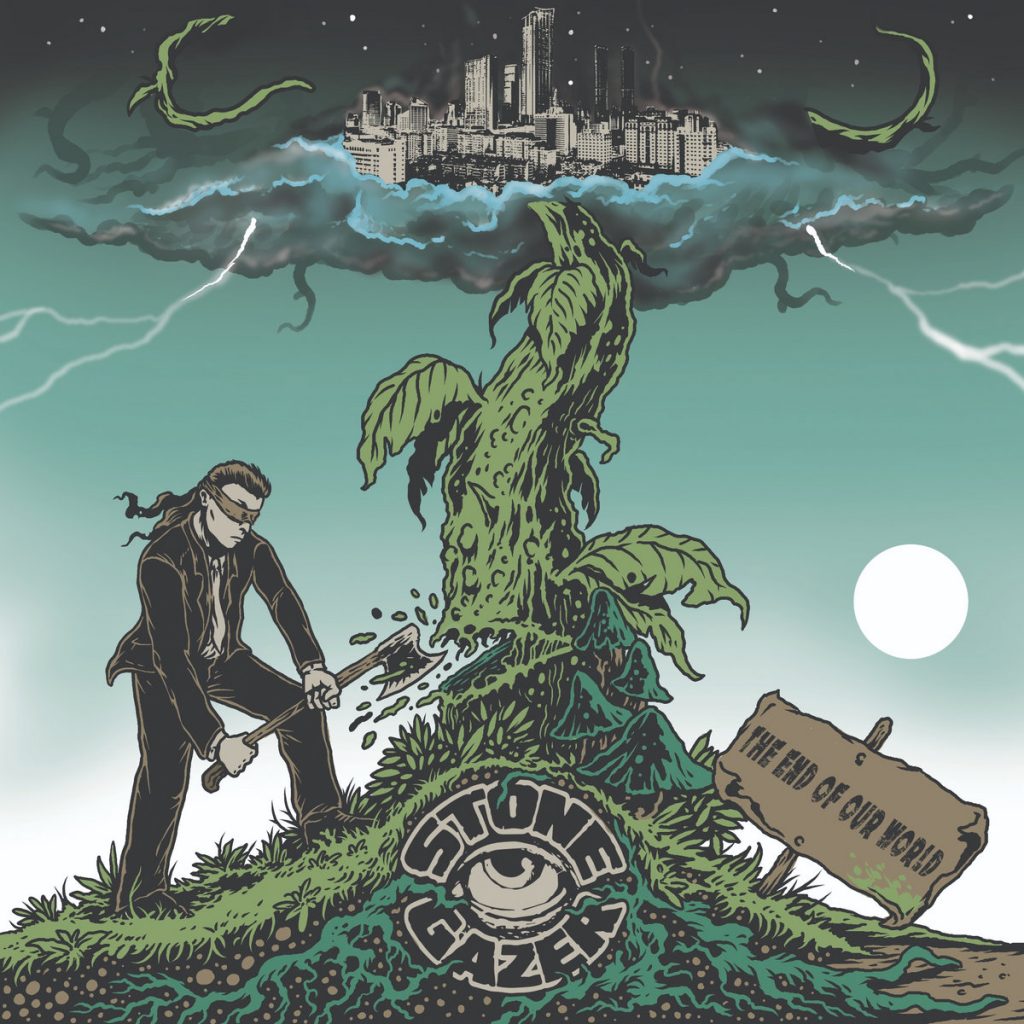 From 2012 to 2020, STONEGAZER have recorded two demos, an EP and a full-length album. They have also released two music videos and played a lot of gigs writing a ton of songs in the process, leading to their 2020 studio album 'The End of Our World'. Refining the heavy grooves of their previous releases, the songs depict the current system's shortcomings, the impending ecological disaster, as well as criticizing the unlearned lessons from the past regarding demagogues. Far from being a concept album, 'The End of Our World' simply reflects the contemporary world and takes a stand where one needs to be taken. It was recorded and mixed over a weekend at Studio Watercastle in a hectic session that really brought out the band's full creativity. As all STONEGAZER releases, it blends various influences bound together by a strong rock spirit and a deep dissatisfaction with the way our world is going.

STONEGAZER LINKS: Facebook | Bandcamp | Instagram | Youtube