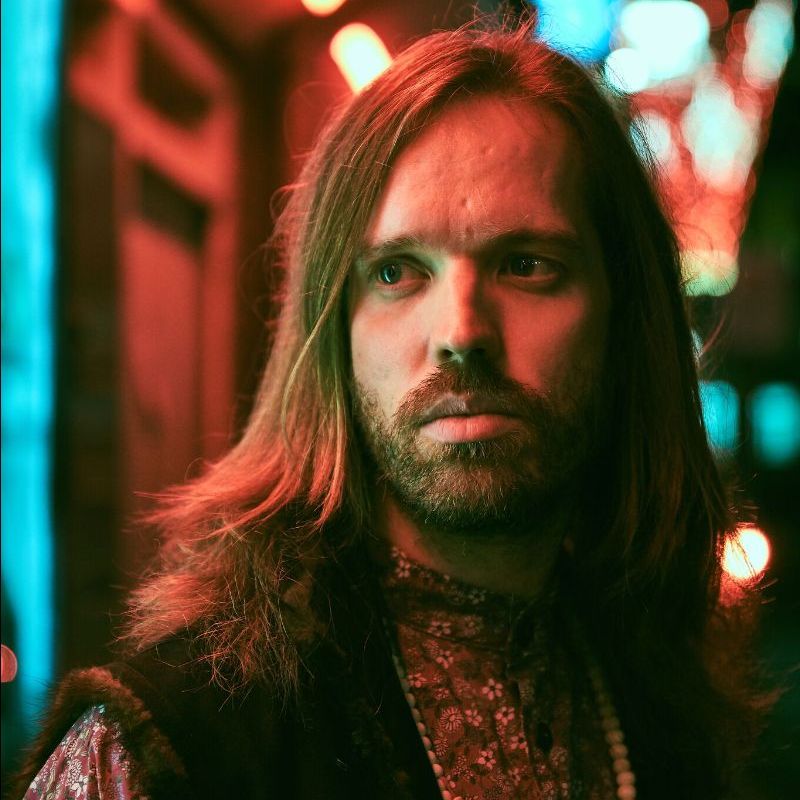 The Sonic Dawn's EMILE stream solo debut album 'The Black Spider/Det Kollektive Selvmord' in full; out May 22nd on Heavy Psych Sounds!
Danish psych folk songwriter EMILE (also frontman of The Sonic Dawn) shares his trippy and mellow solo album 'The Black Spider/Det Kollektive Selvmord' in full today, before its May 22nd release on Heavy Psych Sounds. 

« Welcome into my strange dream. A time lapse of life and death momentarily passing by. Captured in 11 melancholic and mysterious, but at the same time, strangely familiar songs. The album ranges from laid back sixties loner folk through the more vibrant psychedelic and the borderline surreal. I sincerely hope that You will enjoy this record, both on laid back mornings and in quiet contemplation. » says singer and guitarist EMILE. Det Kollektive Selvmord' is a mellow and tripped out track about the end of our civilisation. A surreal look into the eyes of a reality, where our species is slowly but surely committing collective suicide. The stream of unfiltered impressions unfolds as the colors peel from walls and curl up on the floor."
Stream Emile's debut album right here
Hispsychedelic loner folk debut comes together like a weird dream. A dream that shows a side of reality too strange to observe in any other way. Driven by acoustic guitar and haunting arrangements, the frontman of The Sonic Dawn presents a unique backdrop, on which songs about death, life, loss and fear of growing old melt together with a dystopian look into the near future of our civilisation.
'The Black Spider / Det Kollektive Selvmord'
Out May 22nd (CD/vinyl) and May 1st (digital)
on Heavy Psych Sounds – PREORDER
« In the beginning, I was just recording the songs for myself. But at a certain point it became clear to me that I was working on an album. As soon as I sketched out the concepts for the album, the elements started coming together like some strange dream. I had a lot of things on my mind, that I wanted to write about: Death, life, loss, spirituality and the fear of growing old.
Another thought, that I could not shake, was the current race towards the end of our civilization. Having to live with the possibility of humans turning our own world uninhabitable for ourselves, and most other species, seemed totally bizarre. Just so that a few can buy some fake happiness. To me, it looked like a cult committing a collective suicide. Seen from the outside, it's total madness. But for the people on the inside, there exists some kind of sensible and rational explanation. Well, this time around, we're all on the inside.
Roughly put, Side A of the LP deals with the more personal themes, while Side B is about the end of our world. Inevitably, the themes got tangled up and there are drops of each on both sides. I wanted to do Side A in a familiar and straightforward sixties style songwriting, recorded with the warm analog tape machine sound, that kind of feels like home to me. However, I still wanted the sound to be laced with unsettling psychedelic undertones, to support more complex moods.
For the B side, I wanted it to be surreal and almost dystopian sci-fi. Sometimes, reality is so bizarre that a surreal depiction is your best chance of looking straight at it. It seemed natural to me to write the lyrics in Danish. Writing in my mother tongue was the most direct form of communication to people close around me. At the same time, it was a way to make it almost alien and let the music speak for itself. In the end, many of our problems stem from lack of understanding.
I hope that you will enjoy this record, no matter whether you're just looking for a calm spot, or looking for reflection. Know that I found some hope and optimism in putting words and music to these thoughts. »

EMILE LINKS
Facebook⎜Bandcamp
HPS RECORDS LINKS
HPS website⎜HPS Facebook⎜HPS Bandcamp