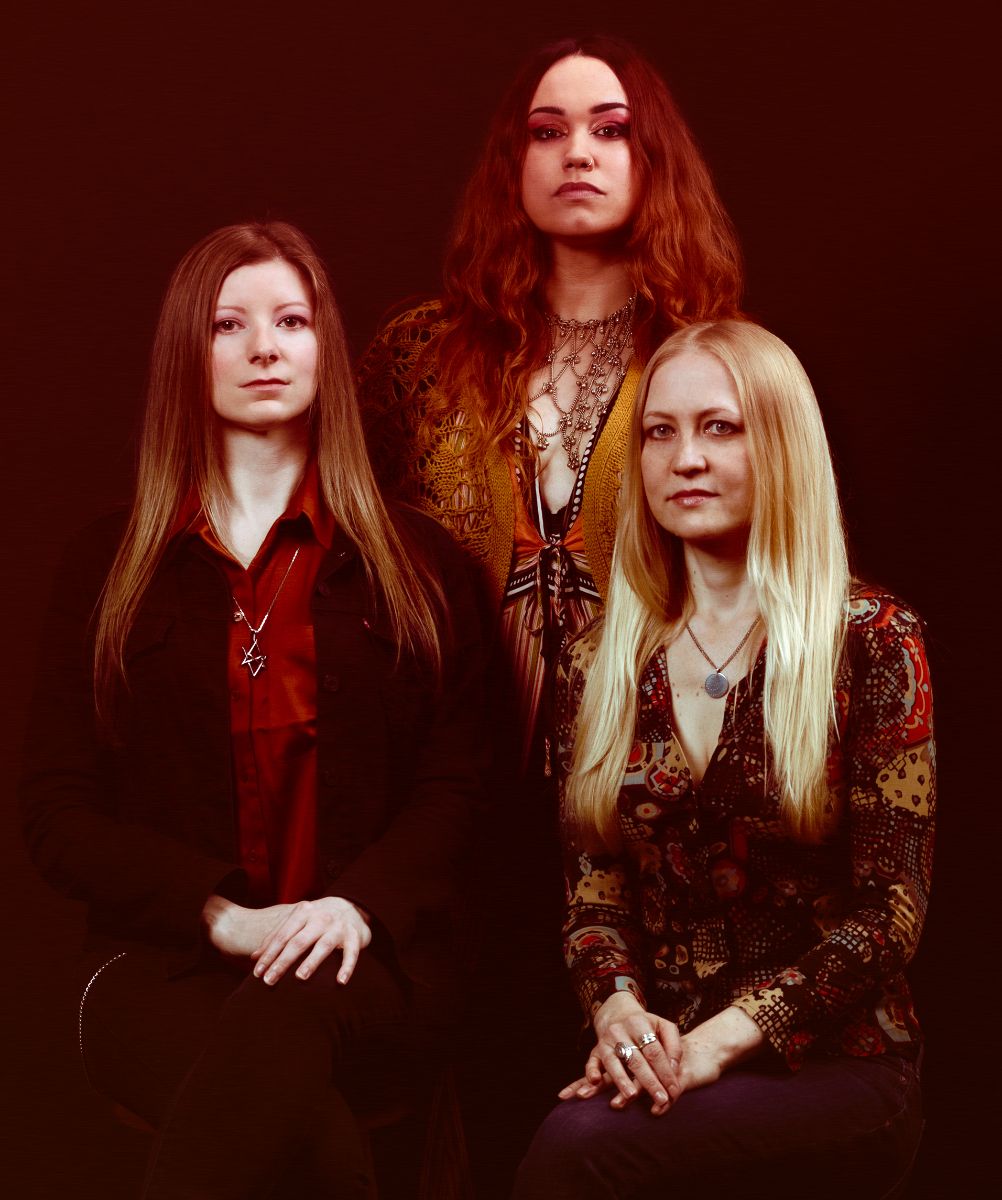 L.A. heavy psychedelic trio HIGH PRIESTESS premiere spellbiding video for 'Casting The Circle'; new album out now on Ripple Music.
L.A.'s very own psychedelic heavy trio HIGH PRIESTESS teamed up with Doomed & Stoned to share their brand new video « Casting The Circle », taken from their new album out now on Ripple Music.
Says bassist and vocalist Marianna Fiel: « Casting the Circle is the opening of a portal that bridges the gap between performer and audience into a unison blend of light and darkness. Since as a band we currently not able to play shows, we hope this video fills up the quarantine needs for occult b-movies and live performances. » The video was filmed and directed by Paris and Sharon of Vibralinx Film & Photo.
Join the coven with 'Casting The Circle' HERE
Their sophomore full-length "Casting the Circle," releasing in April 2020, seasons the psych-doom cauldron with keyboards, tribal percussion, signature harmonies and grandiose prog rock arrangements, all while pushing the boundaries of just how "heavy" heavy music can be. 'Casting The Circle' was produced, recorded, mixed and mastered by Katie Gilchrest at Mythology Mastering, Los Angeles, CA The artwork was designed by Jill Colbert at Manfish Inc.
« Should you be in the mood for swirling riffs amidst a much crunchier foundation, this album is for you. » Metal Injection

"An instinctively progressive take on the circular crunch of drone'n'doom (…) transported to a higher level of intrigue by the sheer charisma of the musicians themselves."Prog Magazine "With epic riffs and swirling, otherworldly vocals, these beings make music built for psychedelic trips to the higher planes of existence." Cvlt Nation
New album 'Casting The Circle'
Out now on Ripple Music
HIGH PRIESTESS is a psychedelic doom trio from Los Angeles convoking crushing riffs drenched with lush harmonies and hypnotic eastern themes. Formed in 2016 by Mariana Fiel on bass and vocals, she recruited Katie Gilchrest on guitar and vocals and Megan Mullins on drums through an online ad. Since then, they have created a sound that echoes both past and future incarnations of doom and psychedelia. Tours, both domestic and abroad, will find HIGH PRIESTESS embarking on their mission to spread the wicked gospel of thick, mossy fuzz and rhapsodic melody. Basically, wherever this band can go, they will go. Prepare to worship at their altar.
HIGH PRIESTESS is
Katie Gilchrest – guitars, vocals, organ
Mariana Fiel – bass, vocals
Megan Mullins – drums, percussion

HIGH PRIESTESS LINKS
Facebook⎪Bandcamp⎪Instagram

RIPPLE MUSIC LINKS
Website⎪Facebook⎪Bandcamp