NICK OLIVERI to release first volume of his « N.O. Hits At All » compilations through Heavy Psych Sounds this January!
Desert punk icon

NICK OLIVERI

just announced the release of a serie of compilations entitled « N.O. Hits At All », to be issued next year on Heavy Psych Sounds Records.
The man comments on this new work: « This record is the Volume One of a series of compilations in which I recorded the vocals. Bands that I like and bands that like my singing voice enough to have asked me to "guest vocal" on a song for their records. Some of these have been released and some have not until now. I have sang and/or recorded bass on 50+ releases of bands I love and had the great honor to work with – Dwarves, Mondo Generator, Svetlanas, Q.O.T.S.A, Kyuss, Bl'Ast, Bloodclo, Masters Of Reality, Vista Chino, Mark Lenagan Band, Turbonegro, Death Acoustic, The Uncontrollable, to name a few. The good folks at Heavy Psych Sounds Records are releasing a series called « N.O. Hits At All". Now for the first time, all these songs and bands I've recorded with over the past 25 years are together and available to you to trip out on. So get your head right, put this record on and play it loud!« 
« N.O. Hits At All Vol.1 » will be issued on January 27th, 2017 on LTD transparent red vinyl, black vinyl and CD, all through Heavy Psych Sounds.
NICK OLIVERI « N.O. Hits At All Vol.1 »
Out January 27th on Heavy Psych Sounds
Pre-orders available from December 16th here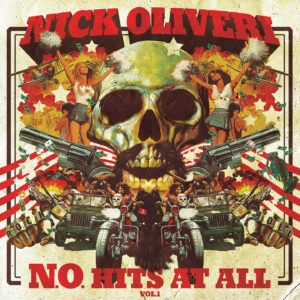 TRACKLISTING:
SIDE A
Komatsu « Lockdown »
Death Acoustic « Anything and Everything »
Winnebago Deal « Revenge »
SIDE B
Svetlanas « Speedfreak »
Death Acoustic « Time To Think / Surf&Destroy »
Ken Pustelnik's Groundhogs « Eccentric Man »