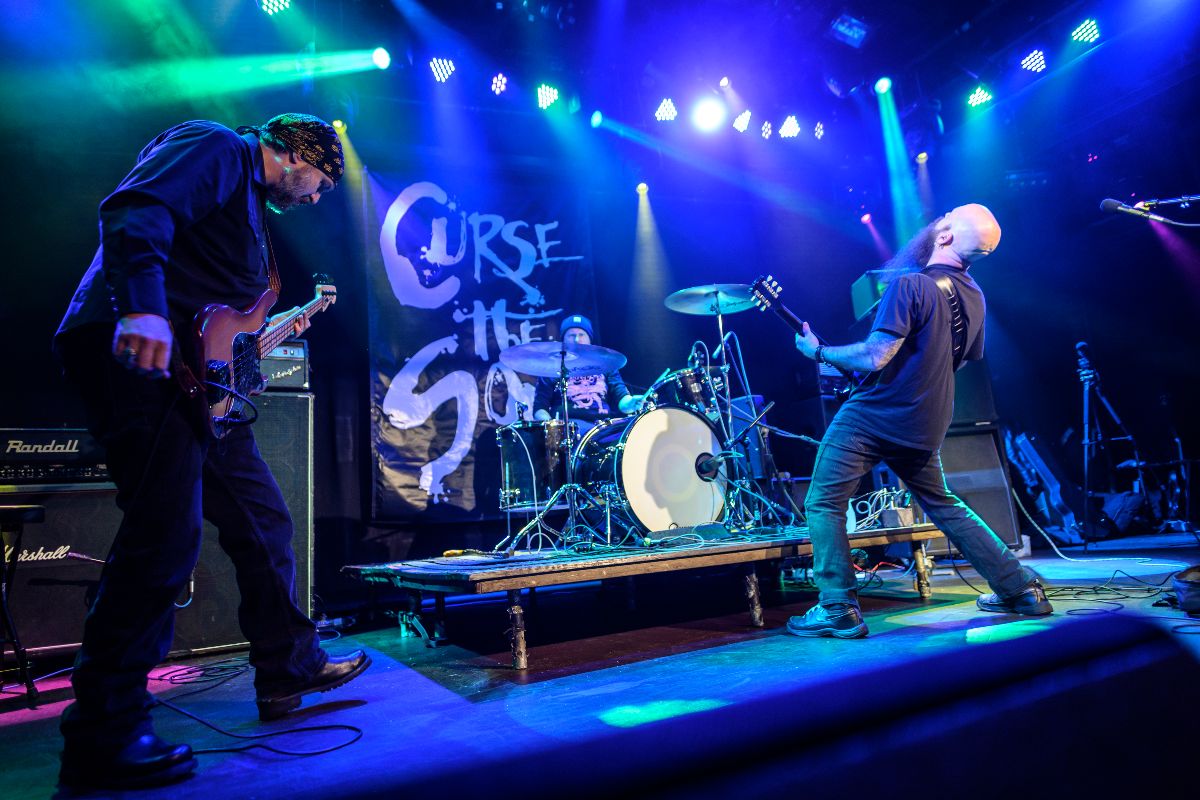 US doom metal trio CURSE THE SON return with new album 'Excruciation' this June 12th on Ripple Music ; stream debut single now!
Connecticut-based doom metal trio CURSE THE SON debut « Suicide By Drummer, the intoxicating debut single taken from their fourth album 'Excruciation', due out June 12th on Ripple Music. 

'Excruciation' is a defining moment for a band who has dealt with multiple challenges since the release of 'Isolator', and responded in full with their most diverse, ambitious, and genre shattering record to date!  Keefe developed a much larger role in the writing and performance aspect on the record. Guitarist Ron Vanacore was fueled by the extremely trying times the band had endured as a whole and individually.  'Excruciation' is shaded heavy and light.  'Excruciation' is beautiful and disfigured.  'Excruciation' is depressingly sad but strangely uplifting at the same time.  It is a record that defies genres, defies limitations and generalizations.  A true musical experience for one and all who love their music HEAVY!  
Stream new single « Suicide By Drummer » right here
Debut single "Suicide By Drummer" was written almost two years ago. It can be viewed as strangely prophetic, with its apocalyptic theme that currently resonates very strongly in these uncertain times we find ourselves in.

CURSE THE SON enlightens us on the album's creative process: « The past few years have certainly been extremely difficult for Curse the Son. Between what appeared to be endless drummer changes, individual tragedies, and of course, Brendan's very serious motorcycle accident… The band had been put to the test. We are very proud to say that we rose above all of that to create what is possibly our heaviest and certainly our most diverse and creative record to date.The record is titled Excruciation and offers a glimpse into our lives (particularly Brendan's) from November 2017-2018. Ron wrote songs, Brendan wrote songs and the band collaborated on a few. Pushing the creative boundaries even further, Brendan sings lead on a couple songs as well as playing lead and rhythm guitar on some tracks. Recording began at Dirt Floor studios in August 2019. We completed mixing in January 2020. We chose to really utilize everything the studio had to offer us as well as giving Eric Lichter a much larger role as producer and songsmith. Eric contributed backing vocals as well as playing a vast array of instruments to add to the musical landscape. »
CURSE THE SON 'Excruciation'
Out June 12th on Ripple Music
Preorder coming soon
TRACK LISTING:
1. Suicide By Drummer
2. Disaster In Denial
3. Novembre
4. Worry Garden
5. Excruciation
6. Infinite Regression
7. Black Box Warning
8. Devil Doctor Blues
9. Phoenix Risin'
What began as a studio project in 2008, CURSE THE SON has slowly and steadily risen to achievements never imagined.  Beginning with the release of the "Globus Hystericus" EP in August 2008, founding member Ron Vanacore (Guitars & Vocals) felt "a calling".  There was a need for sonic expression and a passion to create music to share with the world.  Using "Globus Hystericus" as a recruitment tool, Vanacore was soon able to find like-minded musicians who would assist in making the live experience a reality.   
What followed was the 2011 debut LP "Klonopain", which set the stage for what the band was and what it was to become.  Riff rock in the truest sense.  Screaming guitars, thick, teeth rattling bass, bombastic drums and that voice expressing years of pain, torture and sadness.   Released in January of 2013, "Psychache" was a humongous step forward for CURSE THE SON and the press took notice.  Soon after the online release of "Psychache", STB Records signed the band. In 2015, they recruited Brendan Keefe (Bass) to join the fold.  What followed was their fourth release  "Isolator".  Released in March of 2017 on Ripple Music, this was the bands most cohesive, well written and greatest performance yet. 
CURSE THE SON toured regionally in support of the « Isolator » record throughout 2017 and continued to garner growing attention and fans along the way.  Unfortunately long time drummer Michael Petrucci was no longer able to continue with the band and a replacement was needed.  Robert Ives (Drums) joined the group in April of 2018 and Curse the Son hit the road again performing at many high profile festivals such as The Maryland Doom Fest,  Descendants of Crom and the New England Stoner/Doom festival amongst others.  Writing began in Summer of 2018, but was put on hold after bassist Brendan Keefe suffered extensive injuries in a devastating motorcycle accident in November of 2018.   

CURSE THE SON are:
Ron Vanacore – Guitars & Vocals
Brendan Keefe – Bass & Vocals
Robert Ives – Drums
CURSE THE SON LINKS
Facebook⎪Bandcamp

RIPPLE MUSIC LINKS
Website⎪Facebook⎪Bandcamp⎪Instagram