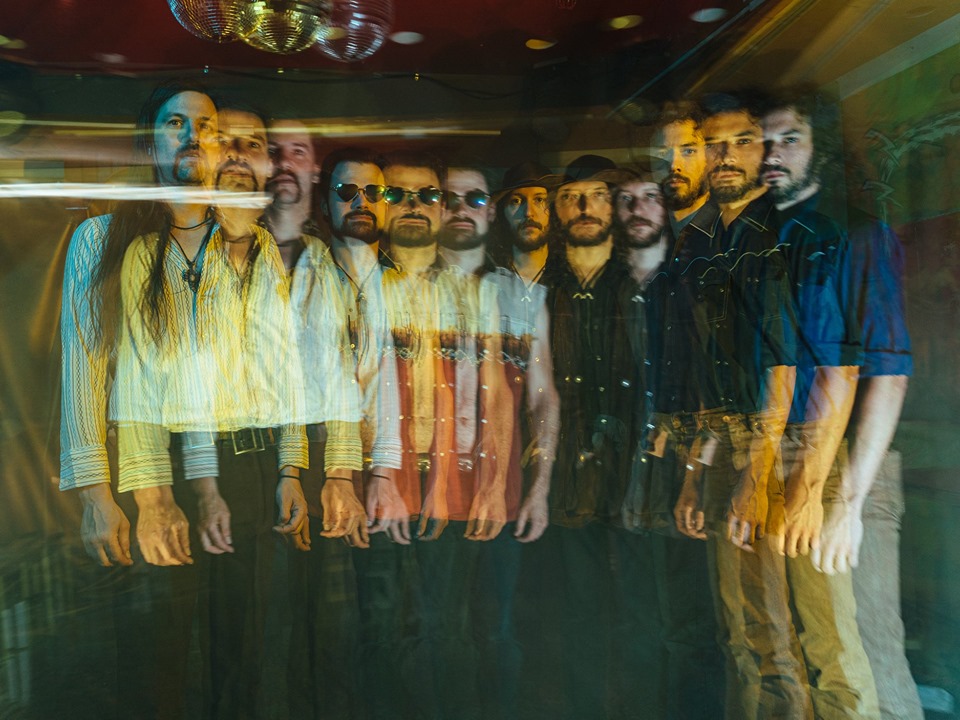 US psych rock masters ECSTATIC VISION share « Shut Up And Drive » video ; catch them on their European tour right now!
Philadelphia's acid rockers ECSTATIC VISION present their butt-kicking and exhilarating new video for « Shut Up And Drive » today. The band is touring Europe right now to present their new studio album 'For The Masses' released this fall on Heavy Psych Sounds.

ECSTATIC VISION have tapped into something that expands heavy rock's vocabulary and moves into a far-out sonic galaxy where there is music in the spheres, but the spheres vibrate on previously untold frequencies. 'For the Masses' is Ecstatic Vision at its most spacey, most tripped-out, most avant-garde, and most rock and roll, somehow all at once.

Rock'n'roll never dies! « Shut Up And Drive » at this location

Frontman Doug Sabolik says: « We were toying with the idea of a more digestible record but at the end of the day we had to keep it real and the result was our most psychedelic, head-trip style record to date. This record mixes expansions of the elements we have touched on in the past and with the help of producer Tim Green (Melvins, Earthless) we have delivered a streamlined, clear version of our unique blend of Neanderthal, Catatonic, Semi-Articulate, Cro-Magnon Rock.« 

ECSTATIC VISION on tour:
24/10/2019 NL Nijmegen – Merleyn
25/10/2019 NL Amsterdam – OCCII
26/10/2019 UK London – The Dev
28/10/2019 UK Bristol -The Lanes
29/10/2019 BE Bruxelles – Le Bunker
30/10/2019 NL Groningen – Vera
31/10/2019 DE Dresden – Chemienfabrik
01/11/2019 AT Wien – Weberknecht
02/11/2019 AT Innsbruck – Heavy Psych Sounds Fest
03/11/2019 SK Bratislava – Protokultura
04/11/2019 CZ Prague – Cafe v Lese
05/11/2019 DE Leipzig – Naumanns
06/11/2019 PL Wroclaw – DK Luksus
07/11/2019 PL Gdansk – Drizzly Grizzly
09/11/2019 DE Berlin – Headz Up Fest
13/11/2019 IS Reykkjavik – Gaukurinn
15/11/2019 SE Helsingborg- Favela
16/11/2019 SE Stockholm – Southside Cavern
New album « For The Masses »
Out now on Heavy Psych Sounds – ORDER
     After bursting onto the scene with their 2015 tribal-psychedelic LP, Sonic Praise, touring the USA with Yob and Uncle Acid & The Deadbeats, crushing Roadburn, then quickly releasing a for-heads-only, noisy, psychedelic-garage record to weed out the weak (Raw Rock Fury), ECSTATIC VISION have pulled themselves out of the muck to deliver their finest album to date. Recorded in Philadelphia at Retro City Studios with Joe Boldizar and mixed/mastered by Tim Green (Earthless, The Melvins) at Louder Studios in Grass Valley, CA, Ecstatic Vision's recent fuzzed-out sound has been sculpted it into a HI/FI psychedelic wonderland. This album is the closest the band has gotten to achieving the energy of their untouchable live shows on tape. EV took a simpler approach on the art this time, as if Tangerine Dream jammed with Lemmy and the Asheton Brothers and decided to play some World Music and Free Jazz in 1971.
ECSTATIC VISION is
Doug Sabolik – guitar, organ, vocals
Michael Field Connor – bass
Kevin Nickles – saxophone, flute, guitar
Ricky Kulp – drums
ECSTATIC VISION & HPS RECORDS LINKS
Facebook⎜Bandcamp
HPS website⎜HPS Facebook⎜HPS Bandcamp