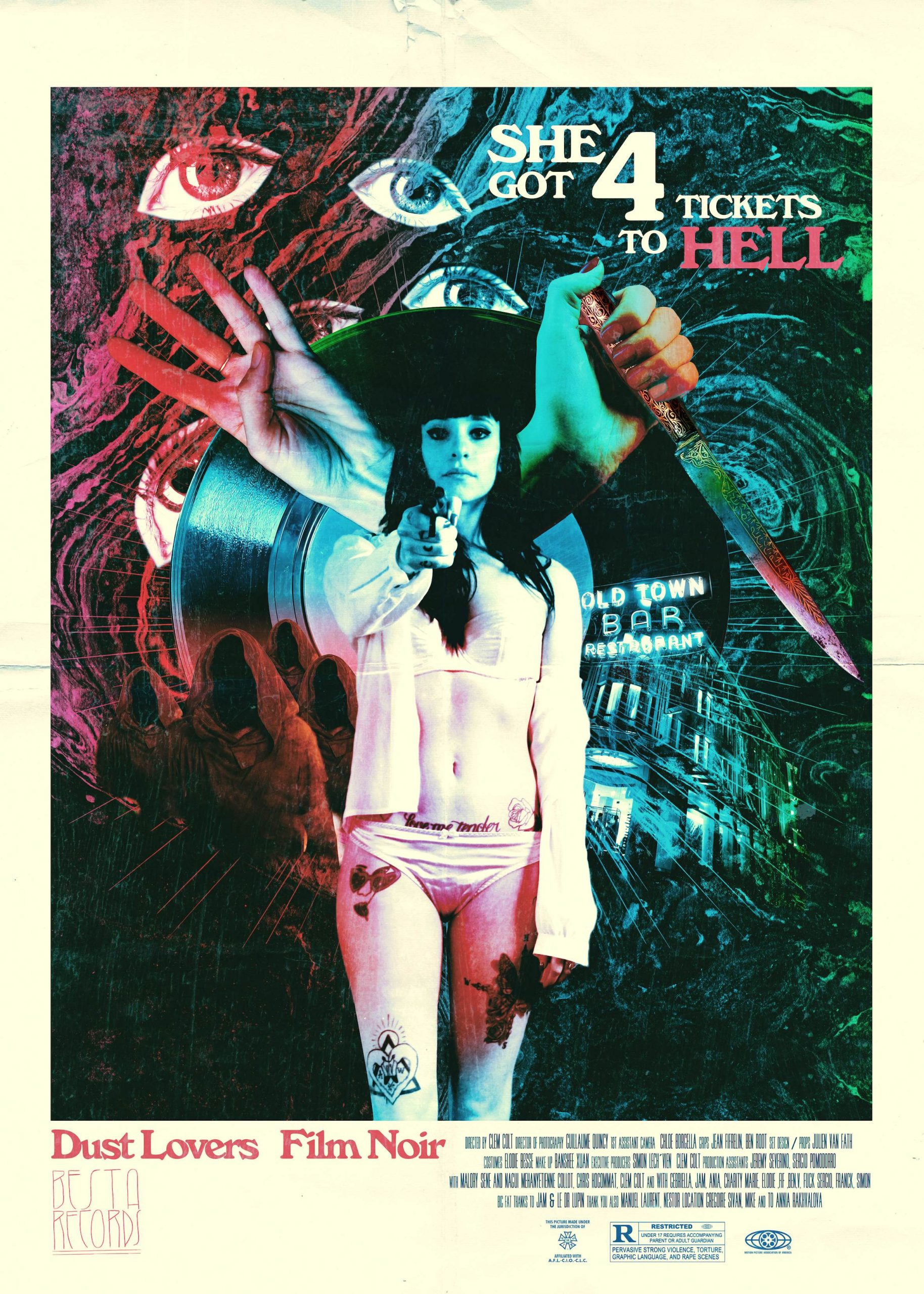 Paris rockers DUST LOVERS debut dark and sexy "Film Noir" video over at The Obelisk ; album sees vinyl reissue on June 24th!
Paris swaggery rock'n'roll unit 

DUST LOVERS

 (former The Texas Chainsaw Dust Lovers) premiere their giallo-inspired video « Film Noir » via The Obelisk today. Their 2017 full-length « Film Noir » will see a vinyl reissue on June 24th – marking the band's first appearance at Hellfest.
It's a coming of age for French rockers The Texas Chainsaw Dust Lovers, as they simply renamed themselves DUST LOVERS. It's a will to go straight to the heart of matter, to what has always mattered to them: telling disenchanted stories with their dark rock'n'roll swagger, compelling grooves and romantic approach drew from the 40's and 50's cinema.
The « Film Noir » video taken off their third album of the same name is an ode to Giallo movies, blending the boldness of Dario Argento's thematics and the modern twist of Tarantino's dramatization. The album will be reissued on vinyl through Besta Records on June 24th, on the day of the band's long-awaited appearance at France's prestigious festival Hellfest.
✟ Watch DUST LOVERS dark and sexy video « Film Noir » HERE ✟
The band comments: « The song "End Title : Film Noir" was thought and crafted like a movie's end credits. Like at the end of a flick, when the audience take their breath again, while digesting what they just saw. The video was crafted and directed like a short movie. As usual, our vocalist Clément Collot directed the whole thing alongside a proper video team for two days. (French director) Godard once said « to make a movie, you need a woman and a gun ». That's what we did, taking our cue from giallo movies and Italian horror movies à la Dario Argento. » 
DUST LOVERS « Film Noir » the album
Vinyl reissue available from June 24th at this location
Still available on CD and digital
Sexy sweaty rock anthems topped off by a deathly rock'n'roll crooning, Morricone-inspired heavy fuzzy tones, and there you are, with a bullet straight between your eyes! Formed in 2011 in Paris, 
DUST LOVERS
 brought together their definitive lineup with new guitarist Nagui Méhany in 2014. After their « Born Bad »
debut EP (2012) and the release of their blazing single « White Teeth », the foursome put out their second EP « The Wolf Is Rising »
in 2014, getting high praises from the French press.
On the fringe of the hexagonal rock scene, DUST LOVERS stand out from the crowd thanks to exalting south-infused atmospheres, hitting the riff highway somewhere between Clutch and Queens Of The Stone Age, with more desperado swagger than mere mortals can handle. After they extensively toured France and Spain, and played shows alongside The Midnight Ghost Train, No One Is Innocent, Black Spiders and The Picturebooks, 
DUST LOVERS
 returned in 2016 with their bold and exhilarating debut album « Me And The Devil » on Besta Records. Going through the heavy rock spectrum with swagger, DUST LOVERS blend a catchy, groove-laden songwriting with an irresistible Wild West gunslinger je-ne-sais-quoi that makes the listener crave a horse (or motorbike) ride under a warm desert sunset…
DUST LOVERS IS 
Clément Collot – Guitar & Vocals
Nagui Méhany – Guitar & Harmonica
Christophe Hogommat – Drums
Étienne Collot – Bass
DUST LOVERS LINKS
Facebook
⎪
Bandcamp
⎪
Youtube
Besta Records on Facebook