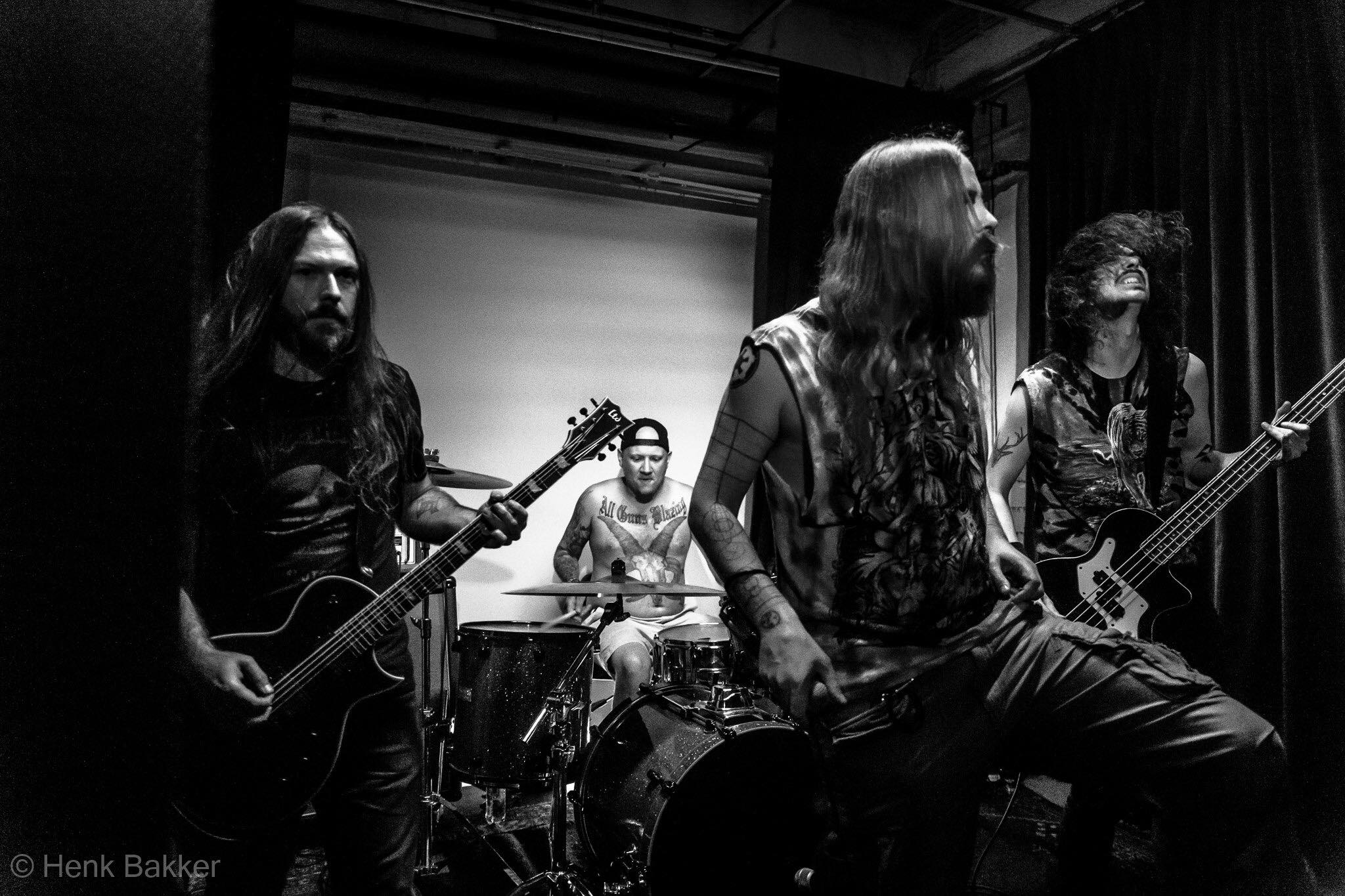 UK sludge hellraisers GURT share filthy new track 'Weed It and Weep' ; 'Bongs Of Praise' out Sept. 6th.
UK sludge merchants GURT unleash the goods with the third excerpt off their upcoming new album 'Bongs of Praise', landing this September 6th on When Planets Collide. The band also announced their UK summer shows.

🍁  'Weed It and Weep' now via The Obelisk 🍁 

GURT frontman Gareth Kelly comments: « We are proud to release the third track from 'Bongs of Praise' in new track 'Weed it and Weep', this track we have being playing Live for a year now since our Euro tour with Brume last summer, so some of our well versed fans may already know it well but finally we have the album version out in the world and sounding like an absolute rager!!« 
The drums are thunderous, the vocals demonic and the guitars down-tuned, down-tempo and down right sexy. This is not doom, this is not sludge: this is GURT. The UK foursome's wicked sense of humour bubbles at the surface of their latest release 'Bongs of Praise'.
The Obelisk describes: « GURT make it easy to appreciate their hash-oil-drenched party vibe and stonerly worship. In its riffs, barks, weight and groove, 'Bongs of Praise' is admirably conscious of who the band are in making it, (…) their particular approach to stoner sludge has developed to a point where it is decidedly their own, whatever familiar elements might persist in it. In the end, that ends up just being part of the fun.« 
Get another taste of GURT's rip-roaring new album with the 'Jazz Cabbage' song and 'Rolling Stoned'.
'Bongs Of Praise' is due out September 6th in the following formats:
– Limited Ultimate Edition bundle with smoking pack (10 copies only)
– Vinyl (three colored versions)
– CD, cassette and digital

New album 'Bongs Of Praise'
Out September 6th on When Planets Collide
Preorder at this location
GURT also announce their summer UK tour dates in support of the new album:
08.29 – UK – COVENTRY, The Phoenix
08.30 – UK – FALMOUTH, The Fish Factory
08.31 – UK – MANCHESTER, Riff Fest
09.01 – UK – TBA
09.02 – UK – TBA
09.03 – UK – BRISTOL, The Old England
09.04 – UK – LONDON, MacBeth
Since their genesis in 2010, the band have laced up their boots and stomped over everything you thought you might have known about them and the beloved conventions of metal. GURT collide their barbaric sound with lines of funk and tongue in cheek lyricism to mould what has been hailed as "party doom". In 2014, they unleashed their debut album 'Horrendosaurus' through independent label When Planets Collide, and which they promoted through a three week European tour with Dopethrone, as well returning home to a packed out audience to open Bloodstock's second stage.
 Released in 2017, their sophomore album 'Skullossus'explores darker and more menacing shades of sludge doom. Through a theatrical performance, their sound swelled in size as they toyed with their repertoire; adding rip-roaring, guttural vocals, psychedelic rhythms and classic rock'n'roll-worshipping riffs. On top of their two full-lengths and seven EPs, GURT have been relentlessly touring the UK and Europe, sharing the stage with the likes of Weedeater, Red Fang, Eyehategod, Black Tusk, Valient Thorr, Cough. In their own right way, they have cast their hypnotic savagery to the crowds of Bloodstock, Desertfest, Riffolution (UK) as well as Stonerhead (Salzburg) and 2019's Monospace Fest (Paris)

GURT is
Gareth Kelly – Vocals
Bill Jacobs – Drums
David Blakemore – Bass
Rich Williams – Guitar

Facebook⎪Twitter⎪Bandcamp⎪Website