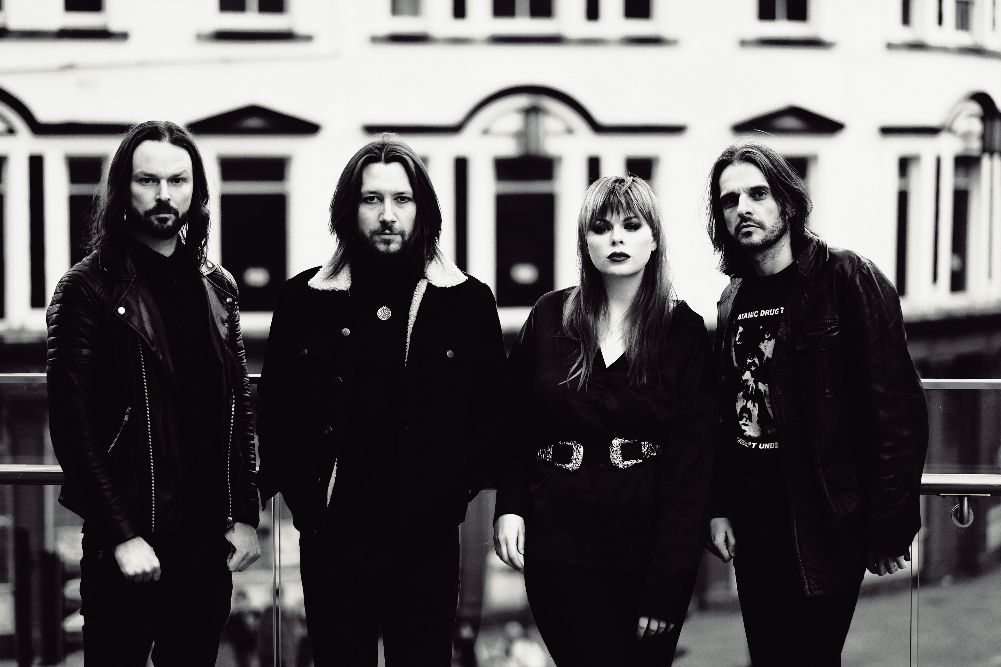 UK heavy merchants ALUNAH share swagger-laden new song "Trapped & Bound" ; new album out this fall on Heavy Psych Sounds
On the back of last year's critically acclaimed « Amber & Gold » EP, ALUNAH return with their brand new album — and debut on Heavy Psych Sounds — « Violet Hour » this October 11th. Stream the first single right via Doomed & Stoned!
Stream Alunah's new song « Trapped & Bound » HERE
« Violet Hour » sees the energy of ALUNAH's dark, doom tinged hard rock being cranked up with the arrival of guitarist Dean Ashton (bass, Diamond Head) alongside the soaring vocals of Siân Greenaway and rhythmic foundation of Dan Burchmore and Jake Mason. Recorded at the historic Welsh Foel Studio and produced by Chris Fielding (Conan, Electric Wizard, Primordial) these eight tracks on display show the fruits of a productive early 2019 with a searing combination of melodies, riffs and focused writing.

The band comments: « Alunah are very happy and excited to release « Violet Hour » to the world. It has been so enjoyable to write and record this album during an energetic and focused period for the band. Having it released on Heavy Psych Sounds is a great feeling and we cannot wait for people to hear it. The time to fear is now! »
The album will be available on October 11th in the following formats:
– 40 ULTRA LTD TEST PRESS VINYL
– 250 LTD ORANGE Trasp. Background SPLATTER in Purple-Black-Blue VINYL
– 500 LTD PURPLE VINYL
– BLACK VINYL
– DIGIPAK
– DIGITAL
ALUNAH « Violet Hour »
Out October 11th on Heavy Psych Sounds
Preorder available here

TRACK LISTING:
1. Trapped & Bound
2. Dance of Deceit
3. Hunt
4. Hypnotised
5. Violet Hour
6. Unholy Disease
7. Velvet
8. Lake of Fire
With their roots dating back to 2006 in « Sabbath City » of the UK and an evolution that has grown over four previous albums and numerous European tours and festival dates, the momentum now picks up the pace. A UK summer tour with The Obsessed and an appearance at this year's prestigious Damnation Festival have just been confirmed with many more live dates as well as album tunes to follow soon!
ALUNAH IS
Siân Greenaway – Vocals
Daniel Burchmore – Bass
Jake Mason – Drums
Dean Ashton – Guitar
ALUNAH & HPS RECORDS LINKS
Facebook ⎜Bandcamp ⎜HPS website ⎜HPS Facebook ⎜HPS Bandcamp