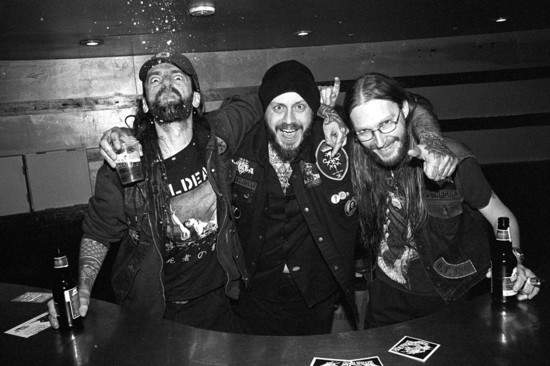 Montréal sludge heroes DOPETHRONE are back in Europe! Full tour kicks off this week!
Montréal's sludge heroes DOPETHRONE are set to devastate Europe like the filth-laden hurricane they are, with a full European tour starting on Wednesday, to be quickly followed by a couple of UK shows this fall.
After the band was forced to cancel the first leg of their European tour – including a much awaited Hellfest performance – due to vocalist/guitarist Vince's serious leg injury and hospitalisation, DOPETHRONE are back stronger and frenzier than ever with a full European summer tour. The UK won't be spared as the trio will play a couple of shows there in September, see below.
The band recently released a split record with Fister entitled « Host/The Failure » (available on 
Bandcamp
). Their fourth full-length « Hochelaga » is still available
here
.
DOPETHRONE EUROPEAN TOUR 2016
13.07 – SALZBURG (AT) @ Mark
14.07 – STONED FROM THE UNDERGROUND (DE)
15.07 – BERLIN (DE) @ Cassiopeia
16.07 – DEVILSTONE OPEN AIR (LT)
18.07 – RIGA (LV) @ Nabaklab
19.07 – TALINN (EST) @Snakehouse
20.07 – TURKU (FIN) @ Gong
21.07 – TAMPERE (FIN) @ Yo Talo
22.07 – HELSINKI (FIN) @ Bar Loose
24.07 – GOTHENBURG (SWE) @ Truckstop Alaska
25.07 – OSLO (NOR) @ Blitz
26.07 – COPENHAGEN (DK) @ KB18
27.07 – ROSTOCK (DE) @ Jaz
28.07 – HAMBURG (DE) @ Hafenklang
29.07 – OBERHAUSEN (DE) @ Luckdruft
30.07 – RODEO FEST ANTWERP (BE)
31.07 – LILLE (FR) @ El Diablo
01.08 – NANTES (FR) @ Le Ferrailleur
02.08 – TBA
03.08 – TBA
04.08 – LE HAVRE (FR) @ L'Escale
——————————–
07.09 – AMSTERDAM (NL) @ Winston Kingdom
08.09 – NEWCASTLE (UK) @ The Cluny
09.09 – EDINBURGH (UK) @ Studio 24
10.09 – BOLTON (UK) @ Alma Inn
11.09 – LONDON (UK) @ The Underworld Camden
12.09 to 15.09 – TBA
17.09 – ATHENS (GR) Smoke the Fuzz Fest
The riff comes in many forms. Sometimes it's clean, catchy and elegant. Sometimes it's filthy, grimy and about as elegant as a sledgehammer to the sternum. DOPETHRONE is the latter. This D.I.Y trio from Hochelaga, Montreal's trashiest ghetto, wallows in smoke, demons, death, the occult and enough psychotropic drugs to send both Hunter S. Thomspson and William Burroughs on one hell of a trip. Delivering some of the filthiest, most skull-crushing riffs drenched in distortion and fuzz, they encompass the bleakness of black metal, the steadfastness of New Orleans-style sludge with a heavier-than-thou doom mentality. Riffage is thick, punishing, suffocating and destructive and demonic vocals are harsh, visceral and animal-like for tunes dripping with pervasive THC. DOPETHRONE take over doom and view it through a crusty lens, and that perspective rise the genre to new heights of sonic filth.
After three records that have knocked out all sludge & doom fans across the globe, Canada's insane weed-laden trio 

DOPETHRONE returned in 2015 with their third album « Hochelaga » – named after the trio's dodgy neighbourhood in Montréal. « Hochelaga » is simply their most infectious effort to date, and has been widely acclaimed by the international critic. With a new split record with US doom merchants Fister released through their own label Riff Dealer Records, 2016 will also see the band embarking on a long tour, including appearances at Hellfest, Maryland Deathfest and Stoned From The Underground.