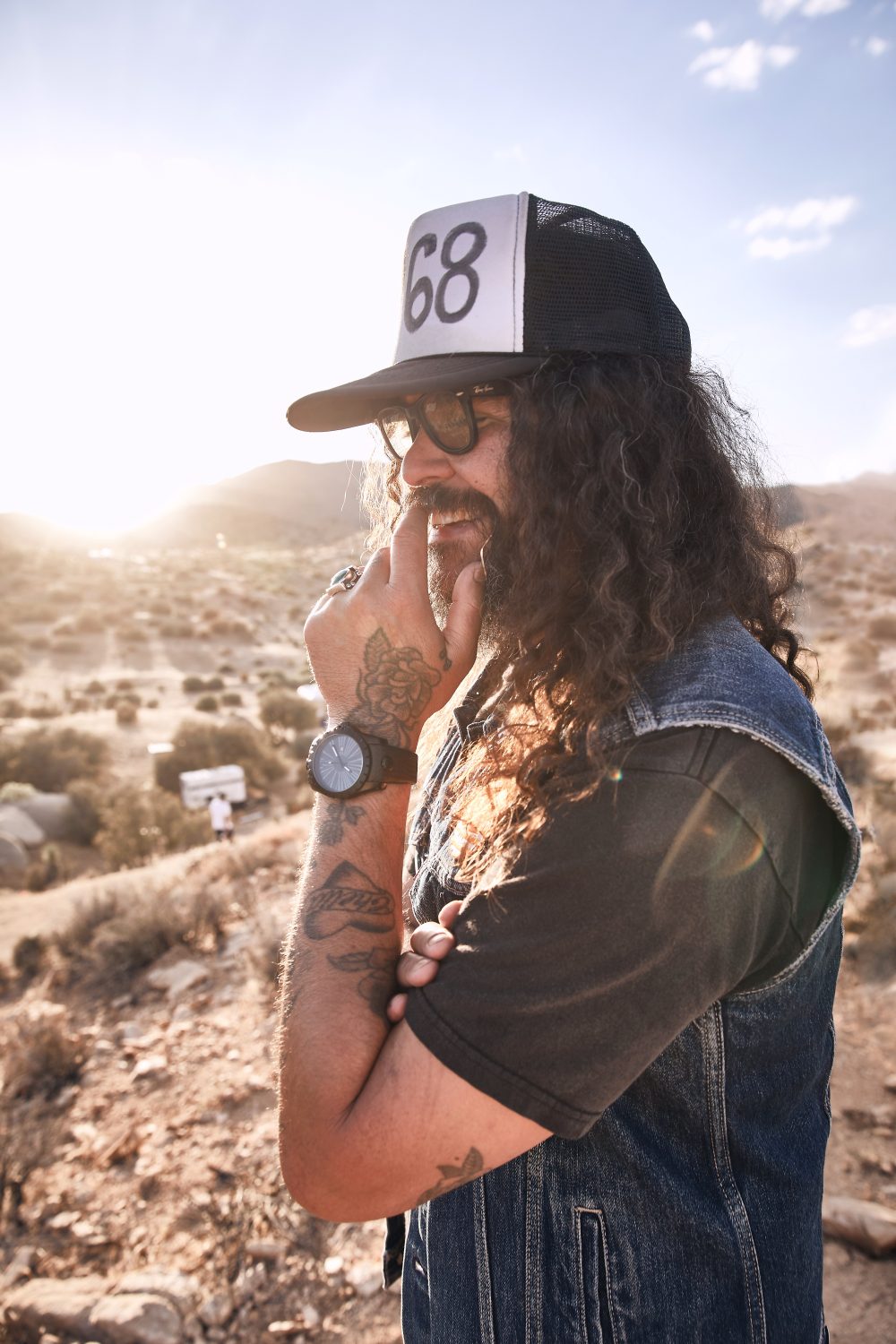 Second track off BRANT BJORK's new solo record "Jacoozzi" available for streaming; European summer shows announced!
Recorded almost 10 years ago in a desert jam, BRANT BJORK's instrumental solo album 'Jacoozzi' will finally see the light of day this April 5th on Heavy Psych Sounds Records. Check out new song 'Black & White Wonderland' via More Fuzz now!
Joshua Tree, California, 2010: BRANT BJORK has just started to record another solo record. About four days into the sessions, the desert rocker decided to abandon the eight songs he was working on, and told his long time friend and engineer, Tony Mason, to start rolling tape and Brant proceeded to play drums in his natural improv style. After multiple drum track performances were recorded, Brant started layering guitars, bass and percussion in the same spirit. Theformer Fu Manchu and Kyuss musician essentially decided to « jam » by himself and for the rest of his scheduled sessions.
LISTEN to new song 'Black & White Wonderland' HERE

When the recording session had come to an end, Brant put the eight unfinished tracks on the shelf as well as his « solo jam session » tracks. "I was much more content with the jam tracks, as it was a creative release that was needed at that time. I decided to call the collective tracks, Jacoozzi. At the time, it reminded me of the feeling of my first solo recording sessions for my first solo release, Jalamanta… Only more free." he says. At that time in 2010, Brant had no formal plans to release any of the music from those sessions, 'Jacoozzi' included. Almost a decade later, Heavy Psych Sounds Records is stoked to finally release this special trip of a Brant Bjork jam! 


BRANT BJORK New solo album « Jacoozzi »
Out April 5th on Heavy Psych Sounds Records
– Vinyl and CD preorder available AT THIS LOCATION –
 Being the king of the road, Brant Bjork has just announced a bunch of summer tour dates! Make sure to catch the Godfather of psychedelic funk rock live at the following dates, with very special guest Sean Wheeler:
25.05.19 US – Stoned And Dusted / Pappy & Harriet's, California (w/ Melvins, Fu Manchu + more)
19.06.19 DE – Nürnberg / Hirsch
20.06.19 DE – Netphen / Freak Valley Festival
21.06.19 NL – Nijmegen / Doornroosje
22.06.19 UK – Eridge Park / Black Deer Festival
23.06.19 BE – Izel / Fete De La Musique Festival
24.06.19 DE – Aachen / Musikbunker
25.06.19 DE – Darmstadt / Centralstation
26.06.19 DE – Hannover / Musikzentrum
27.06.19 DE – Saarbrücken / Garage
28.06.19 CH – Düdingen / Bad Bonn
29.06.19 AT – Salzburg / Rockhouse
30.06.19 GR – Korinthos / Under The Sun Festival
02.07.19 GR – Thessaloniki / Eightball Club
03.07.19 ES – Viveiro / Resurrection Fest

BRANT BJORK & HPS RECORDS LINKS
Facebook⎜Twitter⎜Instagram⎜Website
HPS website⎜HPS Facebook⎜HPS Bandcamp