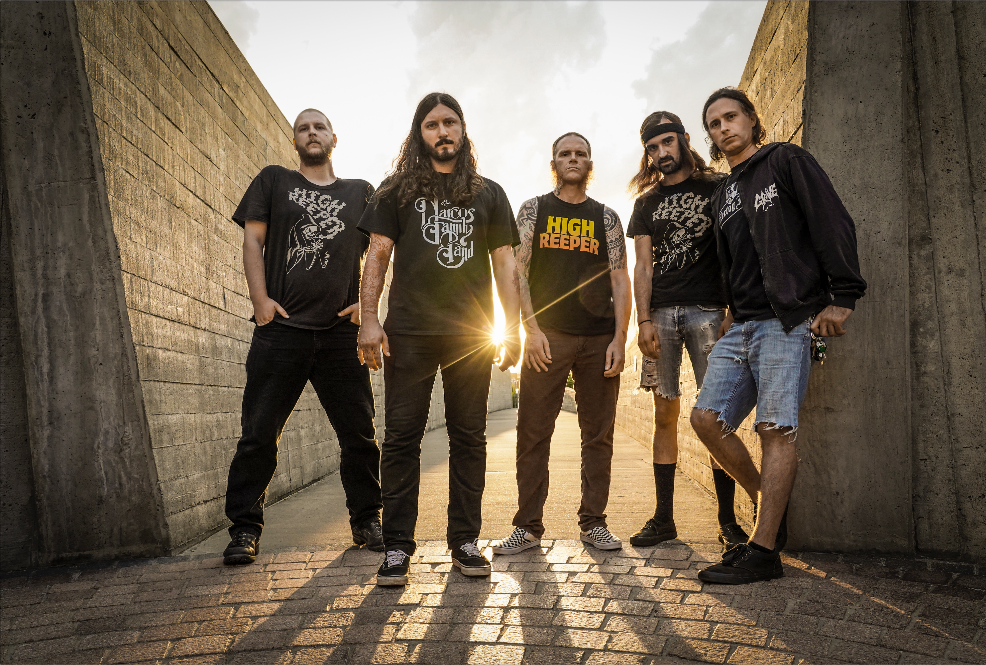 US heavy metal unit HIGH REEPER to tour Europe this spring ; new album out soon on Heavy Psych Sounds Records
East Coast's Sabbath-worshipping metallers 

HIGH REEPER

 are taking over Europe this April and May in support of the release of their new record « Higher Reeper », out March 22 on HPS Records. Headbang or die!
And these guys aren't fucking around: imagine the smell of leather, weed and death with a hint of Campari and cocaine to color all eight headbang-inducing tracks of their sophomore record. Check out « Eternal Leviathan », the first song taken off upcoming new album « Higher Reeper » 
HERE
, and mark the following dates on your schedules:
HIGH REEPER EUROPEAN TOUR 2019:
18.04.2019 IT Pescara-Scumm
19.04.2019 IT Cecina-Spazio Live Ritmi
20.04.2019 IT Parma-Splinter
21.04.2019 IT Verona
22.04.2019 IT Zerobranco-Maximum Fest
23.04.2019 IT Torino-Blah Blah
24.04.2019 FR Chambery-Brin Du Zinc
25.04.2019 CH Martigny-Sunset Bar
26.04.2019 CH Oberentfelden-Borom Pom Pom
27.04.2019 DE Kempten-13th Floor Kulturetage
28.04.2019 AT Salzburg-Rockhouse
29.04.2019  IT Trieste
30.04.2019 AT Bludenz-Villa K
01.05.2019 DE Augsburg-City Club
02.05.2019 DE Tubingen-Goldene Zeiten
03.05.2019 DE Mannheim-7er
04.05.2019 BE Liege-La Zone
05.05.2019 UK London-Desert Fest
07.05.2019 DE Frankfurt-DKK
08.05.2019 DE Oldenburg-Mts Records
09.05.2019 DK Copenhagen-Lygtens Kro
10.05.2019 SW Malmoe-Plan B
11.05.2019 DK Esbjerg-Esbjerg Fuzzfest
12.05.2019 DE Berlin-Toast Hawaii
13.05.2019 DE Leipzig-Black Label
14.05.2019 DE Erfurt tba
15.05.2019 DE Dresda-Chemo
16.05.2019 AT Wien-Kramladen
17.05.2019 AT Innsbruck-PMK
18.05.2019 CH Altdorf-Vogelslang
HIGH REEPER New album « Higher Reeper »
Out March 22nd on Heavy Psych Sounds – Preorder
Formed in 2016, 
HIGH REEPER
 is made up of Zach Thomas, Justin Di Pinto, Andrew Price, Pat Daly and Shane Trimble. Originally started as just a studio band, it rapidly became apparent that these songs were meant to be heard live and loud. The band made their debut in the Philly/DE stoner rock scene in early 2017 with success which was followed up by the recording of their self-titled debut in May. With a sound deeply rooted in modern stoner rock while still giving a nod to the earliest Sabbath records, 
HIGH REEPER
's first offering is driven by pounding rhythms, thick guitars and soaring, screeching vocals. For their upcoming album 'Higher Reeper', the band evolved their sound into an even more powerful direction, filled with the fiercest riffs by an up-and-coming band sounding heavier than ever! After a successful 2018 European tour that included Desertfest Berlin and in support of the band's new album, 
HIGH REEPER
 will be heavily touring again next year with an extensive live schedule to be announced soon and which will also hold an appearance at the legendary Desertfest London 2019.
With the addition of their new drummer Justin Di Pinto, the band has managed to focus their sound and expand it at the same time. The record is darker and heavier compared to their first offering, with guitars that will crush your mind and lyrics that paint a picture of the world nearing its end. While the sound of 'Higher Reeper' is more focused, at the same time it manages to be more complex and varied. With tracks ranging from ones as heavy as the album opener, "Eternal Leviathan", to even an ethereal ballad "Apocalypse Hymn", this LP will take you all the way to hell and leave you there to rot. Once again produced, engineered and mixed by bass player Shane Trimble at TTR studios and Delwood Sound and mastered by Mike Tarsia. Solomacello created the incredible cover that captures the mood of the record while giving a nod to classic heavy metal.
HIGH REEPER is
Shane Trimble – bass
Zach Thomas – vocals
Pat Daly – guitar
Andrew Price – guitar
Napz Mosley – drums
HIGH REEPER & HPS RECORDS LINKS
Facebook⎜HPS website⎜HPS Facebook⎜HPS Bandcamp