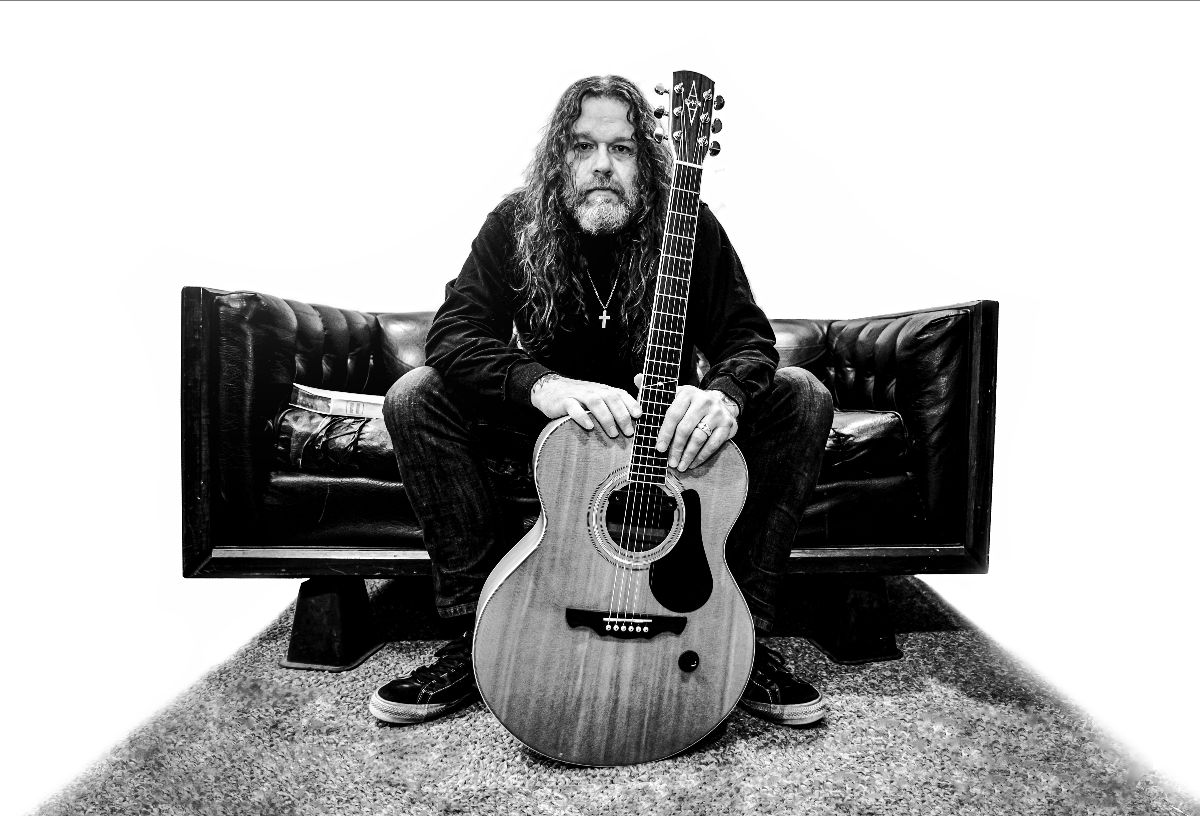 Mos Generator frontman TONY REED shares masterful and emotional solo acoustic album 'Funeral Suit' in full; out November 6th on Ripple Music.
Mos Generator frontman and Seattle legend TONY REED shares his solo acoustic album 'Funeral Suit' in its entirety today, ahead of its release this November 6th on Ripple Music as part of their recent 'Blood and Strings: The Ripple Acoustic » series.

« A candid and unvarnished look at undeniable talent of the musically possessed joined with decades of disciplined playing. There couldn't be a more suitable home befitting these graceful songs than here. » — Riff Relevant

« The fact that the result is so accomplished is what makes this record so impressive, bolstering Reed's reputation as one of rock's most reliable and important performers." — The Sleeping Shaman 

TONY REED is known for being the driving force behind Seattle's heavy rock trio Mos Generator, as well as one of the most prolific songwriters and respected producers of the American underground rock scene. While he released his solo debut with 'The Lost Chronicles Of Heavy Rock Vol. 1' in 2018, never had he found the right occasion to sit down, grab a guitar and lay himself bare as freely and soulfully as he does on his acoustic debut 'Funeral Suit'.
Soothe your souls with Tony Reed's new album 'Funeral Suit'
With 'Funeral Suit', Tony Reed delivers his most personal work to date, pushing the experience further than the standard « man with a guitar » approach. Whether it's the delicate arrangements, soulful vocal harmonies or piano-based escapades, this is a dense and multi-faceted folk rock album with a strong progressive edge that will resonate with any listener.

'Funeral Suit' comes as the second chapter of Ripple Music's 'Blood And Strings: The Ripple Acoustic' series, in which some of the most admired names in rock and metal unplug to record albums of acoustic heaviness. It will be released on November 6th, 2020 on deluxe edition vinyl, CD and digital edition through Ripple Music.
TONY REED New solo album 'Funeral Suit'
Out November 6th on Ripple Music
US preorder – European preorder
TONY REED belongs to a rare echelon of relentless creativity. A rock and roll lifer since his days self-recording tape demos as a teenager, he has spent the last three decades in an increasingly progressive pursuit of his art. In bands like Treepeople, Twelve-Thirty Dreamtime, Constance Tomb, Stone Axe, and his steadiest and most influential, Mos Generator, he has refined a songwriting, performance and recording process that is unmatched, and amassed a lifetime discography broad enough to make the rest of the universe seem outright lazy.

Tony Reed has toured on multiple continents and especially since revitalizing Mos Generator as a stage act in the early 2010s, earned a reputation for bringing the same ferocity to the stage as to the studio. As a frontman, Reed harnesses a classic rocker's energy, but is only ever forward-thinking in his execution and engagement with his audience. At dive bars or huge festivals, his name is synonymous with a level of mastery that is no less his own than the songs he writes.

Headquartered in Port Orchard, Washington, his HeavyHead Studio is home to a fully-stocked production facility, and though Reed most often uses it for his own ends, the words "Mixed and Mastered by Tony Reed" have become a staple of heavy underground releases. His collaborations with artists, whether through split releases or actually sitting in with other bands, are rousing endorsements for listeners in the know, and his exploration continues unabated.

Whether it's incorporating new elements of space and prog into Mos Generator, reviving the goth-tinged Constance Tomb, or beginning the entirely new pursuit of an acoustic/piano-based solo incarnation under his own name, TONY REED is a treasure of American rock and roll and someone whose soul bleeds into everything he crafts. It is time to start including his name among rock's truest ambassadors.

RIPPLE MUSIC LINKS: Website⎪Facebook⎪Bandcamp⎪Instagram
TONY REED on Bandcamp