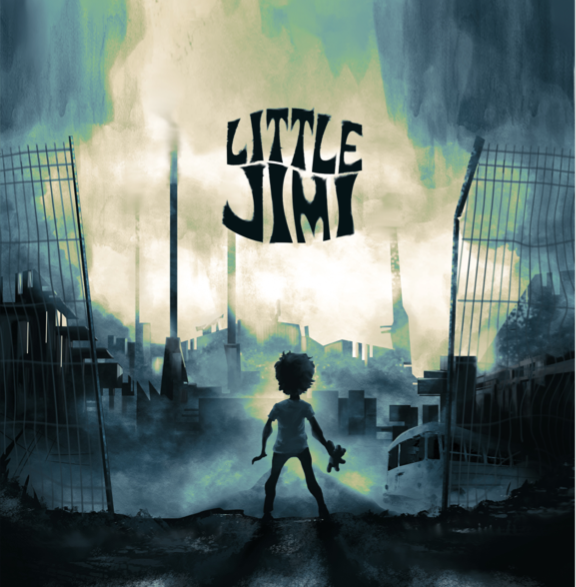 Heavy psych shamans LITTLE JIMI premiere debut album "EP.1" in full now ; coming November 16th on MRS Red Sound.
Power psych rockers LITTLE JIMI unveil their debut album in full today via The Obelisk! « EP.1 » is available November 16th on vinyl and digital on MRS Red Sound.
Rising from the French underground rock scene, LITTLE JIMI are a young gifted act with a smart and inventive approach in songwriting. Don't get mistaken by the name: the only thing they may have in common with the Seattle legend is the boldness!

Now is your time to hear LITTLE JIMI's debut album IN FULL

Between light and darkness, two guitars cast their slow, compelling spells in unison, crafting expansive soundscapes from another world — Jimi's shattered yet hope-filled inner world. Songs are monuments of groove tinged with an oriental vibe, with vocals echoing from afar like a life-saving incantation. LITTLE JIMI's music is unique and soulful. It's vital.
LITTLE JIMI Debut album "EP. 1"
Out November 16th on MRS Red Sound
Vinyl pre-order available at this location
TRACK LISTING:
1. Jimi (6'40)
2. Lamp Song (5'33)
3. Dock 11 (4'50)
4. Molimoh (6'08)
5. Goodbye Katus (7'01)
6. Midnight Mojo (8'20)
When the power of the riff meets the haziness of the 70s, when aerial vocals and two fuzzy guitars echo in unison, propelled by a powerful drumming… You feel the heat of South France's garage psych rockers LITTLE JIMI carrying you into the wilderness of their debut album « EP.1 ». The album tells the story of a kid names Jimi and his friend Katus, who are seeking their path to a new life, caught between wiseness and some darker auspices.
Firmly rooted in a modern heavy sound carried by strong dynamics, the power trio shares the same love for vintage psychedelia as the likes of Birth Of Joy, The Black Angels or The Psychotic Monks. « EP.1 » was initially released as a 4-track CD in the fall of 2017, and will be reissued with two additional songs on November 16th on limited 180gr 12" edition vinyl and digital via MRS Red Sound.