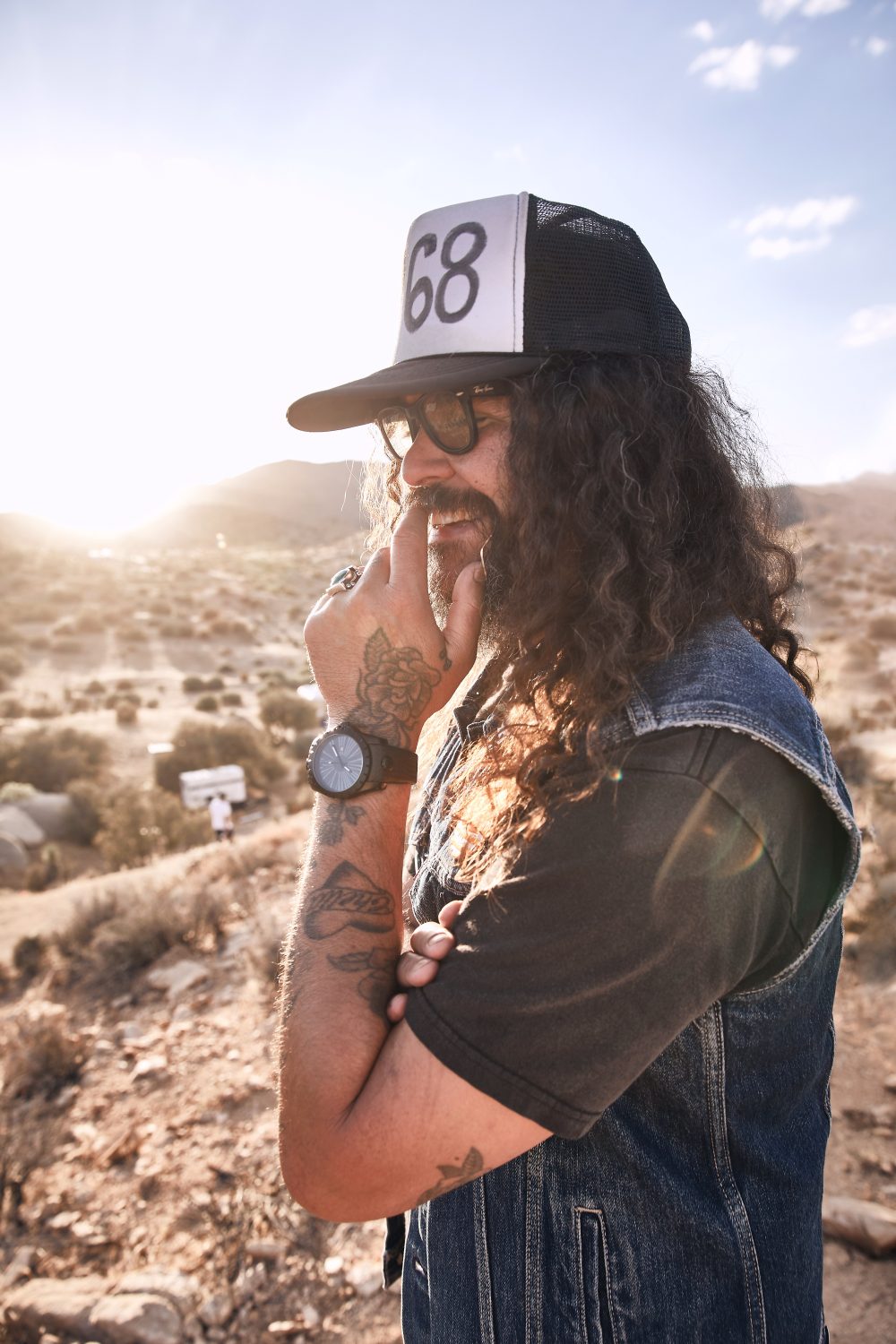 BRANT BJORK unveils video for all-time classic "Too Many Chiefs"; reissues and new album "Mankind Woman" out on Heavy Psych Sounds!
To celebrate his reissues on Heavy Psych Sounds, BRANT BJORK  has just released a wonderfully intimate new music video for the track 'Too Many Chiefs…', taken from the reissue of 8-track acoustic album 'Tres Dias'. Lay back and hang with the desert rock icon below.
« Some days I just like to sit outside under the sun with my guitar and sing my songs to myself. It relaxes me. It also reminds me of what my songs are about." That's how we know and love BRANT BJORK. After the successful release of his thirteenth solo album 'Mankind Woman' on September 14th, Heavy Psych Sounds Records is more than proud to re-release almost all of Brant Bjork's back catalogue! The first two reissues, out this September, will be the classics 'Tres Dias' and 'Local Angel'.

Watch Brant Bjork's « Too Many Chiefs » video HERE
Produced, recorded and mixed by Tony Mason at the Back of the Moon Studios, Joshua Tree, CA in 2007, this 8-track mostly-acoustic album has been a mix of old and new tracks, often described as Brant's most laid-back record to date. The history of 
BRANT BJORK
 is a winding narrative of relentless, unflinching creativity, for someone so outwardly laid back, he's never really taken a break. And while Brant Bjork has shown many different sides of himself on an album like his 2007's 'Tres Dias,' when you're listening to Brant Bjork, you know it, because there's no one else who sounds quite like him.
Says 
BRANT BJORK
: 
« Chiefs, as I call it for short, is one of the first songs I wrote for what would be my first solo record, Jalamanta. Its been a song that has traveled with me for almost 20 years now and its like an old friend. Its a very personal song about growing up in the desert and having those daily experiences of living in a small town, desperately trying to find someone you can relate to. trying to find something authentic. something real. the feelings of being outcast and using the frustration to fuel your dreams for something more spiritual than material. the title « Too many chiefs and not enough Indians » is about America's obsession with « winners ». Authority and false prophets. Without Indians there would be no Chiefs. »
'Tres Dias' reissue out now on Heavy Psych Sounds
Purchase your copy at this location 
Original artwork designed by Bunker/Bjork
Reissue artwork by Marcello "Rise Above" Crescenzi
TRACK LISTING:
1. Too Many Chiefs…
2. Love Is My Revolution
3. Chinarosa
4. The Native Tongue
5. Video
6. Right Time
7. The Messengers
8. The Knight Surrenders Today
The next reissue to be released on Heavy Psych Sounds is the laid-back psychedelic 'Local Angel' on September 28th, BRANT BJORK's fourth solo album and considered as the most intimate and peaceful record of  his career. A soul spirit that stands alone in Brant Bjork's catalogue and outside of it. Says Brant Bjork: "Been a long time since I celebrated these recordings. Couldn't think of a better time to re-release. Fresh art to represent « brand new old times ». Enjoy!"
BRANT BJORK on tour:
05.10.18 CAN Calgary @ The Palomino
06.10.18 CAN Edmonton @ Free Mason Hall (DJ SET ONLY)
07.10.18 CAN Edmonton @ The Starlite w/ Earthless
09.10.18 CA San Diego @ Spacebar
10.10.18 CA Los Angeles @ The Redwood w/ Nebula
11.10.18 NV @ Vamp'd
12.10.18 CA Pioneertown @ Pappy & Harriets w/ Nebula
13.10.18 CA Long Beach @ Alex's Bar w/ Earthless
16.10.18 MEX Hermosillo @ Pizza Del Perro Negro w/ Sgt. Papers
18.10.18 MEX Merida @ Pizza Del Perro Negro
20.10.18 MEX Mexico City @ Pizza Del Perro Negro/Rabioso
– – – – – – – – – – – – – – – – – – – – – – – – – – – – – –
02.11.18 NO Drammen @ Union Scene
03.11.18 SW Stockholm @ Debaser Strand
04.11.18 SW Göteborg @ Sticky Fingers
05.11.18 SW Malmö @ Kulturbolaget
06.11.18 DE Hamburg @ Fabrik
07.11.18 NL Amsterdam @ Melkweg
08.11.18 BE Leuven @ Het Depot
09.11.18 UK London @ Garage
10.11.18 FR Paris @ Petit Bain
11.11.18 NL Tilburg @ O13
12.11.18 DE Wiesbaden @ Schlachthof
13.11.18 CH Zürich @ Rote Fabrik
14.11.18 CH Martigny @ Caves Du Manoir
15.11.18 IT Turin @ Spazio 211
16.11.18 AT Innsbruck @ Hafen (Heavy Psych Sounds Festival)
17.11.18 DE Munich @ Feierwerk
18.11.18 AT Vienna @ Arena
19.11.18 DE Dresden @ Beatpol
20.11.18 DE Berlin @ Festsaal Kreuzberg