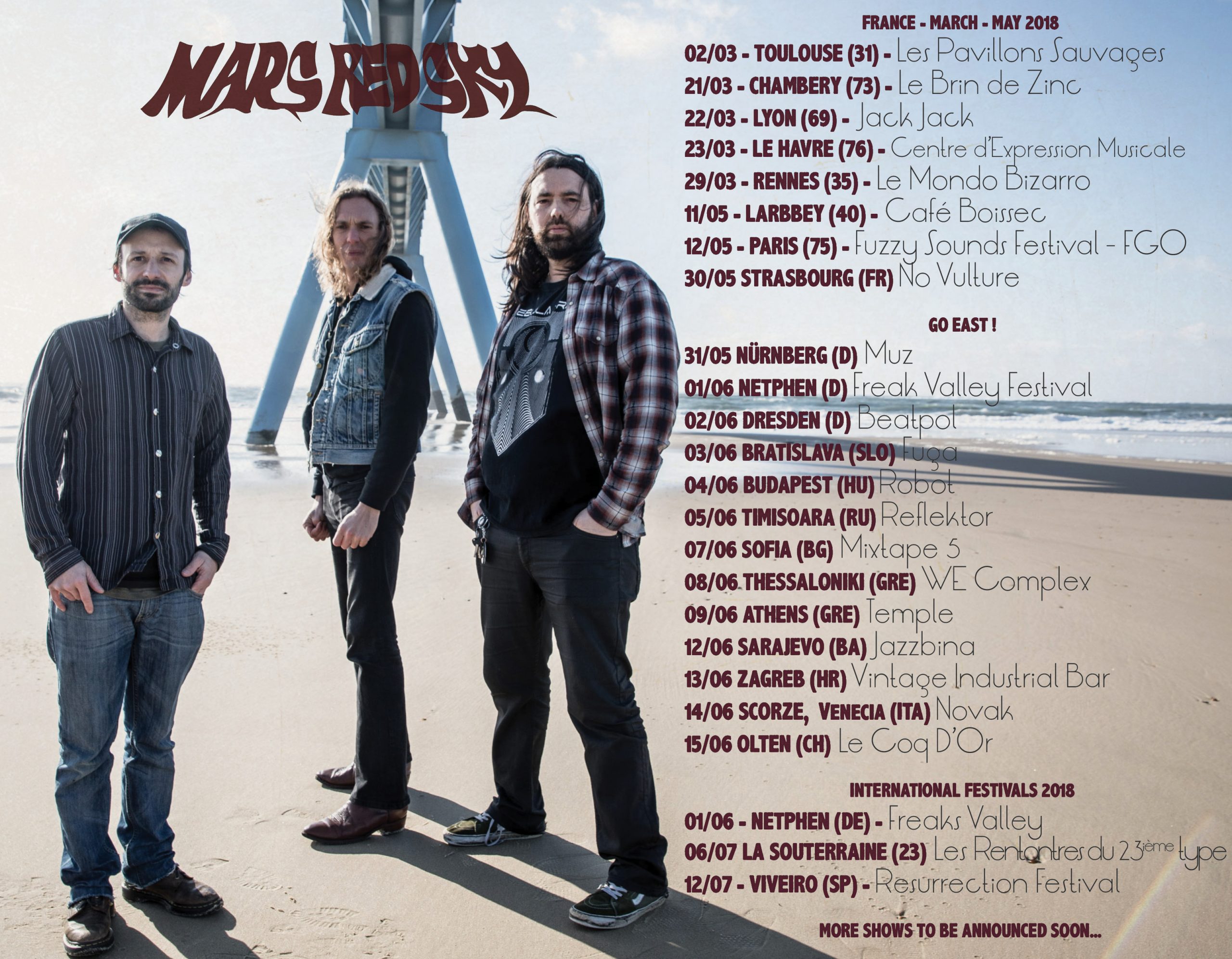 MARS RED SKY go East: European spring shows announced!
French heavy psych trio 

MARS RED SKY

 keep spreading the sounds of their latest album « Apex III (Praise For The Burning Soul) » by hitting the roads of Eastern Europe this spring, including first ever appearances in some countries.
France – Club shows (March to May 2018)
02/03      TOULOUSE (31) Les Pavillons Sauvages
21/03 CHAMBERY (73) Le Brin de Zinc 
22/03 LYON (69) Jack Jack
23/03 LE HAVRE (76) Centre d'Expression Musicale
29/03 RENNES (35) Le Mondo Bizarro
11/05 LARBBEY (40) Café Boissec
12/05 PARIS (75) Fuzzy Sounds Festival – FGO
30/05 STRASBOURG (67) No Vulture
Go East Tour (June 2018)
30/05 STRASBOURG (FR) No Vulture
31/05 NÜRNBERG (D) Muz
01/06 NETPHEN (D) Freak Valley Festival
02/06 DRESDEN (D) Beatpol
03/06 BRATISLAVA (SLO) Fuga
04/06 BUDAPEST (HU) Robot
05/06 TIMISOARA (RU) Reflektor
07/06 SOFIA (BG) Mixtape 5
08/06 THESSALONIKI (GRE) WE Complex
09/06 ATHENS (GRE) Temple
12/06 SARAJEVO (BA) Jazzbina
13/06 ZAGREB (HR) Vintage Industrial Bar
14/06 SCORZE,  Venecia (ITA) Novak
15/06 OLTEN (CH) Le Coq D'Or
Summer Festivals :
01/06 NETPHEN (DE) Freaks Valley
06/07 LA SOUTERRAINE (23) Les Rentontres du 23ième type
12/07 VIVEIRO (SP) Resurrection Festival
More Shows to be announced soon…
Artwork : Smoke Signal Studio
Beyond a highly recognizable sound imprint, MARS RED SKY craft their own otherworldly atmospheres. The trio has been entrancing crowds for a decade now, with their eponymous debut coming out in 2011, following a recording session in Spain's mystic Bardenas desert. Whether you listen to the albums or experience their music on stage, their hulking yet trippy brand of stoner rock will take you on an infinite journey. From the beginning, the Bordelais trio becomes a major live act, leading them to play the biggest rock and metal stages (SXSW, Hellfest 2014 and 2017, Desertfest London and Berlin, Roadburn, Eurockéennes) and open for the likes of Sleep, Dinosaur Jr., Kyuss Lives!, Killing Joke, Gojira…
With their sophomore full-length « Stranded In Arcadia » (Listenable 2014), a sci-fi odyssey filled with utopian reveries, MARS RED SKY establish themselves as a cornerstone band of the heavy psych scene, garnering praise from major international critics. « Hypnotic », « massive », « charismatic », « psychedelic » are some of the tags used to define the prolific trio's brand of sound, floating atop the stoner rock constellation and 70s psych-pop nebula. Two years and hundreds of shows across Europe and Americas later, the band releases their third album « Apex III (Praise For The Burning Soul) ». Once again produced by Brazilian engineer Gabriel Zander, the sound is hulking as ever, with Julien Pras ethereal vocals opening a door on even more enchanting paths.
In 2017, MARS RED SKY treat us to an absolute collector's item, with « Myramyd » limited edition 12'' EP – an instrumental odyssey in the form of a 17-minute live recording, on which only the most zealous fans have the ability to lend an ear. The song gets performed at the band's second Hellfest appearance a few weeks after the release. With an insatiable appetite for the stage that keeps them travelling across lands and continents to test their creations, MRS will return in the spring and summer 2018 with a batch of live shows, including appearances at Freak Valley Festival (DE) and Resurrection Festival (SP). Now wait for the next treasure to be unearthed…