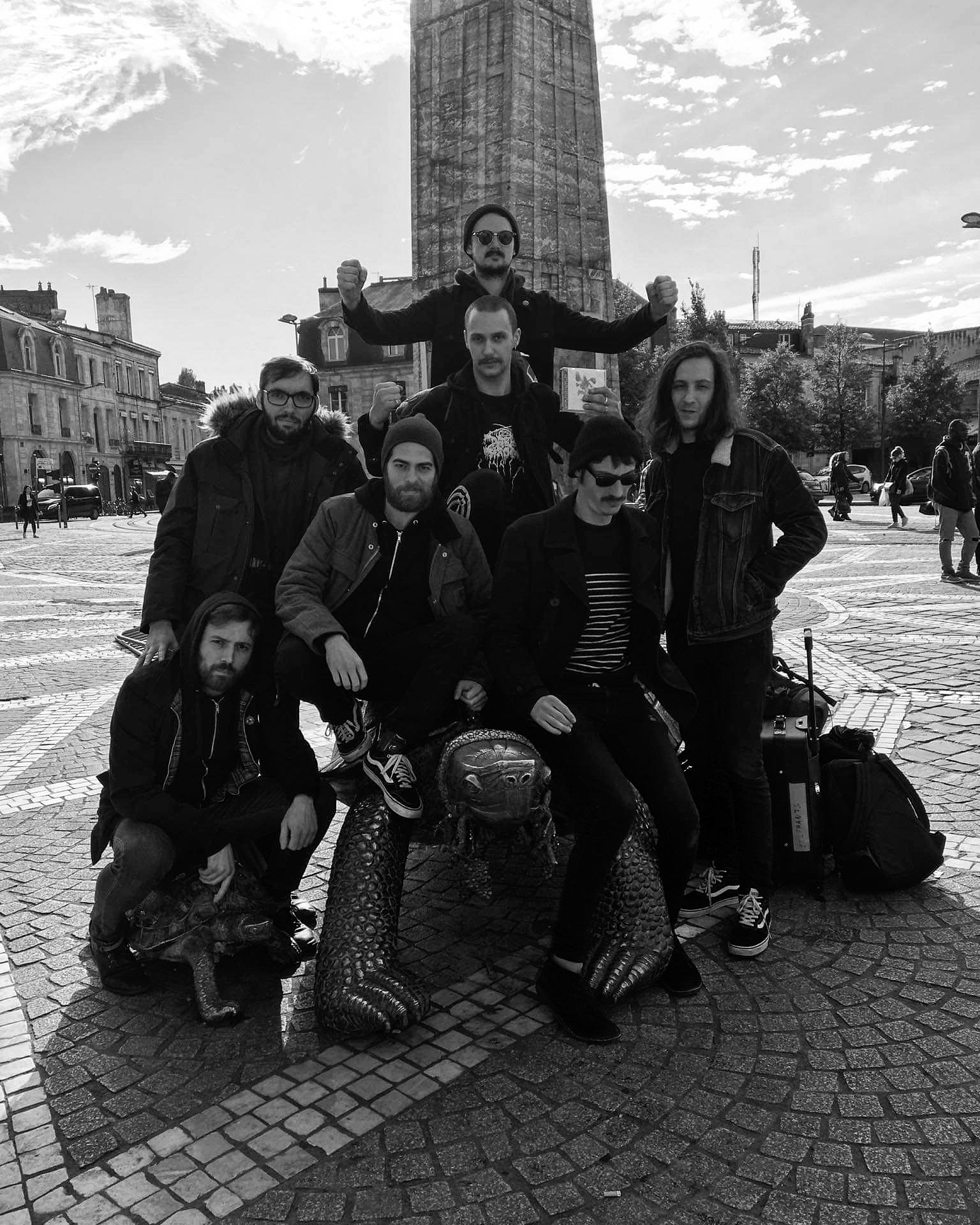 Progressive doom project ÂGE ⱡ TOTAL (w/ Endless Floods and Greyfell) stream debut album 'ÂGE ⱡ TOTAL' in full via Cvlt Nation!
Are you ready to experience doom metal in a previously unheard and life-changing way? Then prepare your ears and hearts for what's to come, as ÂGE ⱡ TOTAL, the collaborative outfit of ENDLESS FLOODS and GREYFELL, premiere their mountain-sized debut album exclusively on Cvlt Nation today.

"ÂGE ⱡ TOTAL clearly want to offer more than just heavy, and achieve this in part by expanding the sound palette beyond the standard heavy-band instrumentation." — The Sleeping Shaman

"Together, they wield a type of drone-tinged doom that is very hard to resist, expertly diving in and out of feedback, bottomless riffs, and an overall epic feeling that is, regardless of its weight, channeled with extreme agility and intelligence. If this doesn't get you hyped, then nothing will." — Heavy Blog Is Heavy

« A fantastic, huge and heavy album. There is a ritualistic sense to a lot of the material, a hypnotic almost religious feeling. » — Musipedia of Metal 
 Let ÂGE ⱡ TOTAL's heroic and divine doom wash over you:
⚔️ Stream the album in full ⚔️
Clocking in at 43 minutes, ÂGE ⱡ TOTAL is an intriguing sonic journey dripping with the doom boldness of Endless Floods and Greyfell, skillful synthetizers and the subtle addition of violin and trombone. At times ethereal and above all gripping vocals carry you to an out-of-time interval, where epic knight stories and otherworldly creatures meet on the path weaved their by celestial synths and earth-rumbling riff layers. 
ÂGE ⱡ TOTAL is the collaborative project formed by French progressive stoner foursome Greyfell and ambient doom/drone specialists Endless Floods. Written and recorded collectively and featuring other musicians of their entourage, their self-titled debut album lifts the mastery of both outfits to celestial climaxes over the course of its four tracks. The album was recorded by Hugo Magontier, mixed by Cyrille Gachet and mastered by Bruno Varea. Artwork by François Vesin.
Debut album « ÂGE ⱡ TOTAL »
Out February 5th on digital and cassette tape
via Soza / Collectif 5024 – PREORDER

TRACK LISTING:
1. Armure (14:27)
2. .Carré (4:06)
3. Metal (7:41)
4. The Songbird (16:45)
Let's raise the glaives to the stars and salute the Woman in her light Armor. Let the apes play their celestial music, for at night, we all enter into the ÂGE ⱡ TOTAL while caressing the Great Square one last time.
France's cathartic doom specialists ENDLESS FLOOD formed in 2015 in Bordeaux around Stephane Miollan (Monarch, Bombardement), Benjamin Sablon (Bombardement, Shock) and Simon Bédy. With "no boundaries in heaviness" as a motto, they raise a prodigiously thick wall of sound by blending doom and sludge aesthetics with mind-expanding ambient metal structures. A sorrowful procession arising from the limbo. The trio released their self-titled debut in 2015, then quickly returned with their sophomore full-length "II" in January 2017. New album Circle The Gold" (2019) results from a year-long reassessment among the trio and symbolises a fresh start in their creative process. Over the span of 40 minutes and two songs, it sees the band evolve towards a more melodic aspect of their sound. Like the first ray of light shining through the gloom after a violent storm, both songs slowly move from impressively majestic chaos driven by cathartic screams and unfettered echoing solos, to almost-meditative and unadulterated moments of peace. ENDLESS FLOODS on Facebook / Bandcamp

At the core of Rouen local scene, GREYFELL are the armed wing of Soza collective. Stoner, for the sake of it, not by trend, where hints of black metal, doom and hardcore that are no coincidence either. Drawing influence from sonic heavyweights like type o negative, sleep and kickback, and paying tribute to the ancient spacemen3 as well. Mastering the inner power of extreme music, their sound proves to be celestial, telluric, and all around massive. Nagging Guitar riffs piled on a bass sound of an unheard heaviness, chained to drum beats delivered like there's no tomorrow. Hypnotic and tense melodies uphold vehement and incantatory vocals. Their music will shake the foundations of the powers that be. There will be a light in the dark, there will be quiet before the storm, there will be harmony in chaos.
GREYFELL on Facebook / Bandcamp / Instagram

« ÂGE ⱡ TOTAL » lineup:
Vocals : Quentin / Hugo / Stéphane / Anne-Laure
Guitars : Simon, Clément
Bass : Quentin, Stéphane
Synths : Hugo
Drums : Benjamin, Thierry
Machines : Quentin
Violin : Anne-Laure
Trombone : Théo
Find SOZA / COLLECTIF 5024 on Facebook / Bandcamp / Instagram