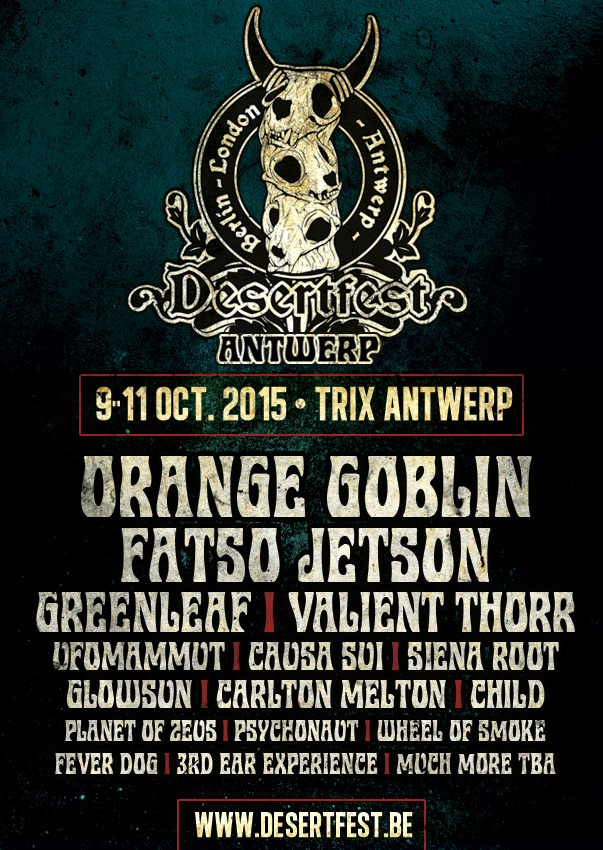 DESERTFEST 2015: Melvins forced to cancel, Ufomammut confirmed (+5 new names)
We have to start off this announcement with some very unfortunate news: Melvins will not be playing the 2015 edition of Desertfest Belgium.
The band was forced to cancel their appearance at the festival due to an exclusivity contract for their shows at the 2015 Incubate festival in Tilburg. This fact unfortunately only surfaced after our public announcement had been made. We have tried to negotiate a deal that would be satisfactory for both events, but to no avail. Desertfest Belgium has no choice but to accept there will be no Melvins at our 2015 edition.
We want to stress that we at Desertfest were not made aware of this exclusivity deal at the time the booking was confirmed. Please understand that the band also has no choice in the matter.
We can only offer you our sincere apologies, and we hope we have your understanding and support in this most unfortunate turn of events. But in the case this makes you reconsider your purchase of an early bird ticket, we want to offer our supporters the chance to demand a refund.
Tickets will be refunded for two weeks on from today (until 27/7), contact us through contact@desertfest.be.
However, before you make such a drastic decision, you may first want to read this first:
NEW NAMES confirmed for DesertFest 2015!

UFOMAMMUT
Ufomammut needs no introduction, as they have long established their status as one of the most potent, powerful and artistic contemporary doom artists in existence. They offer a unique brand of psychedelic sludge, blending primordial acid with sinister atmospheres and gloomy sounds of vintage electronics.
In fifteen years the band has performed at international music festivals like Roadburn, Hellfest, Dour Fest, Stoned from the Underground, Up in Smoke and many more… Their live show is supported by the internationally acclaimed video and graphic art of Malleus, whose visuals match the devastating impact of Ufomammut's massive sound.
http://www.ufomammut.com/
VALIENT THORR
"My God they're striking. All Hail Thorriors!" – Wayne Kramer, MC5. A wild-ass rock'n'roll band said to hail from the inner core of the planet Venus. Since crash landing on Earth in the year 2000 they've played well over 1500 shows all over the world, including stints at festivals like Download, Sonisphere, Hellfest, Graspop and Roskilde.
http://www.valientthorr.com/
CARLTON MELTON
They play live, loud, improvised, experimental, instrumental, psychedelic music that they record in a geodesic dome near the coast of Northern California. This should tell you everything you need to know about this bunch of rock royalty (including ex-members from cult band Zen Guerilla). Long Live Dome Rock!
http://www.carltonmeltonmusic.com/
CAUSA SUI
Causa Sui's sound has been described as the sound of a giant wave rolling up through the last four decades of rock. Over the course of eight albums since 2005, they have developed an eclectic instrumental sound that owes as much to electric Miles Davis or Can as it does to more familiar stoner rock. They are now recording the follow-up to the highly acclaimed 'Euporie Tide' album from 2013.
http://elparaisorecords.com/artists/causa_sui
CHILD
Formed in the rock n roll underground of Melbourne, Australia in 2012, Child take pride in upholding the strong tradition of Australian rock that preceded them with the likes of AC/DC, The Easybeats, Rose Tattoo or Billy Thorpe and the Aztecs. Drawing influence from an ever growing sonic palette, you will find Child's roots tightly entwined in and around the Blues whilst taking a heavier and more visceral approach.
https://childtheband.bandcamp.com/
WHEEL OF SMOKE
Wheel of Smoke (Leuven, BE) has been dwelling the Belgian underground rock scene with smoking mix of heavy, 70's tinted rock, blended with a dash of grunge and postrock. They've shared the stage with many bands including Baby Woodrose, Hypnos 69, Sungrazer, The Machine, My Sleeping Karma…
https://wheelofsmoke.bandcamp.com/
https://www.facebook.com/desertfestbelgium
https://twitter.com/desertfestBE
http://www.desertfest.be/