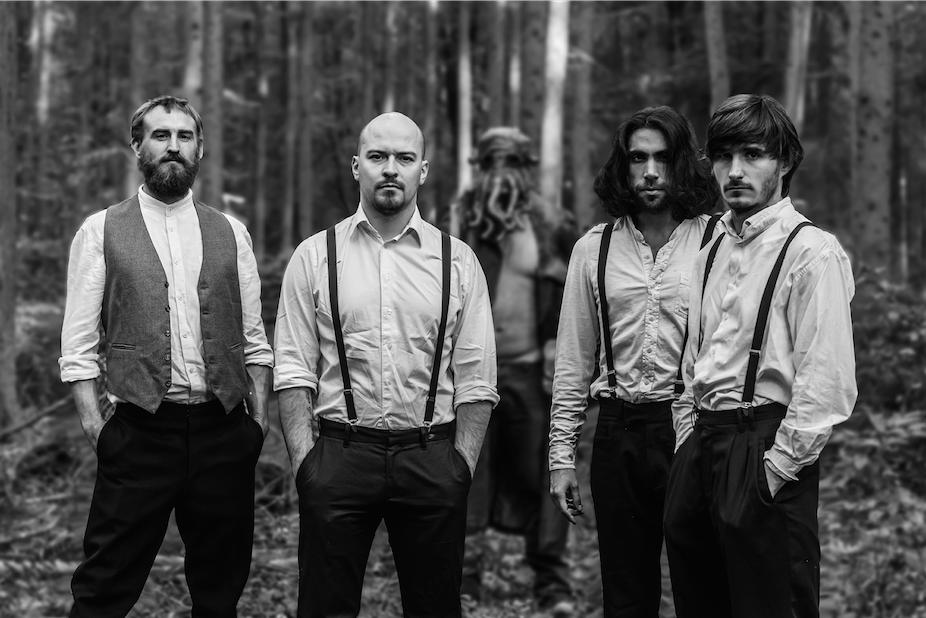 ABRAHMA: Roadburn appearance and European tour announced; new album details unveiled soon.
After a rather deserved hibernation, French heavy sorcerers ABRAHMA are back at the wheel and steady to offer some of their trippiest mixtures to the world. The electric foursome has been confirmed to play excellency heavy gathering Roadburn Festival as well as a full European tour in support of their forthcoming album, which details will be revealed soon.
Paris-based heavy psych pride ABRAHMA will perform at Roadburn Festival on April 12th in Tilburg (Netherlands), alongside acts such as Bongripper, White Hills, Admiral Sir Cloudesley Shovell and Sunday headliners Anathema. This one-off appearance will come along a full European tour with labelmates Lo-Pan, in support of the band's forthcoming new album.
« Reflections In The Bowels Of A Bird » will be ABRAHMA's second full-length, and will feature prestigious guests such as Ed Mundell (Monster Magnet, The Atomic Bitchwax), as well as Thomas « Asmoth » Bellier (Black Heat Shujaa) as a co-producer. « Reflections In The Bowels Of A Bird » will see release on Small Stone Records this Spring, it shouldn't take long before more details get revealed.
Watch the enigmatic trailer for « Reflections In The Bowels Of A Bird » 
HERE
Feel more than free to request guest list spots and interviews on the following dates:
09.04 – STRASBOURG (FR) Mudd Club
10.04 – LICHTENFELS (DE) Paucnhy Cats Inn
11.04 – MUNSTER (DE) Rare Guitar
12.04 – TILBURG (NL) Roadburn Festival*
13.04 – France TBA
14.04 – MONTPELLIER (FR) Black Sheep
15.04 – MADRID (SP) Maravillas Club
16.05 – BARCELONA (SP) Rocksound
17.05 – VITORIA (SP) Helldorado
18.04 – NICE (FR) Le Volume
19.04 – Italy TBA
20.04 – SAVIGNANO SUL RUBICONE (IT) Sidro Club
21.04 – MUNICH (DE) Orange House
22.04 – DRESDEN (DE) Ost-Pol
23.04 – BERLIN (DE) Desertfest Berlin*
*no guest list available for these shows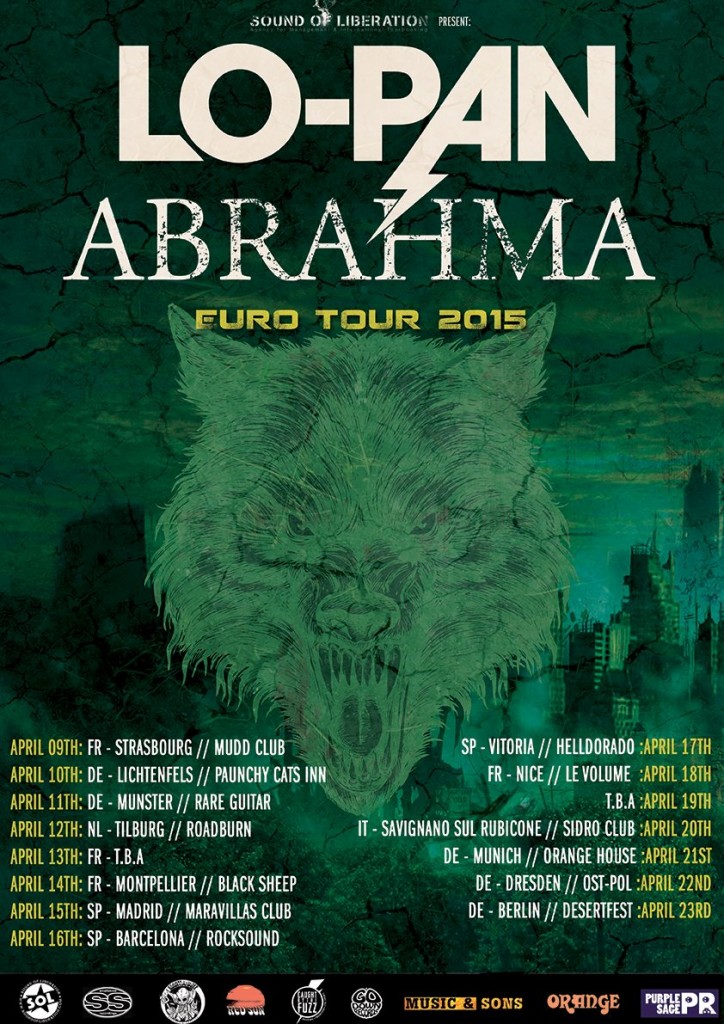 Forcefully ascending from the depths of Paris rock underground, it only took ABRAHMA one album to emerge as one of the torchbearers of French heavy rock on the international scene. Released in late 2012 on renowned North American label Small Stone Records, « Through The Dusty Paths Of Our Lives » unveiled an incredibly mature songwriting, while showcasing the band's sombre and complex music realm. Like the main thread of this heavy odyssey peppered with hindu mysticism and voodoo convolutions, the sound is hulking and hypnotic, while vocals resound like a distant and irresistible incantation; an appeal that is amped-up by guest appearances from the likes of Ed Mundell (Monster Magnet) and Thomas « Asmoth » Bellier (Blaak Heat Shujaa).
In 2013 and 2014, the band successively hit the stages of Desertfest London or Freak Valley Festival, and toured Europe with Enos as well as labelmates Wo-Fat. With this first full-length, ABRAHMA laid the foundations of their peculiar stoner aura adorned with the darkest riffage of the Seattle sound, and drew the attention of the international press. 2015 will see the Parisian foursome release their second album to date, due out this spring on Small Stone Records.
ABRAHMA IS:
Seb Bismuth – Guitar, Vocals, Effects & Machines
---