Canada's sludge legends DOPETHRONE to release new album this April on Totem Cat Records!
Montréal-based DIY filthmongers DOPETHRONE finally return this spring with their heaviest album to date! « Hochelaga » is slated for vinyl and digital release on April 13th via independent label Totem Cat Records. Get whatever substance you may need ready, hide your daughters: they're back…
After they have mercilessly pounded eardrums and spread their groove-laden lunacy on an international scale with three widely acclaimed eargasmic LPs, it is finally time for one of North America's filthiest weed-infused doom acts DOPETHRONE to take over your households once again. Named after their ghetto stronghold in Montréal, this fourth record betokens DOPETHRONE's determination to stir up even more trouble and take their sonic power to a higher level. 
Enjoy yourselves now and prepare for the takeover with the album's official trailer.
« Hochelaga » is due out April 13th on Totem Cat Records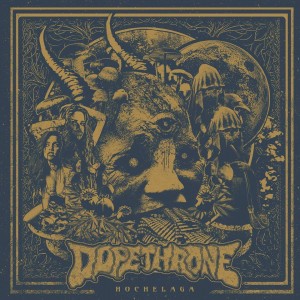 Track Listing:
The riff comes in many forms. Sometimes it's clean, catchy and elegant. Sometimes it's filthy, grimy and about as elegant as a sledgehammer to the sternum. DOPETHRONE is the latter. This D.I.Y trio from Hochelaga, Montreal's trashiest ghetto, wallows in smoke, demons, death, the occult and enough psychotropic drugs to send both Hunter S. Thomspson and William Burroughs on one hell of a trip. Delivering some of the filthiest, most skull-crushing riffs drenched in distortion and fuzz, they encompass the bleakness of black metal, the steadfastness of New Orleans-style sludge with a heavier-than-thou doom mentality. Riffage is thick, punishing, suffocating and destructive and demonic vocals are harsh, visceral and animal-like for tunes dripping with pervasive THC. DOPETHRONE take over doom and view it through a crusty lens, and that perspective rise the genre to new heights of sonic filth.
After they released their first LP « Demonsmoke » on STB Records, the band unleashed « Dark Foil » via Totem Cat Records in 2011, then got invited to Roadburn Festival in 2012 by festival curators Voivod. The performance was followed by the release of third album « III« , in support of which the trio toured Europe two times. Montreal's distortion-powered sledgehammer DOPETHRONE is set to be back in 2015 with a fourth heavier and most of all thrashier full-length… The band will perform at DesertFest London and Berlin and Heavy Days In Doomtown this spring, and will make their very first appearance in Los Angeles for a special performance in November !
In support of the release, DOPETHRONE will play some of the best heavy festivals this spring, including a bunch of club shows in the rest of Europe. More dates to be announced soon, including North American dates.
UPCOMING SHOWS:
22.04 – LYON (FR) MJC Ô Totem w/ EyeHateGod
23.04 – STRASBOURG (FR) Molodoï w/ EyeHateGod
24.04 – LONDON (UK) Desertfest London
25.04 – BERLIN (DE) Deserfest Berlin
28.04 – PARIS (FR) Glazart w/ Acid King & Black Cobra
29.04 – AMSTERDAM (NL) TBA
30.04 – ATHENS (GR) An Club w/ Belzebong
01.05 – COPENHAGEN (DK) Heavy Days In Doomtown
03.05 – HAMBURG (DE) Hafenklang
DOPETHRONE IS:
---