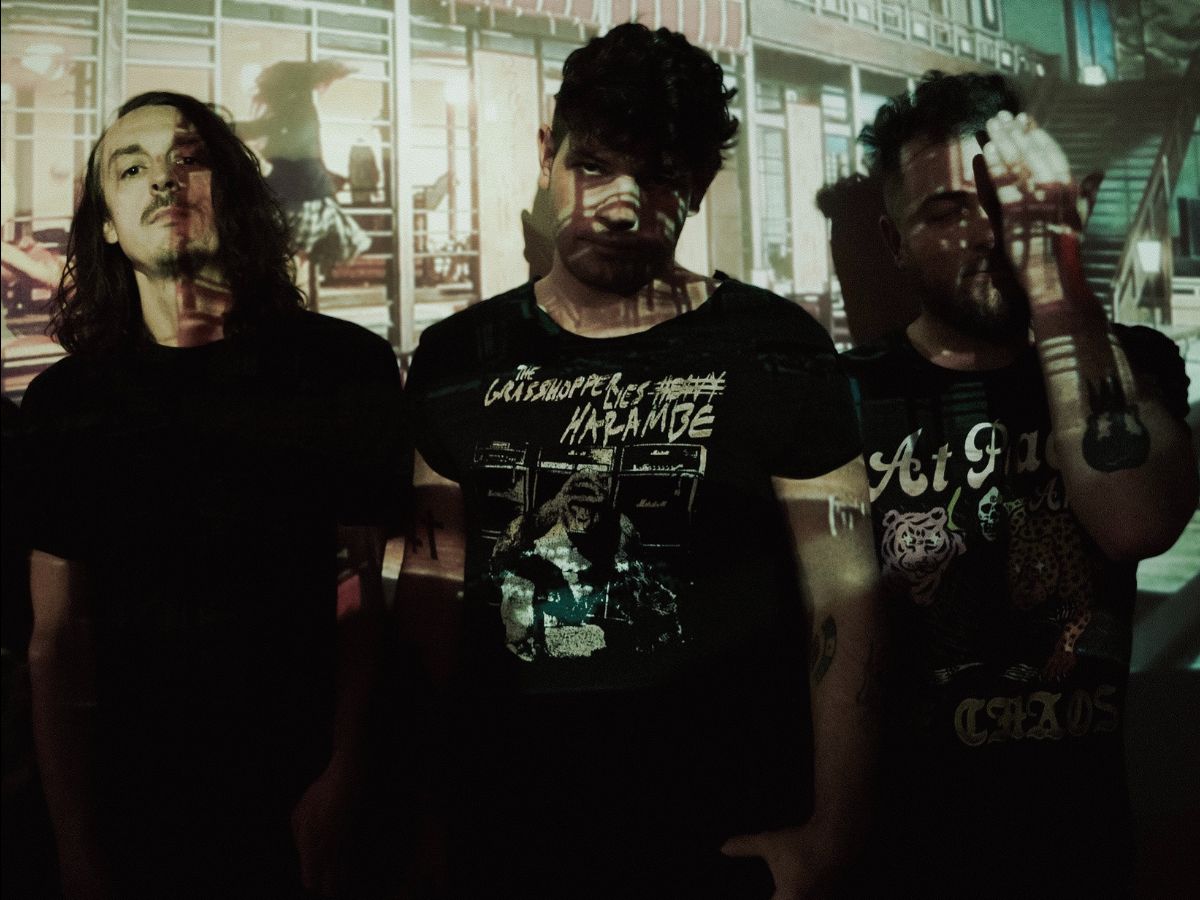 US blackened post-hardcore warlords GLASSING release new « Dire and Sulk » EP on Medication Time and Brutal Panda Records today.
Austin's fiercest post-hardcore and post-metal trio GLASSING release their devastatingly heavy « Dire and Sulk » EP on Medication Time Records and Brutal Panda Records. The band kicks off their full US tour with Pelican now.
« Sky-scraping post-metal with doomy girth, black metal ferocity, and post-hardcore bite. » Revolver Mag
« Shrieking, blasting, immersive, cataclysmic nightmare fuel. » Decibel Magazine
« A chaotic-yet-beautiful dose of atmospheric black metal. »Brooklyn Vegan
"Like getting punched from every angle." Metal Injection
Stream and order "Dire and Sulk" EP via Bandcamp
Watch Glassing's « Sulk » video at this location
Austin's GLASSING have spent the past half-decade crashing fractured, damaged noise rock into shimmering shoegaze and post-metal, coming up with songs that are equally as likely to inspire wide-eyed terror as crying in the middle of the pit. Their third full-length, last year's Twin Dream, saw the band striking their cleanest balance between those poles yet by pushing both to their extremes. It contained some of their most starkly beautiful songs to date, but it also cranked its heaviest passages to an even more feverish pitch.
It's that latter mode that GLASSING taps into on "Dire" and "Sulk," the two tunes that comprise a new 7-inch/cassingle on Medication Time and Brutal Panda Records. Perhaps that's thanks to the infusion of fresh blood in the form of drummer Scott Osment (Deaf Club, Weak Flesh). Osment's first recording with Glassing sees him pummeling the songs into terrifyingly heavy shape. Guitarist Cory Brim and vocalist/bassist Dustin Coffman match him for intensity, making "Dire/Sulk" the most direct, punishing Glassing release to date. (Words by Brad Sanders). 
GLASSING – « Dire and Sulk » EP
Out now on Medication Time Records (vinyl/cassette tape)
and Brutal Panda Records (digital)
Catch Glassing on their upcoming US tour with Pelican:
8/26 Albuquerque, NM @ Fly Honey Warehouse
8/27 SLC, UT @ Crucial Fest
8/28 Denver, CO @ HQ
8/29 Kansas City, MO @ Farewell
8/30 Evansville, IN @ Lamasco
8/31 Nashville, TN @ DRKMTTR
9/1 Atlanta, GA @ 529
9/2 Richmond, VA @ Cobra Cabana
9/3 Long Island, NY @ Massapequa VFW
9/4 Providence @ Dusk
9/5 Brooklyn, NY @ St. Vitus
9/6 Pittsburgh, PA @ Collision
9/7 Cleveland, OH @ No Class
9/09 Grand Rapids, MI @ Pyramid Scheme
9/10 Indianapolis, IN @ Post. Fest
9/11 Milwaukee, WI @ X-Ray Cafe
9/12 Chicago, IL @ The Beat Kitchen
9/13 Bloomington, IL @ Nightshop
9/14 Memphis, TN @ Growlers
9/15 OKC, OK @ The Sanctuary
9/16 Denton @ Andy's
9/17 Austin, TX @ Valhalla
GLASSING is
Cory Brim – guitar
Dustin Coffman – vocals and bass
Scott Osment – drums
GLASSING links
Website⎪Facebook⎪Bandcamp⎪Instagram⎪Spotify