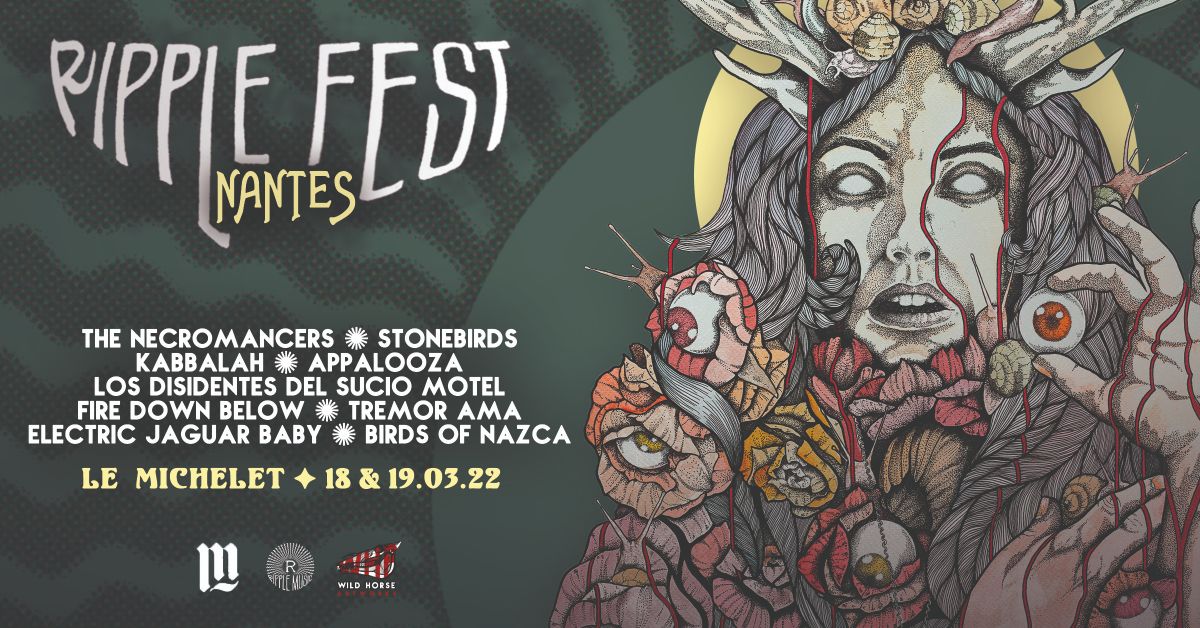 First edition of stoner and doom festival RIPPLEFEST FRANCE announced on March 18-19th in Nantes; tickets available now!
Ripple Music presents the first edition of RippleFest France, the stoner and doom festival to take place on March 18-19th at Le Michelet in Nantes, with Los Disidentes Del Sucio Motel, The Necromancers, Stonebirds, Kabbalah, Appalooza, Tremor Ama, Fire Down Below, Electric Jaguar Baby and Birds Of Nazca.
After California, England, Germany and Sweden, US stoner and doom powerhouse Ripple Music is treating French heavy rock aficionados with the first edition of RippleFest France. This celebration of the genre will feature bands from the Ripple roster, as well as a fine selection of French and European acts. On site, festival-goers will be able to enjoy local artists, homemade catering as well as merchandising throughout the weekend. The stunning artwork designed by Wild Horse Artwork will also be available for purchase! 
RippleFest France
18-19th March 2022 at Le Michelet
1 boulevard Henry Orrion, Nantes (FR)
Day pass: 15€ // Weekend pass: 28€
Join the official event // Tickets

FRIDAY 18th MARCH
Los Disidentes Del Sucio Motel – (post-rock/prog rock – Strasbourg)
Appalooza (heavy rock – Brest)
Tremor Ama (stoner rock – Paris)
Electric Jaguar Baby (fuzz duo – Paris)
SATURDAY 19th MARCH
The Necromancers (heavy rock – Poitiers)
Fire Down Below (stoner rock – Ghent)
Kabbalah (doom rock – Pampelune)
Stonebirds (sludge/post-metal – Brest)
Birds Of Nazca (heavy psych rock – Nantes)
Ripple Music is the passion-driven imprint that leading metal magazine Decibel Magazinedeclared « has made a splash in heavy rock and metal," and Alternative Control labeled « powerhouse tastemaker« . Metal Injection went so far as to predict, "they may very well be the future of rock and roll". Known and revered worldwide for unearthing the finest bands in stoner, doom, heavy rock and metal, the Bay Area-based label is home to Scott « Wino » Weinrich, Tony Reed, Poobah, Wo Fat, Mothership, Colour Haze, Freedom Hawk and many more. 
RIPPLE MUSIC links
Website⎪Facebook⎪Bandcamp⎪Instagram⎪Twitter
LE MICHELET links
Website⎪Facebook⎪Instagram⎪Twitter