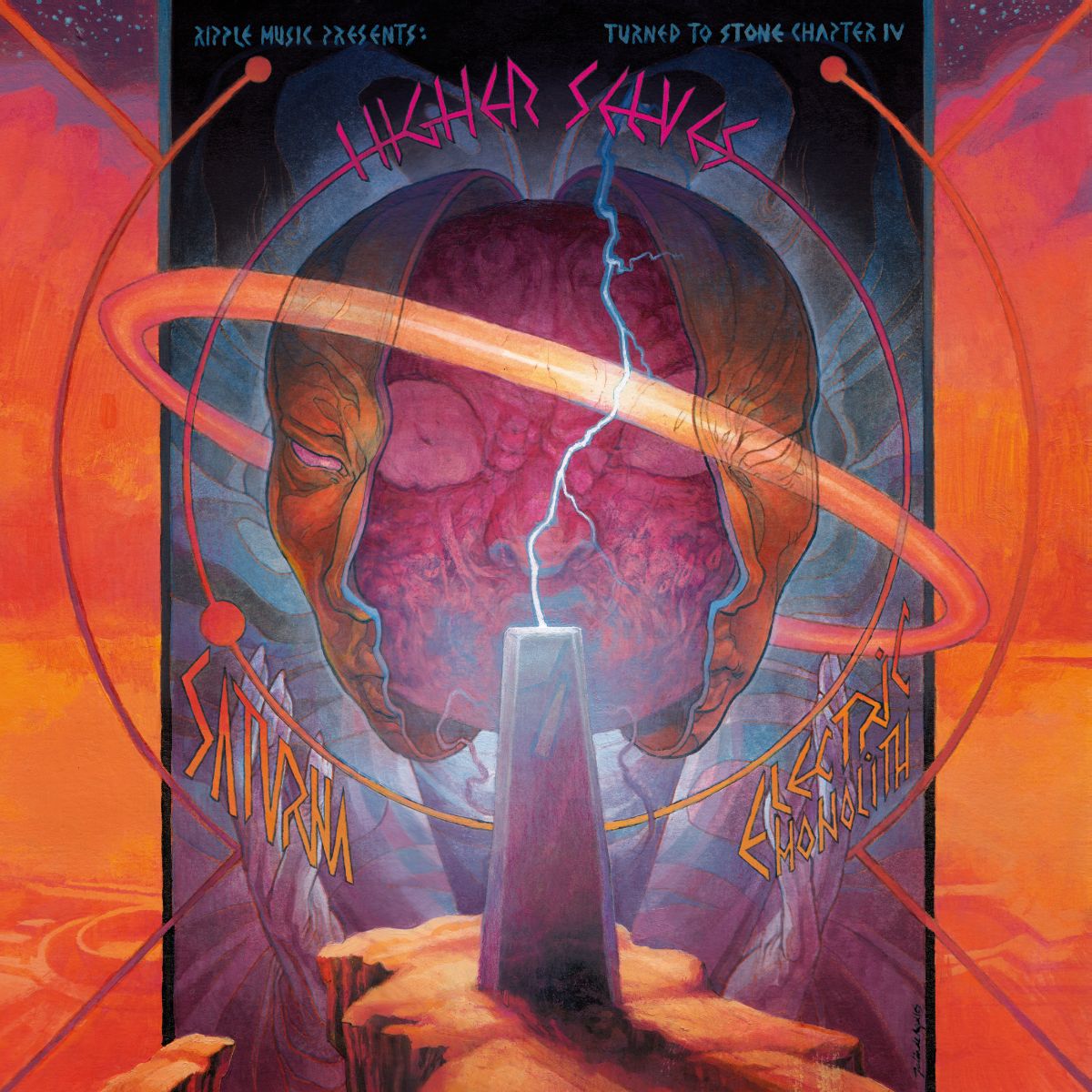 SATURNA and ELECTRIC MONOLITH team up for 'Turned To Stone Chapter 4' split album on Ripple Music; first track available!
The fourth chapter of Ripple Music's acclaimed 'Turned to Stone' split 12″ series features Saturna and Electric Monolith. The 'Turned To Stone Chapter 4: Higher Selves' album will be released worldwide on April 15th, with preorder and a first single « Drowning » available now.
Ripple Music treats heavy rock fans to yet another exciting collaboration on the fourth installment of the 'Turned To Stone' split series, with two outstanding bands from the Barcelona rock scene: SATURNA and ELECTRIC MONOLITH. Both bands have specialized in perpetuating the spirit of rock'n'roll in its truest, most boundary-free expression: when Saturna plays a soulful, Southern-infused classic hard rock with gripping, soulful vocals, Electric Monolith operates on the edgier, more psych-laden side of the 70s rock spectrum. A raucous, epic pairing that will skyrocket listeners through a riff-walled time-tunnel to vintage heavy music heaven! 
🚀 Feast your ears on SATURNA's new single « Drowning » 🚀
Ripple Music CEO Todd Severin comments: « Saturna and Electric Monolith are two bands that John Gist (from Vegas Rock Revolution) was pimping tirelessly, for good reason. They rock. And the fact that they're both from Spain just made it a natural fit for a Turned to Stone split. Each band put their own spin on their side, with Saturna aiming for a slightly slower, Chris Cornell-inspired rock, and Electric Monolith simply putting the pedal down. Both sides are completely engaging. I hope the listeners dig these two bands as much as we do. » 
SATURNA / ELECTRIC MONOLITH
'Turned To Stone Chapter 4: Higher Selves'
Out April 15th on Ripple Music – PREORDER
TRACKLIST:
Side A – Saturna
1. Keep Me Trying
 2. Following The Sun
3. Drowning
4. Don't Run
Side B – Electric Monolith
5. By My Side
6. I Hope You Feel Better
7. Hold Me Again
8. So Lonely Drying
9. Nightmares 
SATURNA links
Facebook⎪Bandcamp⎪Instagram
ELECTRIC MONOLITH links
Facebook⎪Bandcamp⎪Instagram⎪Spotify
RIPPLE MUSIC links
Website⎪Facebook⎪Bandcamp⎪Instagram