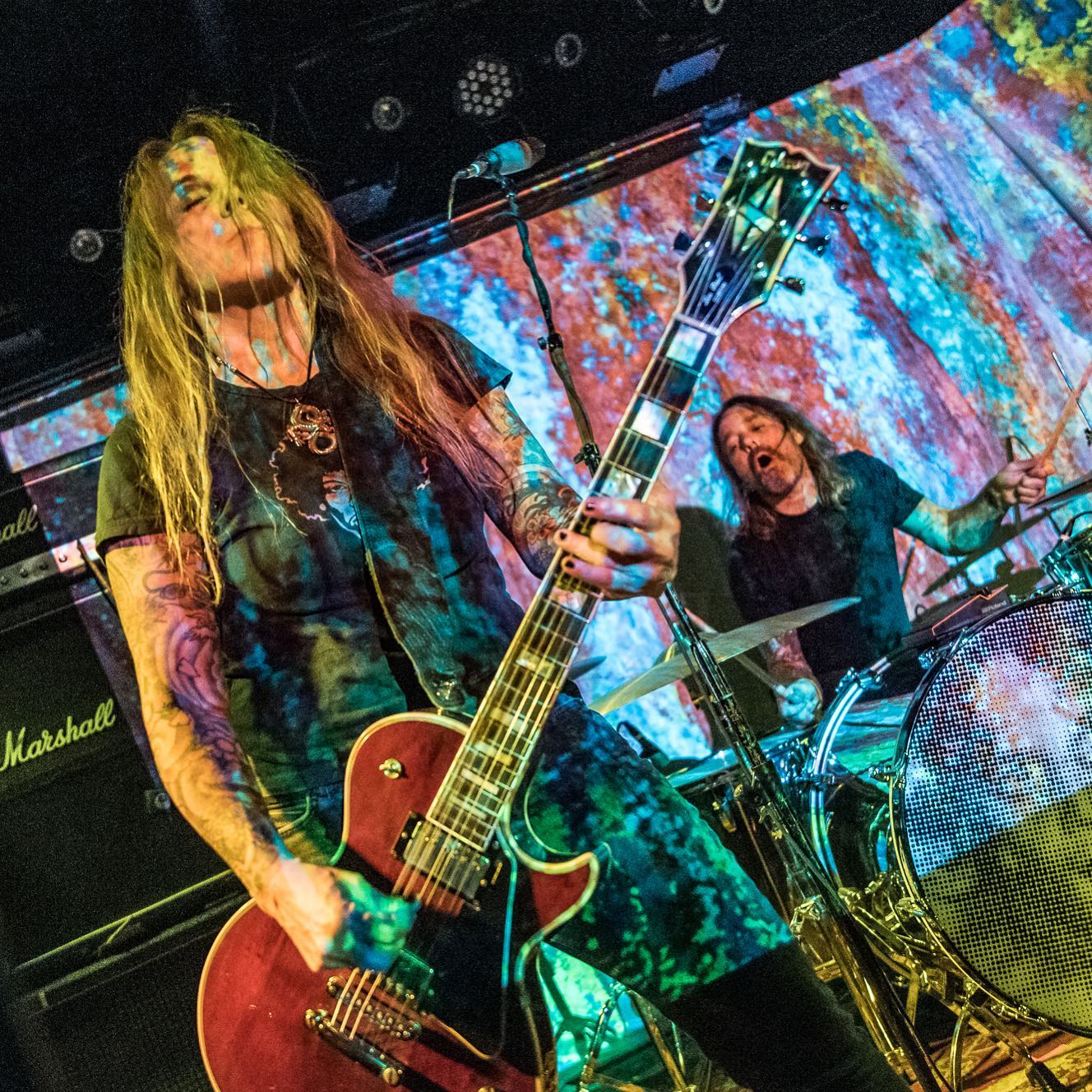 ACID KING and JOSIAH join PostWax Vol. II series; Blues Funeral Recordings launches Kickstarter for exclusive vinyl subscription!
Blues Funeral Recordings have revealed stoner metal pillars ACID KING and cult heavy psych rockers JOSIAH will join the second volume of their groundbreaking PostWax vinyl subscription series. The label launched a Kickstarter on April 1st to sign up subscribers for the 9-volume project.
The PostWax series presents exclusive limited edition records from some of the best stoner rock, doom and heavy psych bands on the planet. Benefiting from a spectacular Kickstarter success in 2018, PostWax Year One debuted monster releases to subscribers first — including Elder's « The Gold & Silver Sessions » and the seminal comeback album « Refractions » from Lowrider — which were subsequently released in standard retail versions to the public several months later.
Announced on the PostWax Vol. II series are Bay Area legends ACID KING, who are joining forces with Jason Landrian (Black Cobra) and Bryce Shelton (Nik Turner's Hawkwind, Bädr Vogu, High Tone Son of a Bitch) for a mind-altering soundtrack-inspired sonic journey created exclusively for this project. PostWax Vol. II will also mark the blistering return of Britain's the fuzz-fueled power trio JOSIAH, who are making the most of the Blues Funeral collaboration to present their first studio album in over a decade, the followup to their 2009 Eletrohasch release 'Procession'. Fans of heavy-psych meets straight ahead riff-rock should take notice!
PostWax Vol. II will unfold as a series of 9 deluxe releases on gorgeous vinyl, with every record set to include at least one exclusive track that only those who join PostWax will ever receive. Blues Funeral also invited each band to contribute one or more riffs to a « share pool » that every other band in the series can dip into and to integrate into what they're doing, in order to create more connectivity and shared DNA across all the releases in the series.
=> View the PostWax Vol. II Kickstarter!
The first PostWax Vol. II release will be delivered directly to subscribers in the summer of 2021, and each record of the series will feature next-level sleeve design, hand-crafted art and illustrations, and behind-the-scenes liner notes by JJ Koczan of The Obelisk. Stay tuned, as more bands and special components of these series will be revealed soon!
When launching PostWax in 2018, Blues Funeral Recordings committed to donate 10 percent of the first series profits to national nonprofit Little Kids Rock, an organization that supports youth through music education. « We hope our donation helps them continue to make sure the next generation of riffmongers, skin-bashers and tone snobs keeps creating real rock! » declared Blues Funeral founder Jadd Shickler. The operation will be renewed through PostWax Vol. II, with each subscription contributing to support this great cause.
About ACID KING: 
For as loud as their riffs and roars are, Acid King's legacy is as unassuming as it is enduring, casting a quiet shadow over the underground for over two decades. Formed in 1993 by frontwoman and guitarist Lori S., bassist Peter Lucas and drummer Joey Osbourne, the band's name was inspired by Ricky Kasso, the satanic stoner given the nickname « Acid King » by peers for his chronic hallucinogenic drug use and the murder of his friend in New York in the early 1980s. ACID KING has recorded four studio albums and three EPs with a series of bassists, and have earned reverence from the stoner doom scene for their massive low-end tone, spacey atmospherics and Lori's distinctive vocal delivery. Bathed in distortion and baptized in a plume of smoke, the Bay Area trio's 2015 album 'Middle of Nowhere Center of Everywhere' received widespread critical acclaim from international tastemakers. They embarked on tours of the States and Australia, appearing on festivals including Psycho Las Vegas, Erosion Fest, Desert Generator, and more as well as sharing the stage with everyone from Sleep and Down to Blue Öyster Cult, Red Fang and YOB. 
About JOSIAH:
At least a decade ahead of their time, JOSIAH had a three-album run between 2000 and 2008 that few in heavy psych-driven rock could (or can) match. Their 2002 self-titled debut, 2004's Into the Outside and 2007's No Time saw guitarist/vocalist Mat Bethancourt, bassist Sie Beasley and a succession of drummers touring Europe and their native UK, playing fests like Roadburn ('05 and '07), Duna Jam, and Stoned from the Underground, and taking their searing Cream and Grand Funk meets Colour Haze and The Atomic Bitchwax blend on tour across the continent. Nine years removed from Josiah's last release, the members began to jam again, crafting songs with a darker edge to suit the times. Rumors of 'The Resurrection' began to spread, and with a chance to record amid the pandemic-stricken latter half of 2020, Josiah set to work on their return album, forging ahead from the past to reclaim their legacy.
Blues Funeral Recordings is an independent label created by the founders of MeteorCity and Lowrider, and releasing music from luminary artists in the heavy/stoner/doom/psych ecosphere. While issuing stellar albums from Domkraft, Howling Giant, Lord Buffalo and Solace, the label has also gained attention through PostWax, a groundbreaking subscription-style series of lavish custom releases featuring exclusive music from Elder, Daxma, Spotlights, Lowrider, Besvärjelsen, Big Scenic Nowhere and Domkraft.
BLUES FUNERAL RECORDINGS LINKS
Website⎮Facebook⎮Bandcamp⎮Instagram
ACID KING LINKS
Website⎮Facebook⎮Bandcamp⎮ Instagram
JOSIAH LINKS
Bandcamp⎮ Instagram