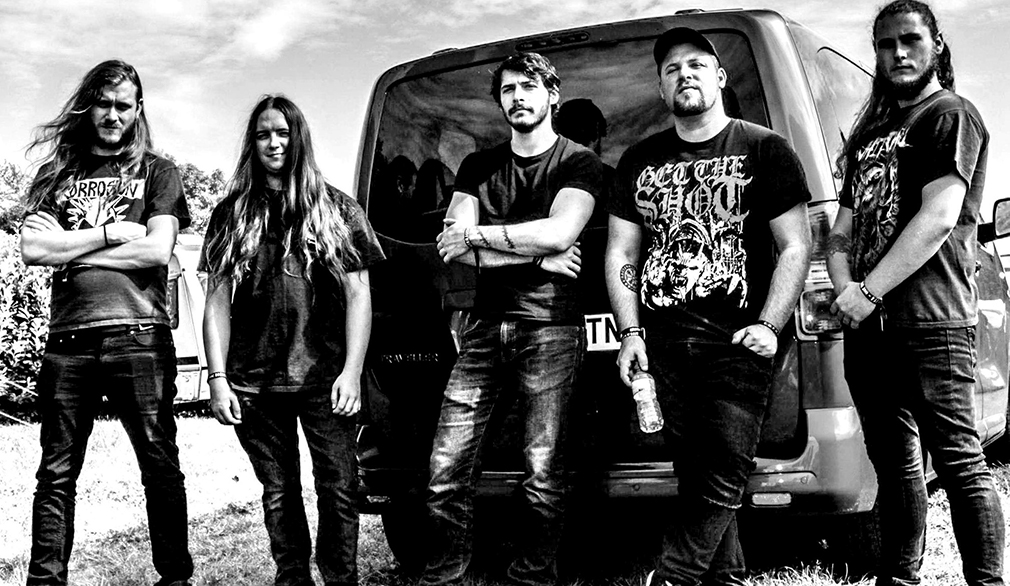 UK groove metal warlords HANDS OF ATTRITION to unleash debut album 'Colder Places' this December 18th; watch three new videos now!
West Midlands fast-rising, hardcore-drenched groove metal unit HANDS OF ATTRITION are all set to deliver their raging debut album 'Colder Places', due out December 18th digitally through From The Depths Entertainment. Free your souls and embrace the fight with three new videos available for viewing now!

Attrition (from latin attritio, to grind): « the process of reducing something's strength or effectiveness through sustained attack or pressure ». Burning with an inextinguishable fire and displaying attitude in spades, HANDS OF ATTRITION are a collective force to be reckoned with. Formed in 2018 in the West Midlands, the five piece have steadily built their own sonic identity by melding their groove metal and metalcore influences from Lamb of God to Devildriver and Pantera, injecting a substantial dose of emotion and technique to form a boiling, ear-shattering and unstoppable metal whirlwind. 

With eleven tracks that deal with mental health and the impact of self-doubt, depression, addiction and tragedy in one's existence, their debut album 'Colder Places' also invokes resilience and catharsis, delivering a forceful metal experience enhanced by Tom Alexander-Scott's impressive vocal performance. To set the stage for their upcoming debut album, HANDS OF ATTRITION have released the videos for « I'm Gone« , « They Come At Night » and a lyric video for « Threadbare« . Be ready to embrace the full force of this relentless heavy machine, as 'Colder Places' drops on December 18th, 2020 on all digital streaming platforms!

'Colder Places' was mixed and mastered by Justin Paul Hill. The album artwork was designed by Arabella Eugenie de Cadenet.
HANDS OF ATTRITION Debut album 'Colder Places'
Out December 18th on all digital platforms – PRE-SAVE



TRACK LISTING:
1. Consumed
2. From The Void
3. Threadbare
4. The Becoming
5. They Come At Night
6. I'm Gone
7. Leap Of Faith
8. Subjugation
9. The Only One
10. More Than War
11. Nightingtale
« Our debut album 'Colder Places' is a collaboration of powerful riffs and raw emotion; as friends foremost, we get together and make music that means something to us. Our influences stem from groove metal as well as fast-paced, emotive music which has helped us define our sound to what it is today. We are proud to be releasing an album that highlights our values as a band. » say HANDS OF ATTRITION.

« One of the themes for our album is the importance of men's mental health. Collectively we, like many, have experienced first hand the impact self-doubt, depression, addiction and tragedy can have on mental wellbeing. Every song on the album tells a story and we hope that the same strength can be drawn from our music as we have gained producing it. We have worked closely throughout the album with our mix and master engineer, Justin Paul Hill to reach our desired final sound. Without his industry knowledge we wouldn't be where we are today. »  
HANDS OF ATTRITION are:
Tom Alexander-Scott — Vocals
Anthony Austin-Smith — Lead Guitar
Christopher Jenney — Rhythm Guitar
James Brunskill — Bass
Dale Harrison — Drums
HANDS OF ATTRITION LINKS
Website⎜Facebook⎜Bandcamp⎜Instagram⎜Youtube⎜Spotify