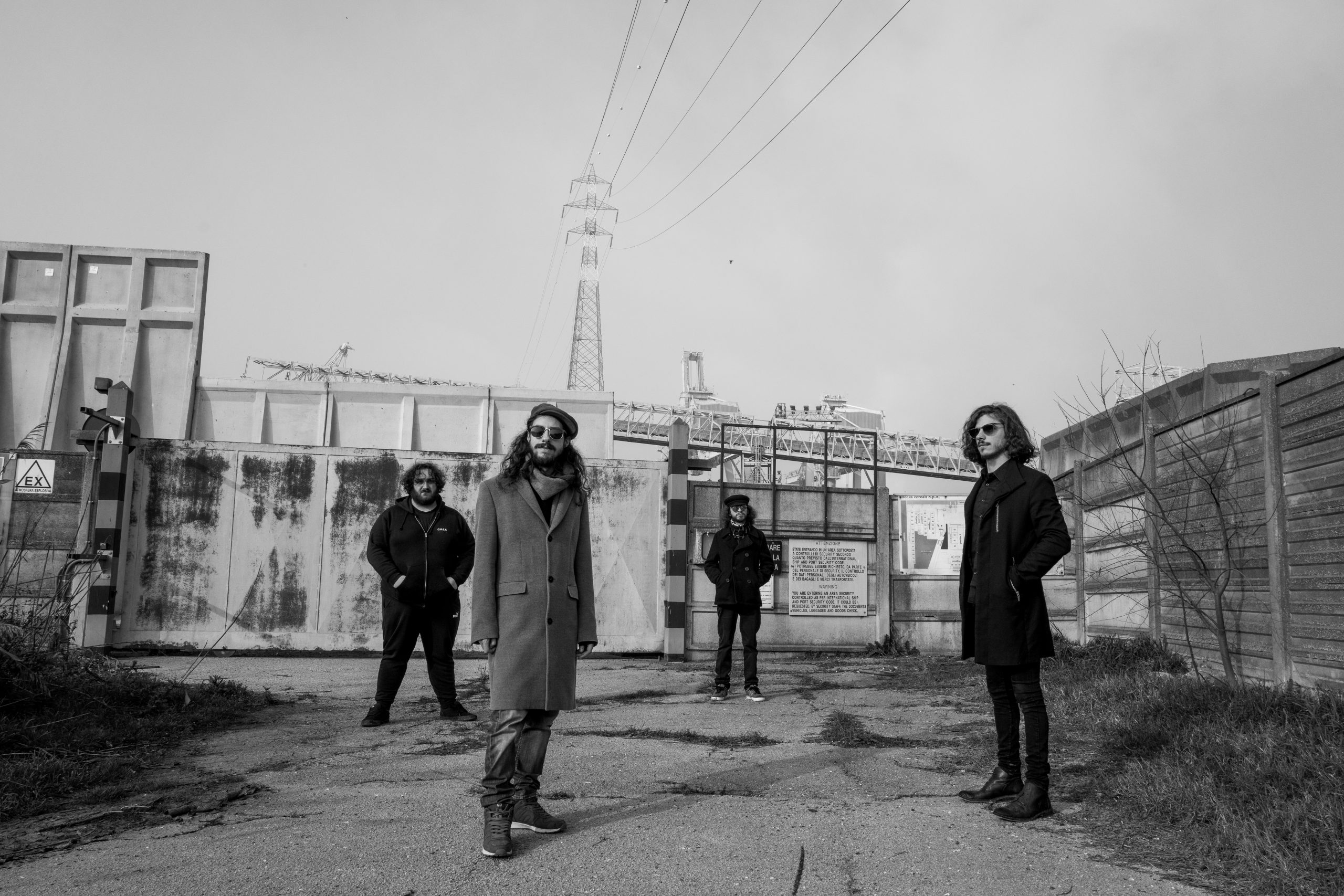 Industrial noise rockers SOLARIS unveil vintage scary new video « Voce »; their latest album is out now via Bronson Recordings.
Italy's post-noise merchants SOLARIS present « Voce », a smashing editing of cult horror movie 'The Cabinet of Doctor Caligari'. « Voce » is off their new record 'Un Paese di musichette mentre fuori c'è la morte', out now via Bronson Recordings. Courtesy of The Moshville Times and Rockerilla.
SOLARIS' drummer Alan Casali – alias Oz Braincrashing – did a remarkable job at adapting famous Robert Wiene's 20s horror movie 'The Cabinet of Doctor Caligari' to fit flawlessly to the dark and mechanical « Voce » track.

The band adds: « The video represents the foggy themes of the lyrics. The beginning, starting out with clear sounds, passes through distortions and dissonances, resulting in a finale marked by metallic sounds. The help of Martin Bisi was fundamental: he used all his creativity to insert those sounds inside the song the best way. The amber tones of the video, edited by our drummer Alan with scenes from Robert Wiene's 'The Cabinet of Doctor Caligari', define what is the intensity of this song for us, with every single detail. »
Watch SOLARIS' new video at these locations:
The Moshville Times (World)
Rockerilla (Italy)
'Un Paese di musichette mentre fuori c'è la morte' settles the quartet deep into the prosperous Italian underground scene by means of six inspired tracks, recorded and mixed by iconic producer Martin Bisi (Sonic Youth, Swans, Unsane). From noise to heavy psych, SOLARIS juggle with noteworthy influences such as Helmet, Disastroid or The Jesus Lizard. Their tortured melodies produce mechanical and resonant emotions to the listener, definitely absorbed by their sonic invitation. Photo by Adriano Zanni. Layout by Supernulla.
Producer Martin Bisicomments: « With Solaris I felt there was a meeting of similar esthetics, of a common language. This was the product of a musical culture that has been evolving over decades. And Solaris had a strong sense of their own sound and identity. At Duna studio where we recorded, i similarly felt like it was an outpost of the studio in Brooklyn where I've worked since 1981. We made a record that travels like through scenes from a sci-fi film, cinematically post metal and industrial. »
SOLARIS 'Un Paese di musichette mentre fuori c'è la morte'
Available now via Bronson Recordings – Order
Formed in 2015 near Cesena and Mercatino Conca (Italy), SOLARIS is a 90s-infused heavy noise quatuor, whose name pays tribute to sci-fi writer Stanislaw Lem, and also to the band Failure, one of their greatest inspirations. After a year of rehearsals, the band released their first EP 'L'Orizzonte degli eventi' in early 2017 – recorded at StoneBridge Studio (Cesena) by Andrea Cola and Alan Fantini, and mastered by Stefano Cappelli at Creative Mastering. The EP features special guest Andrea Fioravanti (Postvorta) playing guitars on « Leviatano ». The record was self-released but then re-issued by Floppy Dischi and Drown Within in 2018.

Two years of touring had Solaris share the stage with esteemed heavy stoner bands like P.I.L, Ufomammut, Sacri Monti, Mood, Marnero, Fuzz Orchestra, Johnny Mox, Buñuel or Asino eCosmetic. In December 2019, after a pre-production session at StoneBridge Studio, they returned to the studio to record their debut full-lengh. 'Un Paese di musichette mentre fuori c'è la morte' came out on June 19th 2020 via Bronson Recordings; it was recorded by Martin Bisial (Sonic Youth, Swans, Unsane) at Duna Studio (Russi, Italy) and mastered by Fred Kevorkian at the Brooklyn Studio Workshop (New-York, USA).
SOLARIS are:
Alberto Casadei: guitar, vocals
Paride Placuzzi: guitar
Lorenzo Bartoli: bass
Alan Casali: drums
SOLARIS LINKS
Website | Facebook | Bandcamp | Bronson Recordings