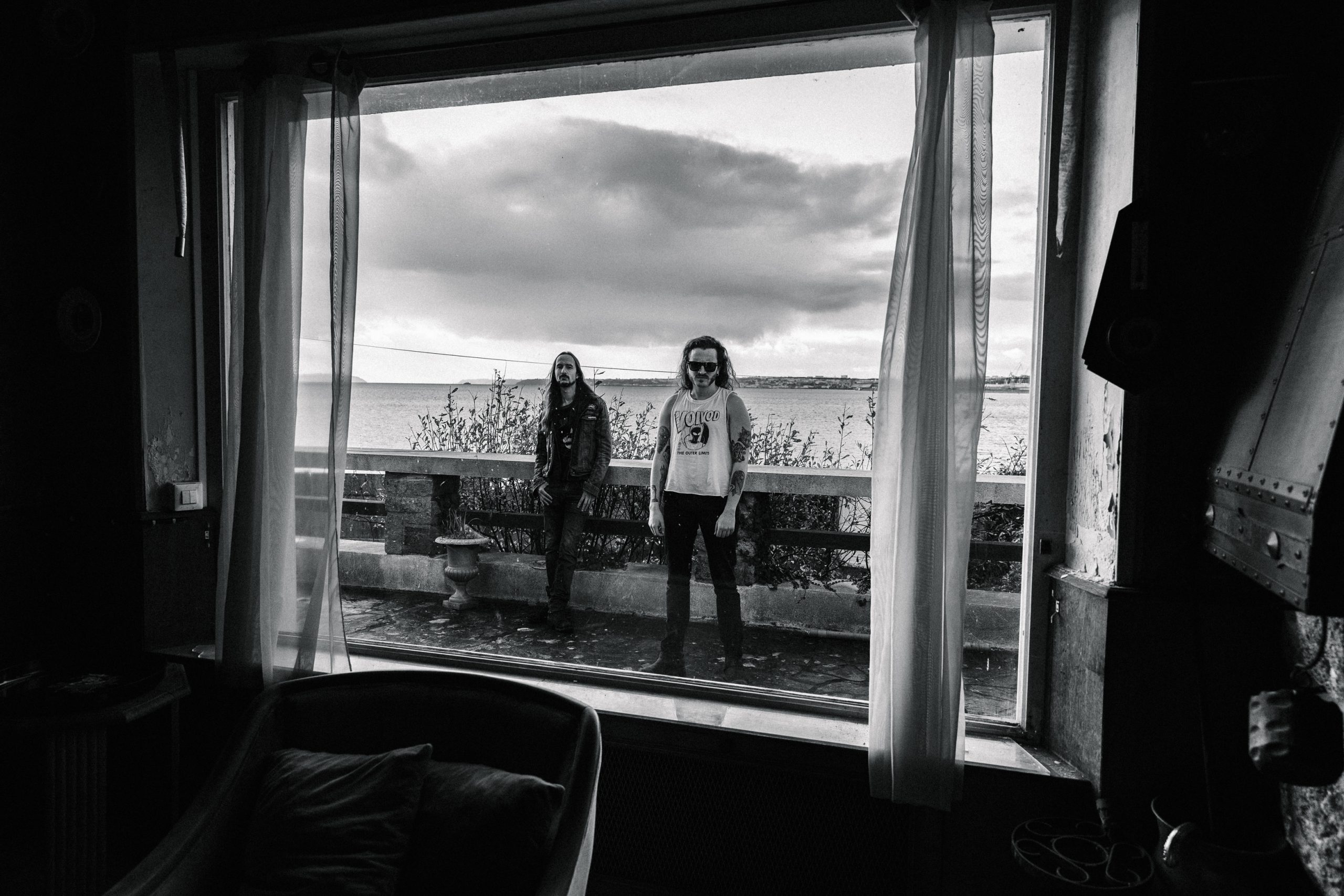 Groundbreaking synth doom duo VAISSEAU unveils magnetic new single off 'Horrors Waiting In Line', out March 13th on Totem Cat Records.
French synth doom merchants VAISSEAU share their haunting new single from debut LP 'Horrors Waiting In Line', due out March 13th on Totem Cat Records. Get a taste of the duo's unique soundscapes with « Sonic Dislocation », streaming now via Heavy Blog Is Heavy!

« Sonic Dislocation is one hell of a track, a true journey through a unique and deeply fleshed out soundscape. Like many bands from the eras of music which this track (and band) is referring to, like Hawkwind or Magma, the key is in the vision, the depth of the story being told, even through these instrumental means. For that, the composition and execution have to be flawless, taking in and fleshing out all the little details therein. VAISSEAU have both, making this track a true joy to take in. » describe Heavy Blog Is Heavy.
Slide to the sound of « Sonic Dislocation » HERE
VAISSEAU (French for « space shift ») feed their inspiring « synth doom » sound with long-cherished krautrock and heavy metal influences. It's easy to picture Robert Fripp and Klaus Schulze partying with Hawkwind, while sharing out loud their love for distorted sounds and occult imagery. Brace yourselves, VAISSEAU are leading you to lands that only exist in the wildest dreams. 'Horrors Waiting In Line' was mixed & mastered by Dennis Pleckham of Bongripper at Comatose Studio.

It will be available in the following formats, and can be pre-ordered now at this location:
– Regular Frustrazione Black vinyl (200 copies)
– Ride the Slime Edition (neon green in ultra clear wax) exclusively available from Totem Cat (100 copies)
– Test pressing with alternate artwork on screenprint (10 copies)
– Digital
VAISSEAU Debut album 'Horrors Waiting In Line'
Out March 13th on Totem Cat Records
VAISSEAU craft their very own sonic way out, both distraught and intense. The French duo confidently matches doom and krautrock, laying their haunting synths at the center of the action. Tangerine Dream outrageously flirting with Black Sabbath and satisfying any fiend of dark, proto-prog soundscapes. VAISSEAU don't need guitars, only slow, obsessing loops that will take your mind to a chaotic sci-fi universe. The unwavering drums-machine duo has created a genre of its own, that we will most aptly name "synth doom".

VAISSEAU's debut album 'Horrors Waiting In Line' is set for released on March 17th via Totem Cat Records (Dopethrone, Sons Of Otis, Fistula). The artwork by Jason Barnett (Fistula, Power Trip, Ghostmane) depicts the daily struggles one learns to apprehend and overcome Another subtle reference to escapism that floats atop the whole album, and reaches peaks thanks to its majestic pyramide, a symbolic vessel that guides lost souls towards the light.  
VAISSEAU LINKS
Facebook⎪Bandcamp⎪Totem Cat Records