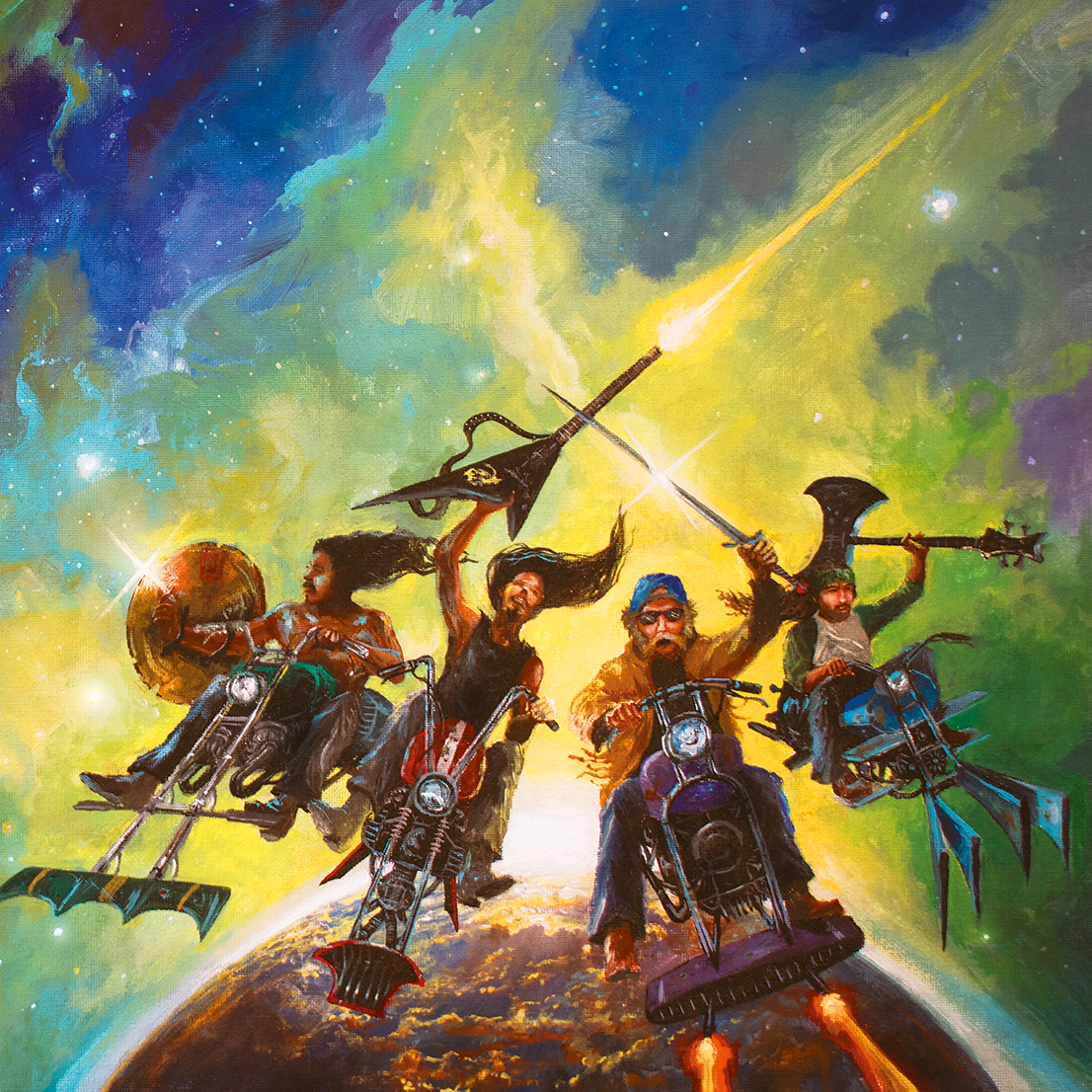 Heavy metal crusaders GREAT ELECTRIC QUEST share their new album "Chapter II" in full on Metal Injection ; out July 6th on Totem Cat Records
Californian shredders 

GREAT ELECTRIC QUEST

 have their second full-length « Chapter II » coming this Friday on Totem Cat Records, and sharing it right now in its entirety via Metal Injection.
« GREAT ELECTRIC QUEST are the sort of band you can't help but to fall in love with. They are living the rock and roll fantasy and loving every minute of it. » Metal Injection

🔥  Check out new album « Chapter II » in full HERE 🔥

The band wants you to know: 'We want to invite you to a killer party! There's gonna be Cavemen, Interstellar Aliens, Egyptian Deities, Temptress Woman, a crazy Dealer of Fate dude, lots of BEER, and a whole bunch of different humans coming together. If you like to party with Black Sabbath, Judas Priest, a little bit with Thin Lizzy and Pink Floyd, you should really show up! It's a celebration where you can leave your concept of time and reality at the door. There's too much of that stuff all over the place and it just gets in the way of a good time… Chapter II is just another Journey on our « Great Electric Quest », the Quest to keep true Rock'n'Roll alive. We aim to do our part, as Judas Priest says: « Defenders of the Faith! ». Anyways, just make sure you RSVP July 6th via Totem Cat Records, because there's limited seats on this sonic journey. Cheers! »
GREAT ELECTRIC QUEST is the kind of thrill the metal world needs at the moment: sincere, exciting, with an iron will for treating ears to strong hooks and timeless heavy metal odysseys. Hop on their crazy metal spaceship now and enjoy that classic metal ride for as long as it last.
GREAT ELECTRIC QUEST « Chapter II »
Out July 6th on vinyl, CD and digital via Totem Cat Records

Sonic story tellers GREAT ELECTRIC QUEST are true merchants of Rock and Roll and Heavy Metal taking listeners on a journey into an ever expanding world of captivating characters and allegories… « Chapter II », the long anticipated 2nd LP coming from GREAT ELECTRIC QUEST bring their journey to flat out gargantuan proportions. Barn burners like « Seeker of the Flame », « Anubis » and « Wicked Hands » set fire to the torch that illuminates the Epic title track « Of Earth »; a 15 minute saga full of « Creation, « Destruction », and the resolution of « Ancient Machine ». The penultimate track « The Madness » is a gritty ode to classic riff rock and the closing track « Heart of the Son », simply unites.
Riffage, solos, rhythms, and lyrics along with the production of Jeff Henson (Duel) and Tony Reed (Mos Generator) combine to bring a bigness and fullness of color that elevates this album into upper echelons. Adam Burke's cover art is a mind blowing combination of bad ass and fun as the four members are represented in an almost superhero like fashion protecting planet Earth with their Rock and Roll as they ride over her. « Chapter II » is here and so is GREAT ELECTRIC QUEST, delivering the whole package with an album that should resonate for years to come.
GREAT ELECTRIC QUEST is
Tyler « T-Sweat » Dingvell – Vocals
Buddy Donner – Guitar
Daniel « MuchoDrums » Velasco – Drums
Jared Bliss – Bass