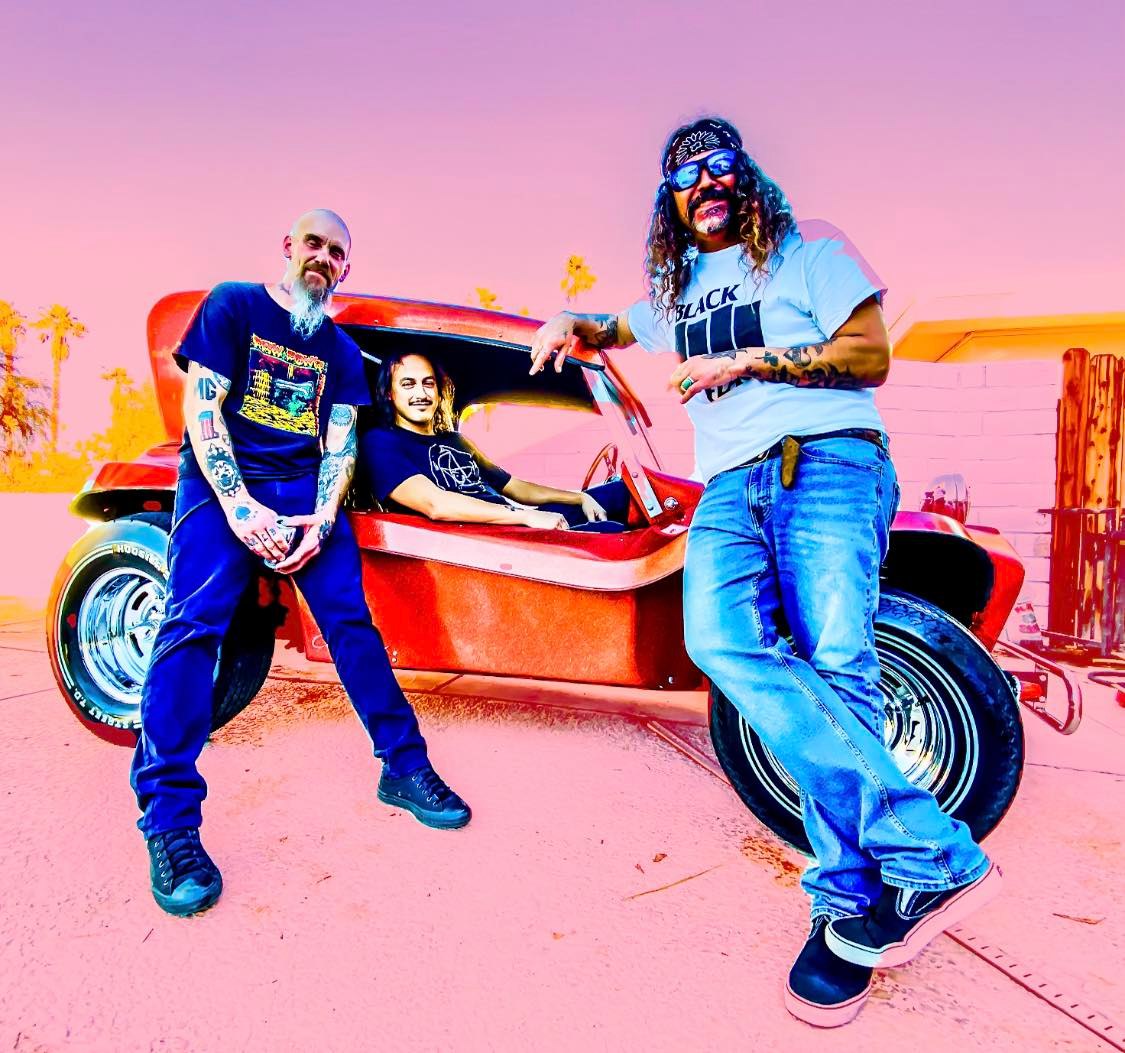 Desert rock supergroup STÖNER share new single « Strawberry Creek »; full spring European and UK tour announced!
Desert rock supergroup STÖNER (w/ Brant Bjork, Nick Oliveri and Ryan Güt) present their groovy new single « Strawberry Creek » taken from their upcoming sophomore full-length 'totally…' on Heavy Psych Sounds. The band announced an extensive UK and European spring tour including festival appearances, don't miss them!
"When the summer months roll into the desert, the heat burns your feet. So we desert folk take a ride up the mountainside to Strawberry Creek. You're sure to cool off but you'll still have dirty feet. And that's totally ok." – Brant Björk
🌵 Listen to new single « Strawberry Creek (Dirty Feet) » 🌵

The desert kings are back with their sophomore album 'totally…', a perfect mix of desert swing, stoner rock and low desert punk all at once! Eight new tracks that will blow your mind, recorded by Brant Bjork's long-time collaborator Yosef Sanborn. Mellow guitars, funky stoner rhythms, bluesy atmospheres, Nick Oliveri's trademark punk drive: the album flies away in one listen and makes you want to play it again immediately. As the artwork will tell, the trio doesn't take itself too seriously. After all, isn't STÖNER all about fun and friends jamming together? That's precisely the recipe they are delivering after 30 years of rocking the heavy world.
STÖNER is the supergroup formed by desert rock godfathers and long-time friends Brant Bjork (founding member of Kyuss, also former Fu Manchu), Nick Oliveri (Mondo Generator, former Kyuss and Queens of the Stone Age) and Ryan Güt (Brant Björk drummer). Their debut studio album 'Stoners Rule' was released in the summer of 2021, and they now return with their brand new album 'totally…' on May 6th! It was produced, recorded and mixed by Yosef Sanborn and Stöner, with appearances by Greg Hetson (Circle Jerks) and Mario Lalli (Yawning Man) on guitar. Listen to previous singles « A Million Beers » and « Party March« . 
New album 'totally…'
Out May 6th on Heavy Psych Sounds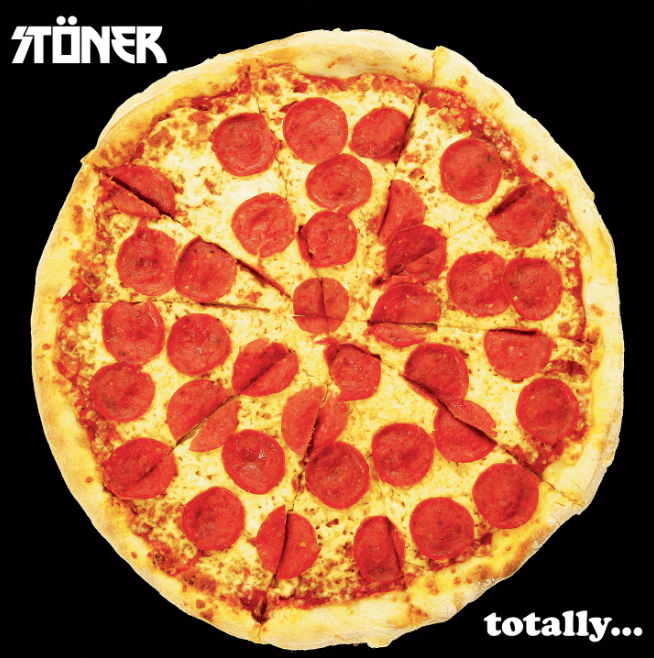 If the name STÖNER seems a little on the nose, well… it is. Brant Bjork and Nick Oliveri, founding members of the stoner rock legend Kyuss, are joined again by drummer Ryan Güt (of Bjork's solo band) and they've got dibs on the thick and dusty swinging grooves, returning as Stöner with their sophomore release "totally…". Their love for their early inspirations (bands like Blue Oyster Cult, Kiss, Ramones, Blue Cheer, Misfits, Black Flag, The Stooges, MC5) results in big, groovy, sunbaked riffs that can cruise low and slow but then floor it and run all the red lights.

Live, STÖNER is a band about the magnetism between the players, the groove, loose vibe and straight-up badass rock and roll… Stöner are masters of their trade. With "totally…", Stöner is in its true form, getting together and having fun. Their world is a colorful joyride, heavy of rock but not of the head. The record cranks with vibes of classic hard rock, heavy blues, desert rock and psych rock jams — things that come organically to this trio. Stöner can't help but express an abundance of punk rock rawness and passion for real rock and roll swagger. With two records, "Live at Mojave" and "Stoners Rule" (available on Heavy Psych Sounds), the latest release "totally…" sees the band realizing the chemistry of these old friends developing a statement of pure rock and roll fun. Grab a slice, crank it, and catch the band on tour in '22 in the US, Canada, UK and Europe.

Stöner European tour with Slomosa:
22.04.22 – Monroes Live, Galway, IRE*
23.04.22 – Dolan's Warehouse, Limerick, IRE*
24.04.22 – Cyprus Avenue, Cork, IRE*
25.04.22 – Limelight 2, Belfast, UK
26.04.22 – Opium, Dublin, IRE
28.04.22 – The Garage, Glasgow, UK
29.04.22 – The Warehouse, Leeds, UK
30.04.22 – Desertfest, London, UK
02.05.22 – Academy 3, Manchester, UK
03.05.22 – The Mill, Birmingham, UK
04.05.22 – Thekla, Bristol, UK
06.05.22 – Hasselt BE /Muziekodroom
07.05.22 – Nijmegen/ Sonicwhip
08.05.22 – Aachen / Musikbunker Aachen
09.05.22 – Hamburg / Knust Hamburg
10.05.22 – Luxemburg / Kulturfabrik Esch-sur-Alzette
11.05.22 – Belfort / La Poudrière – Belfort
12.05.22 – Paris / Nouveau Casino
13.05.22 – Toulouse / Connexion Live
14.05.22 – Madrid / Kristonfest
15.05.22 – Barcelona / Wolf Barcelona
17.05.22 – Duedingen / Bad Bonn
18.05.22 – Winterthur / Gaswerk
19.05.22 – Wien / ARENA WIEN
20.05.22 – Graz / p.p.c.
21.05.22 – Salzburg / Rockhouse Salzburg
22.05.22 – Aschaffenburg / Colos-Saal Aschaffenburg
23.05.22 – Munich / Feierwerk
24.05.22 – Erlangen / Kulturzentrum E-Werk
25.05.22 – Dortmund / Musiktheater Piano
26.05.22 – Marburg / Kulturzentrum KFZ Marburg
27.05.22 – Dresden / Beatpol
29.05.22 – Berlin / Desertfest BerlinSTÖNER is:
Brant Bjork — Guitar & Vocals
Nick Oliveri — Bass & Vocals
Ryan Güt — Drums
STÖNER links
Website⎜Facebook⎜Instagram⎜Spotify
HEAVY PSYCH SOUNDS links
Website⎜Facebook⎜Bandcamp⎜Instagram⎜Youtube