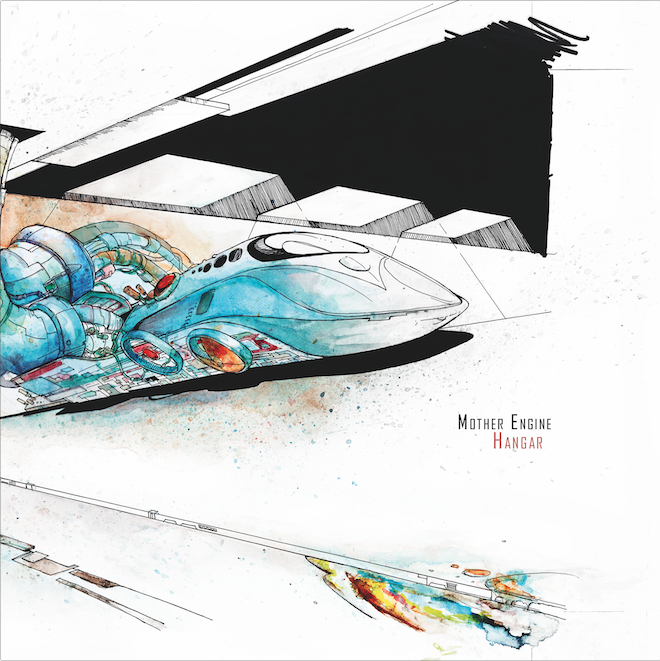 German prog rock craftsmen MOTHER ENGINE stream new song off upcoming album « Hangar » on Heavy Psych Sounds
Germany's best-kept progressive rock secret 

MOTHER ENGINE

 unveil a new excerpt off their upcoming third album « Hangar », due on Sept. 29th on Heavy Psych Sounds.
New album « Hangar » is a unique piece of music showing the evolution of German instrumental craftsmen MOTHER ENGINE in their fiction about the eponymous spaceship and its crew, as well as the evolution in songwriting, recording and production process implemented by their three imaginative minds.

Stream 18-minute steamroller « Prototyp » HERE

The band comments on the songwriting process: « These songs represent our evolution and individuation as musicians and as a band. They were written over two years while being fully sober, and thoughtful to create trippy feelings, deep moments and a fictive instrumental story that should bring the listener into experiencing their own story of Mother Engine. We invested a lot of time in the songwriting, building tons of structures that needed to be combined in a time-consuming process of practicing every single minute. We tried to use classic figures and styles to create that more robotic and unnatural sound. The use of staccato, dissonance, diatonic, monotonic, homo phonic, unison playing, dynamic metrum, tempi and dynamic volume changes induces a new kind of songs that don't end up with melodic, harmonic or simple understandable dramatics, but instead stay as simply combined rhythms and sound parts. Like in a big factory or simply a hangar. Of course we still tried to create different moods. Psychedelic and smooth parts, bluesy jamming, slow movements, fast tracks and heavy smashes. Still Mother Engine! »
Hangar consists of four songs filling all four sides of the double LP. The album will be available on LTD colored / black double gatefold vinyl, CD and digital.
MOTHER ENGINE « Hangar »
Out September 29th on Heavy Psych Sounds
Vinyl and CD pre-order available here
MOTHER ENGINE plays instrumental rock music influenced by stoner and post-rock as well as the trippy psychedelic rock of the 60s and 70s, and indigenous German krautrock. It's no real surprise that the journey of that spaceship actually began on the stage of a big German stoner rock festival in the year 2013. What we talk about is a spirit of DIY, uncompromising endurance, and the strong will to play every single stage. After two records (« Muttermaschine » in 2013 and ' »Absturz » in 2015) and appearances at some of the most important stoner festivals like Stoned from the Underground, Freak Valley Festival, Sonic Blast Moledo, Into the Void or Rotormania, it seems like they got their landing permission on the European stages for heavy psychedelic music. In the fall of 2017, MOTHER ENGINE will release their third studio album « Hangar » and embark on a 6-week long tour through Europe to present their new material.
MOTHER ENGINE are
Chris Trautenbach (guitar)
Cornelius Grünert (drums)
Christian Dressel (bass)