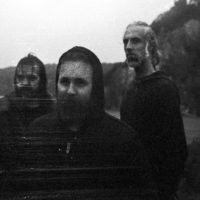 STONEBIRDS (FR)
Hailing from central Brittany (France), STONEBIRDS formed in 2008 as a quintet inspired by both surrounding desolated landscapes and bands like Queens Of The Stone Age, Kyuss, The Melvins and Alice In Chains. Their first 10-track demo entitled « Slow Fly » came out in 2011, releasing the rare feeling and grooves of US desert rock bands.
With founding member Fanch (guitar/vocals) remaining at the helm, the band quickly moved from five to three members. Within a few years, their classic desert rock style shifted towards a heavier and sludgier sound, more notably through their Pink Tank Records debut « Into the fog… and the filthy air » (2015), which saw STONEBIRDS reach new heights while assimilating and moving past their desert/ stoner influences. Darker, heavier, with a new psychedelic dimension, the trio gave life to a their own breed of sound, crossing sludge, psych and post-metal enhanced by the gloomy reverb of all-analogic Kerwax Studio (France). Among their most notable live appearances, the band has been seen on the stages at Hellfest, Motocultor Festival and alongside bands such as Ufomammut, Mars Red Sky, Jex Thoth, Glowsun… and also toured Europe and the UK twice.
Qualified as « 55 minutes' worth of progressive heavygaze fluidity » by The Obelisk, new album « Time »confirms the unique, juggernaut brand of post-metal matured on STONEBIRDS' Pink Tank Records debut « Into The Fog… », and their ability to write deeply emotional and complex songs. Once again recorded at Kerwax Studio, the atmospheres on the album get considerably heavier and darker, while relying on spine-chilling atmospheric climaxes. Living up to expectations rose by their debut effort, STONEBIRDS deliver an ambitious, pre-apocalypse worthy full-length that establishes them as a singular voice in the heavy music landscape.
STONEBIRDS IS
Fañch – Guitar & Vocals
Sylvain – Bass
Antoine – Drums