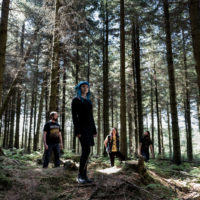 MAMMOTH WEED WIZARD BASTARD (UK)
Those who've investigated beyond the name, have already discovered that both the band and their music are deadly serious, and though MWWB may share sonic alliances with likes of Conan, Windhand and Yob, the many who tuned into their impessive debut have discovered that MWWB don't stick to the usual tropes, and are a unique proposition, with a sound all their own.
The guitars are down-tuned to Z, the guitar tone is tar thick and the riffs massive and full of hooks … of course. But with the soaring, angelic, multi-textured vocals of Jessica Ball, MWWB have added an extra dimension to what's considered doom. Not your normal melodramatic dark chanteuse here pilgrims, more like MWWB's secret weapon, a vein of crystal in the rock, a combination which sounds at times startling and often beautiful. Like if Liz Fraser had fronted Kyuss or Sleep … though that's too simplistic a comparison.
Released just 9 months after their debut Noeth Ac Anoeth, their new album Y Proffwyd Dwyll was once again produced by Chris Fielding of Conan, and without doubt a whopping great slab of heaviness. Y Proffwyd Dwyll has all the elements of the first LP, but here the band reveal their more song-based side. There's nothing approaching the 30-minute epic of their debut EP Nachthexen, but the arrangements are tighter and the vocal elements are considerably upped. Add to that a smattering of cello, some swirling moog wig outs, and you have a record that also invokes Hawkwind's cosmic synthscapes, as well as a nod to the John Carpenter soundtracks that the band love.
MAMMOTH WEED WIZARD BASTARD ARE
Paul Michael Davies – Synth & guitar
Jessica Ball – Bass, vocals, synth
Wez Leon – Synth & guitar
James 'Carrat' Carrington – Synth & drums
MMWB LINKS
Facebook ⎪ Twitter ⎪ Bandcamp ⎪ New Heavy Sounds website