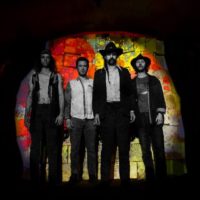 ECSTATIC VISION (US)
ECSTATIC VISION introduced their brand of heavy primal psych influenced by groups like Hawkwind, Aphrodites Child, Olatunji, Can and early Amon Duul ll in late 2013. Formed in Philadelphia to primarily "play what they wanted to hear", the band quickly rose to those in the know as a force to be reckoned with. ECSTATIC VISION signed to Relapse Records on the power of a demo and their psychedelic, freakout, primal live shows. Their debut LP « Sonic Praise » saw a release in June 2015, during this time the band toured the US with prestigious acts such as Enslaved, YOB, Uncle Acid & The Deadbeats, in addition to numerous shows with the likes of Earthless, Red Fang or Acid King. This was followed by a European run that saw them perform at legendary Roadburn Festival, as well as dates with Bang, Pentagram, and more.
In April 2017, ECSTATIC VISION returned with their second LP « Raw Rock Fury », an even more tripped out showcasing of the band's raucous mix of troglodyte Detroit rock grooves, soothing Krautian motoric sounds, filthy Beefheartian blues and Hawkwindian primal world heavy psych. The addition of multi-instrumentalist Kevin Nickles (saxophone/flute/guitar) has helped the band reach beyond the void, and further create a sense of auditory hallucination with « Raw Rock Fury », one of the dirtiest sounding recordings since MC5's « Kick Out the Jams ». Headlining tours of the USA and Europe followed and saw the band share the stage with John Garcia, Dead Meadow, Bongzilla and the Cosmic Dead, plus a blistering headlining slot on one of Desertfest Berlin's stages.  
In 2018, the band returns with « Under The Influence » on Italian label Heavy Psych Sounds. « Under The Influence » is their take on some of their favorite songs by some of their biggest influences ranging from Zam Rock to the kings of early psychedelia and Detroit rock.
ECSTATIC VISION is
Doug Sabolik
Michael Field Connor
Kevin Nickles
Ricky Kulp